So you think you want to sell your rare books? Making such a decision can be exciting, but it can also be pretty intimidating. Should you try to sell the books on your own? Should you take them to an auction house? Or should you find a rare book dealer who can list them on consignment or buy them from you outright for resale? And how do you know how much the books are even worth? You may need to have your books appraised in order to know exactly what you have. Once you have a general sense of what your books are worth, you have a few options when it comes to selling them.
How Rare Are Your Books?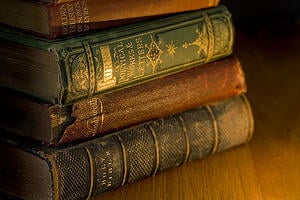 Just how rare are your books, and are they already part of a collection? The answers to these questions can help narrow down who can and should sell your rare books. If you have a number of older books that have some value but are not especially rare, you might consider selling to your neighborhood used bookstore that occasionally sells rare items. If your books are especially rare, however, you should likely seek out a specialist who can help with the sale of your books.
When you're thinking about a specialist, you have a couple of different options. You can find a rare book dealer who concentrates on texts on the area into which your books fit (we'll say more about this option shortly), or you might consider contacting an auction house (we'll also say more about this a bit later). But first, you have another question to consider before making contact with book dealers or auction houses.
Are you selling just a few rare books that are unrelated to one another, or are you looking to sell a collection? If you are thinking about selling an entire collection, you'll also have to consider whether to sell the collection as a whole either to or through a single rare book dealer or whether to divide the collection, depending upon the type of collection. For example, if a person has a large collection of World War II literature, that collection could contain first editions of George Orwell novels and essay collections, military history ephemera, broadsides, and even first editions of Pablo Neruda's poetry, such as Pablo Neruda's Song to Stalingrad [Nuevo Canto Amor a Stalingrado]. When the works in a collection are this disparate and particularly valuable on their own, it could make much more sense to split up the items in the collection and to sell them through multiple rare booksellers who specialize in each of the areas. However, if a person has a collection of James Joyce first editions, or a collection of J.R.R. Tolkien first editions, then it could make much more sense to sell the entire collection to one bookseller (or to consign the entire collection through a single book dealer).
Many rare booksellers can offer you valuations or appraisals books to help owners understand what they have.
Consigning or Selling to a Rare Book Dealer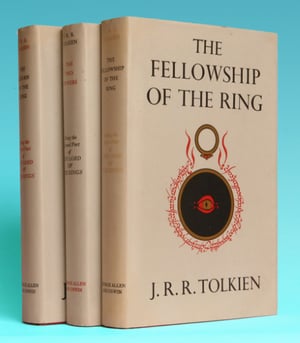 If you want to sell your books through a rare book dealer, you'll need to do a bit of research first. Depending upon what types of rare books you want to sell, you'll likely want to begin the process by finding booksellers who regularly do work in the area that your rare books fit into. As you do your research, you should keep in mind that rare bookstores vary in size and specialty. Some shops are quite large and carry a variety of genres, periods, and formats, while other booksellers have very particular specializations. Both the Antiquarian Booksellers Association of American (ABAA) and the International League of Antiquarian Booksellers (ILAB) provide lists of affiliated book dealers in the U.S. and internationally, and you can search for shops according to the bookseller's field or specialty.
Why is a bookseller's specialization so important? Rare book dealers are usually able to authenticate the books you're selling, and to provide important bibliographic information, as well as details about provenance, that can help to market the book to the right buyer. Moreover, reputable rare booksellers have developed relationships with buyers—from individual collectors to university libraries and archives—who trust them and regularly turn to them to add to their holdings. A rare book dealer also has experience marketing the books in which they specialize to the right audience, which can be difficult for someone who is outside the rare book trade.
Now, what do we mean when we refer to a bookshop's specialization? Let's return to the some of the examples we used previously. Some rare book dealers specialize in modern first editions and modern literature. Such a seller might be able to market and sell the Orwell, Neruda, Joyce, and Tolkien books, and perhaps even the twentieth-century military ephemera and broadsides. But what about a bookseller who specializes in Spanish-language texts? That seller might only feel comfortable working with the Neruda text. And how about a bookseller who specializes in early American ephemera? Likely such a bookseller wouldn't be the right choice for any of those items we mentioned. You want to find a book dealer who regularly values, markets, and sells the types of objects you're looking to sell.
Placing Your Rare Books in an Auction
You might be wondering: what about an auction? You probably shouldn't list your rare books on eBay or another similar site unless you're certain that you know how to properly value what you're selling. Of course, if you're considering eBay, you might return to the first question we asked: how rare are your books? If you don't own anything that's especially unique, you may be able to make some more money selling on eBay or a similar site by avoiding percentages or fees taken by sellers or auction houses. However, if you have some very rare items and want to make sure they're marketed to the appropriate buyers and fetch a fitting price, you'll want to sell through a rare book dealer or, perhaps, a reputable auction company.
Very large auction houses like Sotheby's routinely have rare book auctions—and they sell a very wide variety of books—but there also may be smaller auction companies that are more specialized. Typically, a reputable auction house will let you know if it's able to sell your books. And if so, the process can start with an appraisal in which the auction company provides you with an auction sale estimate.
Making the decision to sell a rare book collection can be exhilarating and freeing, especially if you're doing so to make room for a new collection or two. Yet it can also be daunting, and it's important to find the right place through which to sell your books. And keep in mind, if you have some especially rare items, it's essential to take the time to find the right dealer and to be willing to look beyond your own city, state, or even country to ensure that your books ultimately end up in the right hands.