With any truly great novel, the questions are usually the same. Where did the story come from? What inspired it? Were the characters or plot based on real-life elements? But these tried-and-true questions might mean a little more when asked about Daniel Defoe's 1719 debut novel Robinson Crusoe, a book literary scholars the world over regard as one of the first realistic fiction novels and one that helped popularize the form we still crave today.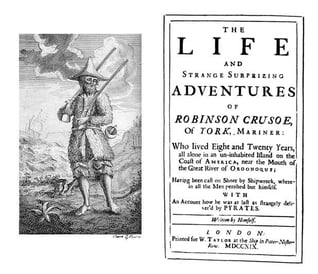 Presented as something of an autobiography of the book's titular character, the novel details the 30 years Crusoe spent as a castaway on a remote tropical island near what is now Trinidad. Throughout the story, Crusoe encounters cannibals, other captives, and mutineers before finally being rescued right at the novel's end.
It's part faux-travelogue, part diary, and part adventure novel, and Defoe's ability to create vivid, heart-pounding scenes of action, intrigue, and romance paved the way for centuries of aspiring-writers to tell their own stories of adventure and peril.
But where did Robinson Crusoe come from? How did Defoe—who held a number of interesting professions, including a trader, writer, and spy—harness the elements of the story and mold them into this classic English novel?
Theories abound on the origins of the novel and the source material Defoe had at his disposal. Even today, nearly 300 years after its initial publication, academics and scholars still quibble over the search for the real Robinson Crusoe and the story behind the story.
Theory #1: Alexander Selkirk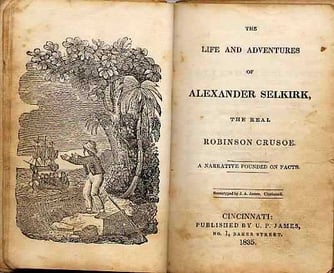 A Scottish sailor and notorious hothead, Alexander Selkirk's story was long-held to be the inspiration for Defoe's Crusoe. Selkirk worked as a naval officer aboard the Cinque Ports under Captain Thomas Stradling. In September 1704 after expressing doubts about the ship's seaworthiness, Selkirk was marooned on the Juan Fernandez Islands off the coast of Chile. Selkirk lived on the desert island before being rescued in 1709 and receiving a hero's welcome upon his return home. Word of his story spread throughout Europe, particularly in England, Defoe's home turf.
Some scholars argue the timeline of Selkirk's story would not allow it to be the inspiration for Robinson Crusoe, which was published in 1719 and completed a good amount of time prior. But others argue Selkirk's exploits had a direct impact on Crusoe and choices Defoe made in composing the story.
Theory #2: Ibn Tufail's Hayy ibn Yaqdhan
A tongue-twister though it may be, Hayy ibn Yaqdhan was a 12th Century philosophical novel by Ibn Tufail, an Arabic writer, philosopher, physician, and court official. Loosely translated as Philosophus Autodidactus, the novel explores the themes and ideas of a feral child raised by animals on a desert island. Initially conceived as something of a thought-experiment, the novel is concerned with what happens to human beings in the absence of other human beings, and how curiosity and the pursuit of answers and truth are innate human qualities.
As with the Selkirk theory, some scholars argue the central conceit of Tufail's text was an important influence on Defoe's novel, while others contend it's the themes and ideas of Tufail's work that Defoe took as a source of inspiration.
Theory #3: Robert Knox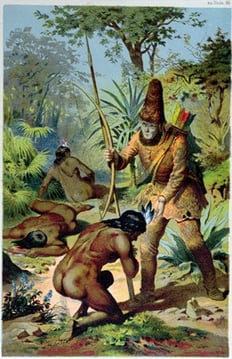 Its direct influence on Crusoe notwithstanding, the story of English sea captain Robert Knox and his nearly two decades-long tenure on an island near what is today Sri Lanka is one of the most compelling true-life action-adventures stories ever. Knox set sail for Persia on behalf of the British East India Company in January 1658, but his ship was severely damaged during a storm about one year later, and he and his crew were taken captive and held for 19 years by the inhabitants of the Island of Ceylon. Though held in relatively livable conditions—Knox and his crew were given jobs and responsibilities in the village in exchange for lodging, food, and other provisions—Knox finally escaped and fled to a nearby island controlled by the Dutch before being returned home to England.
Accounts of his time on Ceylon were published in a 1681 book called An Historical Relation of the Island Ceylon, a text that featured detailed illustrations and descriptions of the island and its inhabitants and which served as the only recorded information about the island during that age.
Until recently, the story of Knox, his captivity, and eventual escape was thought to be the most direct influence on the story of Crusoe.
Theory #4: Henry Pitman
Stemming from intensive research and investigation as detailed in the 2002 Tim Severin book Seeking Robinson Crusoe, a growing number of literary scholars and historians now believe Defoe's Robinson Crusoe was written in response to the story of Henry Pitman, a former surgeon to the Duke of Monmouth, who was stranded on a desert island in the Caribbean following a shipwreck. Upon his escape from the island and return home, Pitman's story was published by English publisher J. Taylor of Paternoster Street—Taylor's son would later publish Defoe's masterwork, Robinson Crusoe.
In addition, Severin's research uncovered Pitman lived in an apartment above Taylor's publishing house, which Severin argues is fertile ground for a meeting between Pitman and Defoe. While word of Pitman's exploits did circulate through England, Severin contends several face-to-face meetings between Pitman and Defoe may have taken place in which Pitman may have recounted his story to Defoe, who then interwove bits and pieces of Pitman's experience into his own narrative.