It's commonly known that "Frankenstein" was the creation of nineteen-year-old Mary Wollstonecraft Goodwin (later, Shelley) in a contest to create the scariest ghost story as a guest at the Lord Byron's Italian villa. However, there may be significantly more to the story. There were four separate European scientists who may perhaps have played muse to Mary: Luigi Galvani, Giovanni Aldini, Andew Ure, and perhaps most influentially, Johann Konrad Dippel.
Luigi Galvani was an Italian physician, physicist and philosopher who was one of the first to make the foray into bioelectricity. He sent sparks of electricity through dead frogs, a process known as Galvanism, and discovered that it would make the muscles of their legs twitch even after death. His ventures into bioelectricity made Mary Shelley's summer reading list the summer she wrote her famous monster tale.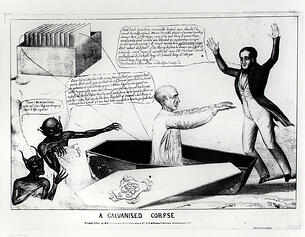 A Galvanized Corpse
Giovanni Aldini was the nephew of Luigi Galvani who furthered his uncle's work by using electrical currents to reanimate human limbs. The most famous of his experiments was in 1803, where he held a public demonstration of his "electro-stimulation" technique on the limbs of the executed criminal George Forster at the Royal College of Physicians in London. While there is no documented proof that Shelley actually witnessed this demonstration, it was sensational and in a public venue. Undoubtedly Shelley was aware.
Andrew Ure was a member of the Faculty of Phsicians and Syrgeons in Glasgow, Scotland. He experimented on another executed murderer, Matthew Clydesdale. He felt that through the proper stimulation of the phrenic nerve, life could be restored in cases of suffocation, drowning, or hanging. In an excerpt from his journal we see a passage that could easily be straight from Frankenstein itself:
"Every muscle of the body was immediately agitated with convulsive movements resembling a violent shuddering from cold. ... On moving the second rod from hip to heel, the knee being previously bent, the leg was thrown out with such violence as nearly to overturn one of the assistants, who in vain tried to prevent its extension. The body was also made to perform the movements of breathing by stimulating the phrenic nerve and the diaphragm. When the supraorbital nerve was excited 'every muscle in his countenance was simultaneously thrown into fearful action; rage, horror, despair, anguish, and ghastly smiles, united their hideous expressions in the murderer's face, surpassing far the wildest representations of Fuseli or a Kean. At this period several of the spectators were forced to leave the apartment from terror or sickness, and one gentleman fainted."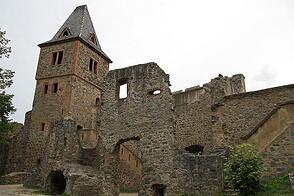 Castle Frankenstein
And finally perhaps the most influential on Shelley's psyche was Johann Konrad Dippel. Dippel was in fact a real 18th century alchemist who did experiments at Castle Frankenstein. Like most alchemists, Dippel was interested in finding the Philosopher's Stone – the object that would allow the transformation of lead into gold, and the Elixir of Life – the magical formula by which immortality would be granted. While he left some impressive legacies, such as Dippel's Oil (an elixir that would stimulate the muscles and was sold as a cure all) as well as the formula for Prussian blue dye; he is perhaps most well-known for his purported dark and wicked experiments.
It is said that Dippel stole bodies from the castle burial grounds (not an uncommon practice at the time, unfortunately) and did many dissections attempting to ascertain the secrets of life. It is also said that he tried to reanimate the bodies with various potions and spells so that he could work towards the Elixir of Life. Again while there is no way to know for sure if Shelley was influenced by Dippel and his work, it does seem almost too much to believe that she would not have been.
Collecting Frankenstein
We may never know how much any of these "mad scientists" were the real Frankenstein in Shelley's eyes, which is one of the many reasons the tale has endured for so many generations. Indeed, rare book collectors have built delightful single-work collections around Frankenstein. There's an incredible variety of editions and related works. Here are two of the more recent ones:




Frankenstein: The Original Screenplay

Dean Koontz was invited to create a screenplay for a two-hour pilot based on Frankenstein for the USA Network. This edition, published by Charnel House, includes Koontz's production design notes on how he envisioned the sets, as well as his direction in how the dialogue was to be spoken. This script was not used and the show changed drastically. The screenplay represents a modern-day adaptation of Shelley's classic tale. It's available in limited, lettered and limited, numbered editions. Very Fine condition.

The Centipede Press Edition

A stunning edition limited to 300 clothbound copies, the

Centipede Press edition

of

Frankenstein

is bound in printed silk-cloth and enclosed in a cloth slipcase. It features the complete wood engravings by Lynd Ward and an introduction by gothic fiction novelist Patrick McGrath. Very Fine condition.