Samuel Langhorne Clemens, or Mark Twain as he is known to many readers, wrote nearly two dozen books over the course of his career, not to mention the wide variety of essays that appeared in various literary magazines. He's a popular author for new and seasoned collectors alike, and his fiction and essays have appeared in dozens of different editions for more than a century. Yet unless you're extremely familiar with particular editions of Twain's work, you may not be too knowledgeable about his many publishers. So, who were his publishers?
In Twain's lifetime, a relatively small number of publishers were responsible for getting his books to the reading public. In more recent years, numerous popular presses have issued various editions of Twain's work, but some smaller, exclusive presses have also been interested in producing unique editions. While there's not enough time in a day to discuss all of the publishers associated with Mark Twain since the mid-nineteenth century, we want to spend some time talking about some of the publishers connected to his work.
American Publishing Company in Hartford, Connecticut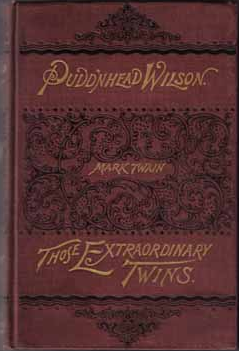 We'd be remiss if we didn't start a discussion of Mark Twain's publishers with a conversation about the American Publishing Company in Hartford, Connecticut. As you might know, although the author spent his early years in the Midwest in Hannibal, Missouri, he lived most of his adult years in Connecticut. Twain's home in Hartford is now a museum that visitors to the area can tour, exploring the ways in which the writer and his family lived. He came to Hartford in 1868, moved there in 1871, and lived there with his family until 1891. Accordingly, it only makes sense that a Hartford-based publisher would be affiliated with many of Twain's early novels.
For example, the American Publishing Company is responsible for the first edition of The Gilded Age, A Tale of Today (1873), as well as the first edition of The Tragedy Of Pudd'nhead Wilson And The Comedy Of Those Extraordinary Twins (1894).
New York's Harper & Brothers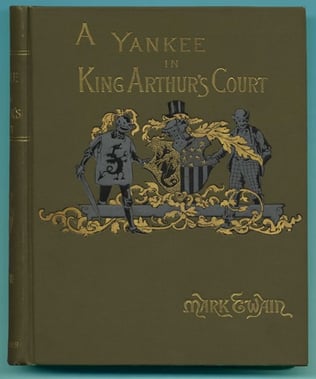 New York's Harper & Brothers is credited with publishing some of the later first editions of Twain's work. For example, Harper & Brothers published the first edition of The Jumping Frog (1903) in addition to the first edition of Is Shakespeare Dead? (1909). Of course, Harper & Brothers was not the only New York company associated with many of Twain's works published during his lifetime. Indeed, numerous other New York publishing houses were tied to first editions of the author's books. For instance, Charles L. Webster and Company in New York published the first editions of Adventures of Huckleberry Finn (1885) and A Connecticut Yankee in King Arthur's Court (1889). And in case you didn't know, Charles Webster was Mark Twain's nephew.
San Diego's Ash Ranch Press, Barry Moser's Pennyroyal Press, and Other One-of-a-Kind Presses
Although first editions of Twain's work are among the most collectible and sought-after pieces, some contemporary presses have also created distinctive editions of his novels, stories, and essays. For example, The Ash Ranch Press in San Diego published a miniature edition of A Letter From Santa Claus, an 1877 story written for Susie Clemens. The miniature was published in 1990 in a limited edition of 125 copies, handset in Piranesi Italic with red velvet boards.
Another newer yet rare and collectible book is Adventures of Huckleberry Finn, published in 1985 in an edition of 350 sets by Pennyroyal Press. The collection includes 49 woodcuts by Barry Moser, the owner of the press. The sets were published to commemorate the 100-year anniversary of the first edition of Adventures of Huckleberry Finn.
If you're especially interested in independent presses and unique editions of Twain's work, we encourage you to seek out other publishers and artists who have reimagined some of these famous texts.
And Private Publishers, Too!
Last but not least, Twain has also been published in small runs by private presses. Many well-known writers have been published not only by prominent publishing houses, but also by private publishers in smaller editions. While examples of privately published work by Twain are quite rare—especially the early texts—they are not altogether impossible to locate. As an example, a privately published edition of Queen Victoria's Jubilee (1897) appeared about a decade after Twain first wrote it in a limited edition of only 195 copies designed for private distribution. Published in Boston, this rare piece is the only known edition of the text in book form. It appeared previously in the New York Journal in 1897 and was reprinted in the New York American in 1910.
Most of Mark Twain's early publishers were tied to the general American publishing world of the late nineteenth and early twentieth centuries. Accordingly, a number of the publishers we've listed here were also responsible for first and other rare editions of nineteenth-century American writers' works. As Twain's popularity continued to grow through the twentieth century, other presses began issuing editions of his works, many with elaborate illustrations that mirrored the quality of those in many of the first editions. If you're interested in the history of literary publishing, we encourage you to explore other texts produced by the publishing companies we've mentioned here, both old and new, and to check out some of these specific editions of Mark Twain's work.