Even if you're brand new to the world of antiquarian books, you've undoubtedly noticed that first editions are the trade's gold standard. Indeed, first editions often fetch much higher prices than later editions, even if the books seem exactly the same to the untrained collector. But as you build your rare book collection, you can't afford not to collect first editions.
Scarcity
Publishing a book requires taking a calculated risk. What if the book gets panned by the critics? Or what if it simply languishes undiscovered, receiving neither critical acclaim nor derision? To mitigate this risk,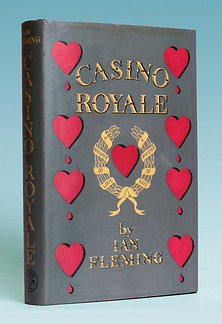 publishers often choose to publish a book in only small numbers at first, and then issue reprints if the title proves commercially viable. Thus first editions are often available in much more limited numbers than subsequent editions. This is especially true for authors' first works, because they have no reputation of literary success.
And in the world of collecting, scarcity generally increases value. The more difficult it is to find a book, the higher the price will be (presuming that the book is a desirable title). Ian Fleming's Casino Royale is an excellent example; only 4,728 copies of the book were published in the first UK run (April 1953). The book marked the start of Fleming's incredibly popular James Bond series, and it has been adapted for the silver screen three times. Less than 3,000 copies of this first edition are thought to survive. Thanks to the book's popularity, and the scarcity of first editions in the market, a fine first edition of Casino Royale easily costs more than $30,000.

Author's Intent
Generally authors are quite involved in the publication process. Therefore the first edition of a book often represents the version that's closest to an author's original intentions. We find a classic illustration of this idea with Ray Bradbury and Farenheit 451. In the Afterword to a much later edition of his famous novel, Bradbury writes, "Only six weeks ago I discovered tha, over the years, some cubby-hole editors at Ballantine Books, fearful of contaminating the young, had, bit by bit, censored some 75 separate sections from the novel." The differences, then, between the first edition and subsequent ones truly represent a departure from Bradbury's concept of the book.
The opposite may also be true. Consider Charles Dickens' Great Expectations. The first edition, published in 1861 has one ending, which is quite melancholy. When Dickens' colleague and confidant Edward Bulwer-Lytton read the manuscript, however, he urged Dickens to change the ending. Dickens complied, and the 1862 edition got a new ending. In this instance, serious collectors would strive to attain both the 1861 and the 1862 editions of Great Expectations. Dickens was certainly not the only author to change his work between publishing runs--Henry James, for instance, was notorious for changing his works between print runs.
Identifying First Editions
Changes like a different ending are relatively easy to identify. But often its' more difficult to identify first editions. Books published before 1900 often don't bear any written indication about whether a book is a first edition or later one. So collectors rely on points of issue, that is, differences between the first edition and subsequent ones. Common points of issue include the following:
Textual differences: It's common to correct typographical errors from the first edition, for instance. Or, as we mentioned above, the author may make more substantial changes to the text.
Materials used: The first edition may be bound in a different fabric, or the later editions might be printed on a different (usually less expensive) paper.
Format: The first edition may contain more or fewer pages than the later edition. It could also lack a foreword, afterword, or other ancillary materials that are added later.
It's also important to understand the difference between first issue and first state. A point of issue is refers to a change made after copies of the book already entered circulation. Differences in state occur when changes are made to a book before any copies are circulated. For example, if a publisher identifies a typographical error during the initial printing process, it may be corrected mid-print. (This was much more common in the days when books were still printed manually using moveable type.) So books that are first edition/first state would contain the error, while first edition/second state copies would lack the error.
After about 1900, many major publishing houses started adopting conventions for identifying first editions. We're happy to offer a number of guides to help collectors identify modern firsts. To browse all the guides, visit our Collector's Resources library.