A few years ago, writer and poet Donald Hall was awarded the National Medal of Arts for his lifetime of work. Aside from the respectful tribute, some in the media gawked at just how old the octogenarian writer looked. He came to the platform with bushy eyebrows, an unkempt beard, and stood in a few unflattering snapshots beside President Obama. He was subject to such ridicule as the nickname "yeti," as well as a "photo caption contest" in the comments below. All this for a former poet laureate of the United States.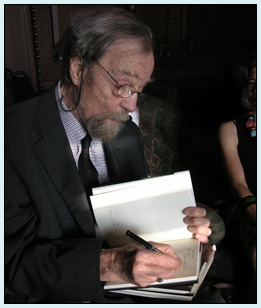 Today Donald Hall turns 88, and remains active and sharp in mind. But as an unfortunate consequence of his extensive career, he has become familiar with casual ageism in daily life. His book Essays After Eighty (2014) recalls an episode when a guard in an art museum saw Hall seated in a wheelchair, and tells him the name of the sculptor he and his girlfriend are viewing. They decide not to mention it, but Hall was an acquaintance of the sculptor, Henry Moore, and wrote devotedly about his work. They felt spared, for a moment, until they ran into the same guard, and he asked if the pair had a nice "din-din."
Hall is brutally honest about the realities of his age. The younger are rude and dismissive, actively looking down on him or behaving as if he wasn't there. Then there are the natural, inevitable sufferings of old age. He has battled cancer for over twenty-five years. He has lost his wife, the late poet Jane Kenyon, to leukemia. And he has endured the failings of the body like difficulty walking and deafness in one ear.
In spite of obstacles, Hall continues to work and to write, extending a body of work that comprises some 56 volumes, 22 of which are books of poetry. Hall has also led a formidable career as an editor and professor, serving as the inaugural poetry editor of The Paris Review and teaching at the likes of Stanford and the University of Michigan.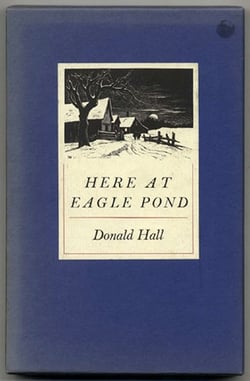 One of Donald Hall's recurring subjects is nature. He draws much inspiration from his home in New Hampshire, a former farm he bought in the 1970s, where he still lives. He belongs to a long tradition of poets who find inspiration in the calm murmurings of the garden and the symphonic changing of the seasons. Hall, who has lived a tranquil, solemn life while writing like a maniac, has lived as poet Liam Rector explained "within the New England ethos of plain living and high thinking, and he has done so with a sense of humor and eros."
In recent years, Hall has taken on a new role as a man trying to live with dignity amid the conditions and changes that come with old age. But he is first and foremost a poet, and has treated such a subject before with his characteristic humor and wisdom. Here he is in his poem, "Tubes":
When I was nineteen,
I told a thirty-
year-old man what a
fool I had been when
I was seventeen.
'We were always,' he
said glancing down, 'a
fool two years ago.
Sixty years later, Donald Hall is still contemplating what it means to live a proper and responsible life, as should we all.