Although Amy Clampitt began writing poems at the early age of nine, her literary career began more than three decades later. And not until her 60s did she complete her first full-length volume, The Kingfisher, published by Alfred A. Knopf in 1983. Within a small span of 15 years, Clampitt became one of America's most respected poets, earning university appointments, grants, and acclaim.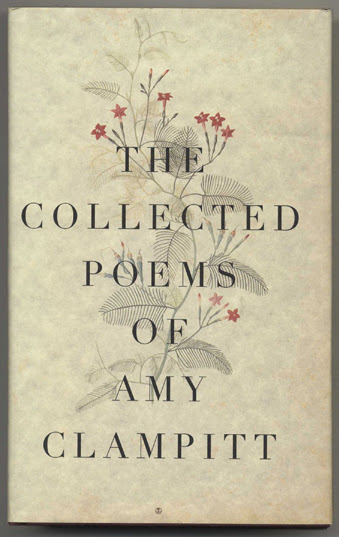 The primary reason for Clampitt's relatively late flowering was work. She moved to New York City in her early adulthood, working a series of literary jobs. She left Columbia University to become an editor at Oxford University Press. She was a reference librarian at the Audobon Society for some time, before becoming a freelance editor for seventeen years.
Clampitt's first big break happened in 1978, when she was an editor at E.P. Dutton. The New Yorker published one of her poems, generating the momentum that would allow her, in a few years, to teach and write poetry. Among the universities where she was faculty are William and Mary, Smith College, and Amherst.
Amy Clampitt is often described as a poet of the natural world. A cursory reading of her verse illustrates an extensive knowledge of taxonomy and detail—the sheer variety of flowers she recalls in her art is impressive, even for a poet. Yet her observations are informed by ironies that reflect the natural American landscape in the '70s and '80s. The beach retains beauty for Clampitt, but it is also home to things like "last night's / beer cans, spilt oil, the coughed-up / residue of plastic."
Her other treatments of nature are simply superb, displaying, as she says in "Beach Glass," an intellect that is "engaged in the hazardous redefinition of structures no one has yet looked at." At her finest, Clampitt does the poet's work of helping us see the world anew. We can thank her for her evocative characterization of the sea mouse as "sun-honeyed" and like "bearded barley." Another poem, "The Waterfall," is not so much about the title's subject as it is about exhilarating and fragile relationships in nature. She begins with the web of the spider, from which she then traces the delicate threads that connect many things
Orb-weaver shivering
among the filaments: how many
fibers generated from within
transect the air?


How many hirsute, sightless
gropings anchor
these redwood trees, suffuse
the flowery traceries


of the oxalis? The veining
in this hand, these
eyeballs, the circuitous
and scintillating


leap within the brain—
the synapse,
the waterfall, the black-
thread mane of fern


beside it—all, all
suspend, here:
everywhere, existences
hang by a hair
Amy Clampitt's poetry, coupled with knowledge of her biography, makes for an appealing portrait. She epitomizes a steady, patient gaze; one strengthened by the talents of true silence. In turn, she gives us poems with staggering perception, a concentration on the details of world that slip past the normal conscious life. In a time of distraction and hurried information, Amy Clampitt's work is yet another reminder we should be reading more poetry.
Poems courtesy The Amy Clampitt Fund.