William Randolph Hearst was born on April 29, 1863 in San Francisco, the son of the millionaire mining engineer, gold mine owner and US Senator, George Hearst. Because he came from money, Hearst's early life was certainly not one of hardships. He went to prep school at St. Paul's School in Concord New Hampshire, and matriculated to Harvard in 1885. He, however, never actually finished his degree as he was eventually expelled for antics such as hosting massive beer parties in Harvard Square.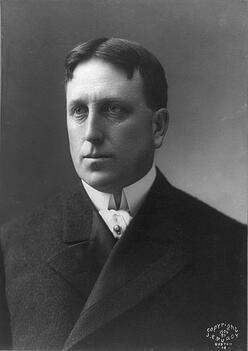 At 23, Hearst went to his father and requested control of the San Francisco Examiner, a newspaper that his father had received as payment for a gambling debt. Hearst took over, and through his use of sensationalistic circulation boosting news stories he turned it into a successful enterprise. Upon his father's death, his mother, Pheobe Hearst, liquidated the family's mining assets to fund Hearst's purchase of the New York Morning Journal. Hearst made it his goal to turn the Journal into New York's most successful paper.
Via the Morning Journal, Hearst came into direct competition with Joseph Pulitzer. While Pulitzer was the original "yellow journalist," Hearst certainly proved adept at the style. In what is perhaps his most well-known quote, Hearst is to have said to his photographer who was stationed in Havana in 1898 prior to the start of Spanish American aggressions, "Please remain. You furnish the pictures and I'll furnish the war."
On February 15, 1898, the USS Maine sank in Havana Harbor. Despite years of inquiry, the reason for the sinking of the Maine has never been determined to the day, however, that did not stop Hearst and his contemporaries from fanning the flames of war with headlines like, "War? Sure?" and "Remember the Maine, to Hell with Spain!"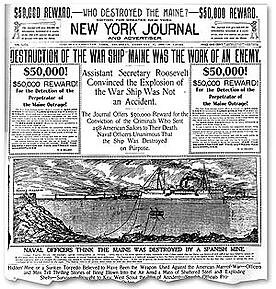 These cries made the ensuing Spanish-American War the Journalist's War. As a proponent of yellow journalism, he profited greatly from the war, using inflammatory editorials, sensationalized cartoons and photographs to make enemies of everyone from the Spanish to the Russians over the length of his career.
Hearst built an impressive media empire throughout the early twentieth century to have in its heyday twenty daily and eleven Sunday newspapers in thirteen cities. One in four Americans read a Hearst newspaper. Additionally, he owned the International News Reel and the production company Cosmopolitan Pictures, plus magazines such as Cosmopolitan, Good Housekeeping, as well as the tabloid New York Daily Mirror.
While the sensationalized life that Hearst lived was certainly interesting to the masses as he lived it, Orson Wells chose to use Hearst's life to loosely base the story of Citizen Kane. While today Citizen Kane is regarded as one of the best movies ever produced, Hearst was certainly not happy about it. While there are a few similarities to Hearst throughout the film, there are many differences. Despite these difference, and despite Hearst's own disdain for the film, it is this film that helps many remember him, even if it is in a bit of a negative light.