We think of Winston Churchill as a consummate statesman and brilliant orator, and with great reason. He consistently distinguished himself as a key player in world politics and is frequently named one of the greatest world leaders of all time. Yet Churchill did not win the Nobel Prize for his diplomacy or steadfast commitment to protecting fundamental human values; he won not the Nobel Peace Prize, but the Nobel Prize in Literature.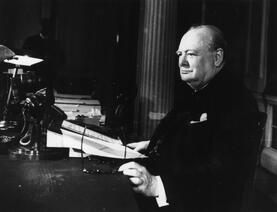 Prior to 1946, Members of Parliament received only a nominal salary (and before 1911, nothing at all). Thus most MP's had some secondary occupation. From 1898, when he published his first book, to the beginning of his second stint as Prime Minister, Winston Churchill supported himself by writing books and opinion column. The most famous of the latter are his columns for the Evening Standard starting in 1936, in which Churchill warns of the threat of Adolf Hitler and urges the government to abandon its policy of appeasement.
As Churchill's political role evolved, he spent less time writing. Then in 1945, the Labour Party was voted into power, and Churchill involuntarily lost his position. He turned once again to writing. Over the next six years, Churchill wrote six volumes of notes and memoirs about World War II. The last of these was published in 1953.
Even before this massive work, and probably as early as 1946, the Swedish Academy was already considering Churchill for the Nobel Prize in Literature. That year, the aging Per Hallstrom, the former permanent secretary of the Academy, submitted his report on Churchill's candidacy. He found little in Churchill's novel, Savrola, to recommend it--and ignored the fact that it was Churchill's first work, written to pass the time while he was garrisoned in India as a lowly lieutenant. Hallstrom admitted that the first volume of Churchill's autobiography, My Early Life, had some literary merit but dismissed The World Crisis as history. According to Hallstrom, only Churchill's four-volume biography of Marlborough, conqueror of Louis XIV, provided adequate grounds for evaluating Churchill as an author and historian. He argued that one work alone was insufficient grounds for awarding the world's top honor in literature.
Two years later, in 1948, Professor Nils Ahnlund published his own report in response to Hallstrom's. Rather than arguing only his own opinion, Ahnlund enlisted Professor George Trevelyan of Cambridge University. Trevelyan was the world's foremost scholar on the age of Marlborough and wholeheartedly believed that Churchill deserved the Nobel Prize for his work. Furthermore, Ahnlund proposed that Churchill's magnificent orations illustrated his literary prowess. Ahnlund said, "No man has better known how to awaken such an echo by his eloquence, or to reach so vast a public. It is then, basically, for his oratory that Churchill deserves the Prize, but his art as an orator is well framed by the rest of his production."
Despite Ahnlund's emphatic arguments, the Swedish Academy would not name Churchill the winner for five more years. By that time, scholars and authors from around the world have taken up Churchill's cause. However Churchill had also stepped back into the position of Prime Minister, making him a less desirable candidate; the Academy generally eschewed awarding the Prize to anyone holding the highest political office. He seemed, therefore, an unlikely candidate for the 1953 Nobel Prize in Literature.
The Swedish Pen Club, led by Prince William, had had good luck with candidates in past years and had endorsed British author EM Forster that year. Other candidates included Ernest Hemingway, Halldor Laxness, and Juan Ramon Jimenez (who all eventually won the award as well). Nevertheless, competition was not considered particularly stiff, especially given the popular support for Churchill.
Due to Churchill's status as a leader in world government, the Academy relaxed its usual secrecy about nomination. They first approached Churchill to confirm that he'd be willing to accept the Prize. Churchill responded, as expected, that he'd be honored to receive the Nobel Prize. But he offered a disclaimer: at nearly eighty years old and with so many responsibilities, Churchill would have to limit his participation in the award festivities if he won. He said that he'd not offer a public address or participate in any press conferences. Churchill he would naturally attend the dinner hosted by the king and enjoy touring Stockholm, the only European capital he had yet to visit.
Churchill was named the winner soon after. Unfortunately, he was unable to accept the award himself. Detained in the Bermuda Islands at a summit to discuss mutual defense of Europe, Churchill was forced to send his wife Lady Clementine Churchill in his stead. Accompanied by their youngest daughter, Mary Soames, Lady Churchill enjoyed the Nobel Prize festivities and accepted the award on her husband's behalf. That same year, Churchill would also be knighted to the Order of the Garter.