Born July 13, 1934, Akinwande Oluwole Soyinka was raised in Abeokuta, Nigeria—under British ownership at the time. He was raised in an Anglican family; however, he was constantly exposed to the Muslim religion and Yorùbá culture, allowing him to have a cultured childhood. His father's position as a primary school headmaster gave Soyinka's family access to electricity, a radio, and introducing him to great works of literature in addition to the Western world. Soyinka was an avid student, receiving a scholarship to attend one of the most prestigious secondary schools in Ibadan, and later studying at University College, where he took interest in numerous subjects including English Literature, Greek, and Western Studies.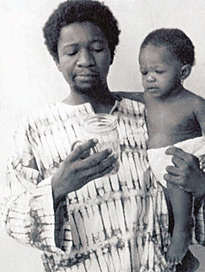 Throughout his secondary schooling, Soyinka developed an interest in writing stories, acting in plays, and writing some of his own. In 1952, he received another scholarship to continue his studies at the University of Leeds in England. While abroad, he developed a close bond with the other West-African students, and together they would dream of an Africa free of foreign control.

After graduating, Soyinka remained in England with the intent of earning his Master's degree. During this time, he began to take playwriting seriously, illustrating the rich Yorùbá culture through classical European writing structures. Although he had previously been published locally, Soyinka started to receive recognition for The Swamp Dwellers (1958) and The Lion and the Jewel (1959).

In 1960, Soyinka was awarded the Rockefeller Research Fellowship to assist him in researching theatre arts and its history in Africa. After receiving this grant, he moved back to Nigeria where he would found a theatre group called 1960 Masks, and he began teaching literature and drama at the University of Ibadan, Obafemi Awolowo University, and later at University of Lagos. By 1964, Soyinka's popularity had grown, making him known outside of Nigeria, although the censorship laws in his own country were becoming increasingly strict.
In Times of War
Nigeria's newfound independence was not settling well, and as a result, Soyinka became politically motivated. Subsequently, his writing was as well. His activism did not go unnoticed, as he spent several months in hiding and even more in prison. Although Soyinka was not allowed to write and was deprived of writing utensils, he was able to devise a way in which he could continue to write and release his writings to the public. He was released after spending almost two years in prison, and during his journey of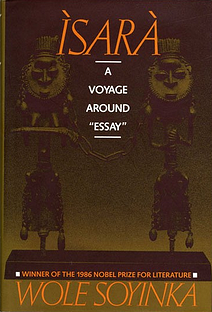 acclimating himself back into the world, he wrote. He published a book of poems written during the war, now titled, A Big Airplane Crashed into the Earth (1969) and created his own adaptation of the ancient Greek tragedy, The Bacchae.
Soyinka's imprisonment did not quash his spirit, as his writing and popularity only continued to grow, with his publication of numerous plays, poems, and series of autobiographies. In 1986, he became the first African to receive the Nobel Prize in Literature—that his immense cultural perspective in addition to his beautiful poetic language, allowed him to dramatize our world to the greatest extent. Soyinka remains active in politics to this day; most recently, he was interviewed by NPR, discussing the abduction of the Nigerian girls by Boko Haram.