No one can argue that J.R.R. Tolkien has a way with words. In his massively successful novels, the story, characters, and landscape comes to life in readers' minds due in large part to his effective authorial voice. Take some time today to enjoy some of the best quotes from Tolkien, both from his stories and from interviews with the man himself.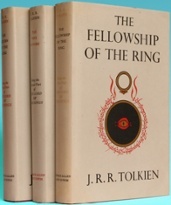 "All have their worth and each contributes to the worth of the others." –from The Silmarillion
"So most men teach, and few men learn." –from The Children of Húrin
"All that is gold does not glitter,
Not all those who wander are lost;
The old that is strong does not wither,
Deep roots are not reached by the frost." –from The Fellowship of the Ring
"There were some frightful mistakes in grammar, which from a Professor of English Language and Lit, are rather shocking." –from an interview with BBC Radio, 1971 (listen below)
"It all began when I was reading exam papers to earn a bit of extra money. That was agony. One of the tragedies of the underpaid professor is that he has to do menial jobs. He is expected to maintain a certain position and to send his children to good schools. Well, one day I came to a blank page in an exam book and I scribbled on it. 'In a hole in the ground there lived a hobbit." –from an interview with The Telegraph, March 22, 1968
"As a child, I was always inventing languages. But that was naughty. Poor boys must concentrate on getting scholarships. When I was supposed to be studying Latin and Greek, I studied Welsh and English. When I was supposed to be concentrating on English, I took up Finnish. I have always been incapable of doing the job in hand." –from an interview with The Telegraph, March 22, 1968
"If more of us valued food and cheer and song above hoarded gold, it would be a merrier world." –from The Hobbit
"What do you fear, lady?" he asked. "A cage," she said. "To stay behind bars, until use and old age accept them, and all chance of doing great deeds is gone beyond recall or desire." –from The Return of the King
"I was talking aloud to myself. A habit of the old: they choose the wisest person present to speak to" –from The Two Towers
"Don't adventures ever have an end? I suppose not. Someone else always has to carry on the story." –from The Fellowship of the Ring
What is your favorite Tolkien quote? Share it with us in the comments below.