Today, we celebrate Jane Austen's beloved novel, Pride and Prejudice, on the anniversary of its publication. How does one do such a book justice? It is nearly impossible. So, we thought we'd let Ms. Austen's own words do most of the talking. After all, Pride and Prejudice is timeless, and the following quotes—and the lessons they teach us—will continue to inspire, chastise, encourage, and humor readers for generations to come.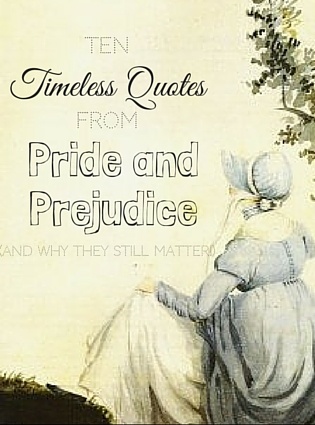 1. It is a truth universally acknowledged, that a single man in possession of a good fortune, must be in want of a wife.
Through the iconic first line of Pride and Prejudice, Ms. Austen forces us, as readers, to recognize the absurdity she sees in that which is "universally acknowledged," and in doing so, she pushes us to think of our own universally acknowledged truths and determine whether or not they may be just as silly.
2. "What a delightful library you have at Pemberley, Mr. Darcy!"
"It ought to be good," he replied, "it has been the work of many generations."
Books transcend time and place and have a way of connecting us to our past and leading us into the future. Book collections are beautiful things, not only for one's self, but for posterity's sake. Libraries and collected books will always live on for generations.
3. She wished, she feared that the master of the house might be amongst them; and whether she wished or feared it most, she could scarcely determine.
Fear has a sneaky way of revealing what's really important. If we're willing to do something and do it scared, most likely what we want to do is worth the time, energy, and frayed nerves required to get it done.
4. She respected, she esteemed, she was grateful to him, she felt a real interest in his welfare; and she only wanted to know how far she wished that welfare to depend upon herself, and how far it would be for the happiness of both that she should employ the power, which her fancy told her she still possessed, of bringing on her the renewal of his addresses.
How admirable and refreshing it is to read along as Lizzy questions what to do with her newly realized power! She's woman enough to step back, assess the situation, and study the consequences of any impending action, both for her sake and that of Mr. Darcy, whose heart she holds in the palm of her hand. We know through these lines that Elizabeth will not abuse her power—a good reminder for all of us.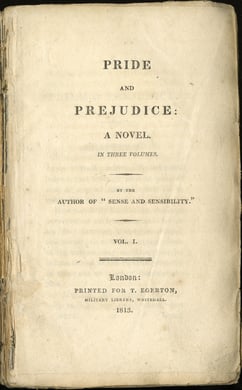 5. Persuaded as Miss Bingley was that Darcy admired Elizabeth, this was not the best method of recommending herself; but angry people are not always wise…He was resolutely silent, however, and, from a determination of making him speak, she continued: "I remember, when we first knew her in Hertfordshire, how amazed we all were to find that she was a reputed beauty; and I particularly recollect your saying one night, after they had been dining at Netherfield, 'She a beauty!—I should as soon call her mother a wit.' But afterwards she seemed to improve on you, and I believe you thought her rather pretty at one time."
"Yes," replied Darcy, who could contain himself no longer, "but that was only when I first saw her, for it is many months since I have considered her as one of the handsomest women of my acquaintance."
This exchange between Miss Bingley and Mr. Darcy reminds us that jealousy is not a good look on anyone, and as "angry people are not always wise," it may be better to cool off rather than let our tempers get the best of us. Similarly, stirring the pot for the sake of stirring the pot is a surefire way to get burned, a lesson Miss Bingley learned the hard way. For Darcy's part, he not only admits he was wrong and misguided in his judgments, but defends Elizabeth, and shuts down any more nastiness from Miss Bingley: a triple win for the story's hero, and a great example for Austen's audience.
6. "I do not pretend to possess equal frankness with your ladyship. You may ask questions which I shall not choose to answer." …
"You are resolved to have him?"
"I have said no such thing. I am only resolved to act in that manner, which will, in my own opinion, constitute my happiness, without reference to you, or to any person so wholly unconnected with me."
Elizabeth's full, scathing dialogue with Lady Catherine de Bourgh is one of the most epic moments in the whole novel. As such, it's difficult to pick just a few lines to highlight. Through it all we see the importance of standing up for one's self and not being unnecessarily concerned with the opinions of others. Point, Miss Eliza Bennet. Point, Ms. Austen.
7. "You taught me a lesson, hard indeed at first, but most advantageous. By you, I was properly humbled."
Humility. A little dose goes a long way. But what's more, when we are less self-absorbed, we can better understand the feelings, wishes, and experiences of our fellow man. Humility can lead to enlightenment, and that is, indeed, advantageous.
8. They walked on, without knowing in what direction. There was too much to be thought, and felt, and said, for attention to any other objects.
The pure aesthetic quality of this quote made it a necessary inclusion on our little list. Two people so in love that they didn't know "in what direction" they were walking, and they didn't pay "attention to any other objects," well, it's just a perfect depiction of the story-tale happy ending. So I guess the lesson of this one is write a good sentence, and it will resonate for years to come.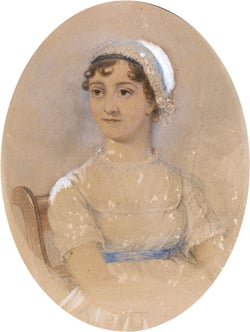 9. "I love him. Indeed he has no improper pride. He is perfectly amiable. You do not know what he really is; then pray do not pain me by speaking of him in such terms."
It's easy to make assumptions, and Lizzy reminds her father of the pain that doing so can both knowingly and unknowingly cause. We must allow others to make a name for themselves, and we should be cautious of jumping to conclusions—a truth Lizzy undoubtedly knows all too well.
10. "I have given him my consent. He is the kind of man, indeed, to whom I should never dare refuse anything, which he condescended to ask. I now give it to you, if you are resolved on having him. But let me advise you to think better of it. I know your disposition, Lizzy. I know that you could be neither happy nor respectable, unless you truly esteemed your husband; unless you looked up to him as a superior. Your lively talents would place you in the greatest danger in an unequal marriage. You could scarcely escape discredit and misery. My child, let me not have the grief of seeing you unable to respect your partner in life."
After Elizabeth declares her love for Mr. Darcy, Mr. Bennet drops a relationship truth bomb for the ages. For all of Mr. Bennet's faults, he understands and conveys clearly the importance of mutual respect and admiration—on top of love—in any strong and healthy relationship. He also advises his daughter to think before she acts. Amen.