Why do collectors collect? I imagine the answers to this question are as varied as the things they treasure. For some, it's the classic affinity for coins and stamps connecting them to the past. For others it's the acquisition of expensive art, building a portfolio along with a gallery, while for still others, it's the nostalgia of scouring markets for marbles and action figures that remind them of their youth. Professor Slughorn in Harry Potter and the Half-Blood Prince famously collected the famous. He lamented that he had taught the entire Black family save Sirius saying, "I got Regulus when he came around of course, but I would have liked the set."
When one collects children's books, one simultaneously collects classics, works of art, and memories of childhood. And if one is lucky, one may even collect the books by a famous author and illustrator like Maurice Sendak, and eventually be able to have the complete set.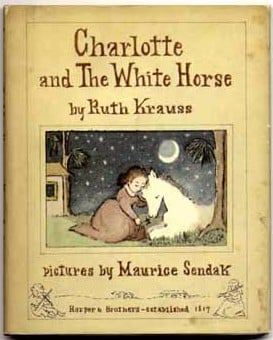 The "Bible" for Sendak collectors is Works of Maurice Sendak 1947-1994, A Collection with Comments by Joyce Y. Hanrahan. It is commonly referred to simply as "Hanrahan." Although price points in this publication are outdated, particularly since Sendak's death in 2012, it is still considered the definitive guide.
Here are some of the collectible volumes in the Sendak library.
The two most sought after books are first editions of Where the Wild Things Are and In the Night Kitchen. One ranking places Where the Wild Things Are number twenty-two on the list of Top 100 Collectible Children's Books. The basis for this rank is that it is a popular classic that received a Caldecott medal and its popularity was also affected because of the release of a film version. This title made headlines when a copy of it sold for $25,000.
Firsts and lasts are always important, so The Wonderful Farm by Marcel Ayme, the first book Sendak illustrated, is highly collectible—a fact that will be reflected in its price. Beginning collectors may want to concentrate on finding other authors that Sendak was commissioned to illustrate for early in his career. These are the kinds of books that may go unrecognized and end up in donation boxes and rummage sales.
One collectible in Sendak's body of work is itself a set. The Nutshell Library is a miniature boxed book set that includes Alligators All Around, Chicken Soup with Rice, One was Johnny, and Pierre. A first edition or vintage set from the 1960s would be a great cornerstone to a collection and, additionally, all four books are Caldecott winners.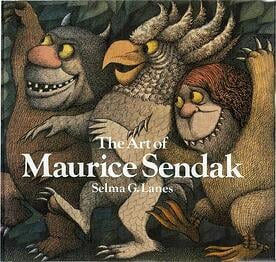 An enthusiastic collector will not only want books by the author and illustrator, but also about him. Consider The Art of Maurice Sendak by Selma G. Lanes and Maurice Sendak and The Art of Maurice Sendak, 1980 to the Present by Maurice Sendak and Tony Kushner as valuable additions to one's collection.
I, myself, was a collector of children's books in so far as once I purchased or received a book, I was loath to let it go. Some of my books are in pristine condition—handled with care and seldom disturbed. Some have, like the velveteen rabbit in the classic story, been loved within an inch of their lives—the bindings have given way and the pages flutter out like dry leaves upon opening. Collectors of the works of Maurice Sendak may seek out a first or flawless edition of Where the Wild Things Are, or they may simply hold tightly to the copy, whatever edition it was that first landed in their hands. Either way, the works of Maurice Sendak, like the man himself, are a treasure.