English writer Arthur Evelyn St. John Waugh, better known as Evelyn Waugh was an expert satirist as well as an accomplished novelist, short story writer, biographer, and travel writer. He was born in London in 1903 though he preferred the country lifestyle and was a schoolteacher before he moved on to writing full time. He often worked as a special corespondent reporting on conflicts, and he served in World War II. Known for his ability to transform the tragedies of life and his brutal war experiences, his work is often satirical, humorous, and deeply moving. After his conversion to Catholicism, his work took on more religions and Catholic subjects and themes. Though his reputation was that of being self-important, mean tempered, and misanthropic, he was also said to exhibit great kindness among his wide circle of friends.
Waugh died in 1966 leaving a body of work comprised of seventeen novels, numerous biographies, short fiction, and travelogues, as well as diaries that were published after his death. He is widely considered one of the most important English writers of the 20th century and definitely should be on the must-read list of any lover of British or post-war literature. Here are a few of his novels which should not be missed.
Vile Bodies
Waugh's second novel, Vile Bodies, was published in 1930 by Chapman & Hall. The novel satirizes the lifestyle of the "bright young things," a class of British socialites in the 1920s characterized by their heavy drinking, drug use, sexual promiscuity, and bohemian lifestyle. The novel focuses on character Adam Fenwick-Symes and his pursuit of fellow bright young thing Nina. Eventually culminating in Adam's battlefield ruminations, the novel turns traditional romantic stories on their head and was a critical success. Waugh contributed much of the romantic failures in the novel to the breakdown of his first marriage which took place while he was writing it. The novel inspired David Bowie's song "Aladdin Sane" and was adapted by Stephen Fry into the 2003 film Bright Young Things.
Brideshead Revisited, The Sacred & Profane Memories of Captain Charles Ryder
Likely his most famous novel, Brideshead Revisited was published in 1945 and was Waugh's first novel published after World War II. It delves deeply into Waugh's newly discovered Catholic faith through the lens of Charles observing his friends in the Flyte family, in particular Julia who for much of the novel renounces Catholicism but turns to it later in her life as a source of comfort. The novel deals with ideas of aristocracy, war, religion, family, and homosexuality. Time magazine named the novel one of one hundred best modern novels in the English language. At one point, Waugh had claimed it to be his magnum opus but later said that he reread and was horrified by much of the novel. It has been adapted twice by the BBC into a mini-series and radio play and was again adapted in 2008 into a feature film.
Helena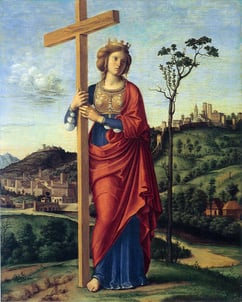 Waugh's 1950 novel Helena is his only historical novel and is a departure from his other works in that it lacks any satire whatsoever. Instead, it centers on the life of Helena, mother of Saint Constantine the Great, exploring the time period from her point of view. While the novel is considered by many to be one of his minor works as it lacks so many of the hallmarks of his usual writing, Waugh said it was the book of which he was most proud, the best thing he had ever written. His children reported that it was the only book he ever seemed to really care about and the only one from which he ever read aloud.
The Sword of Honour Trilogy
Waugh's World War II trilogy—comprised of Men at Arms, Officers and Gentlemen, and Unconditional Surrender—was based on his own war experiences and published between 1952 and 1961. The novels follow protagonist Guy Crouchback, an aristocrat and Roman Catholic. The novels are considered to be some of the strongest examples of Waugh's trademark satire and humor, as well as a fine example of his common practice of fictionalizing his own life events. Much of Guy's time in the war follows the exact timeline of Waugh's own. The novels have been adapted twice into radio and twice into television specials, the most recent TV movie starring Daniel Craig in 2001. The first novel in the series won the James Tait Black Memorial Prize in 1952.