Judy Blume has an influence all her own. Throughout her career, she has written books for children, young adults, and adult readers. Blume is known for her frank depictions of issues facing children and teenagers. As a result, in the 1980s an organized effort was made to ban her books from libraries and schools. Inspired by the objections against so many of her books, Blume became an advocate for intellectual freedom and serves on the board for the National Coalition Against Censorship.
Because of her dedication to the real issues facing young people, Blume is beloved by readers of all ages. Perhaps the most telling of her impact on children's and young adult literature is the fact that each year she receives thousands of letters from young readers detailing their own life experiences and sharing with her how her books have helped them through. Whether you're new to Judy Blume's work or looking to collect some old favorites, don't miss these titles.
Are You There God, It's Me Margaret?
Published in 1970, Are You There God, It's Me Margaret? is the story of 12 year old Margaret who has recently moved and changed schools. Detailing her adjustment to new friends and a new school, the novel explores Margaret's concerns with boys, friendship, puberty, and menstruation against the backdrop of her own personal religious exploration. Margaret struggles with being part of an interfaith family and feels torn between her mother's Christian parents, her father's Jewish mother, and her parents' own lack of interest in religion.
Interspersed with Margaret's personal prayers, Blume's book looks at both physical and spiritual issues facing young people. It remains one of her most popular young adult novels to date. In 2010, it was named one of Time's top 100 fiction books written in English since 1923. Blume also wrote Then Again, Maybe I Won't (1971), which focuses on a boy who is Margaret's age and is dealing with his own issues surrounding puberty.
Forever...
Unlike many other books of its time, Forever..., written in 1975, depicts teen sexuality without any judgment. The main character, Katherine, takes physical intimacy seriously, and the novel discusses her birth control options and romantic life in detail. Forever... is frequently targeted by religions and abstinence groups because of its detailed sex scenes, discussion of birth control, depiction of teenage pregnancy, and inclusion of a homosexual character.
Despite the controversy surrounding the book at the time of its publication, it won the Margaret A. Edwards Award and was a runner up for Best Book of the Year, decided by the National Council of Teachers of English. It was adapted into a TV movie in 1978, and at over 40 years old, it is still relevant and popular among young adults today.
The Fudge Series
Comprised of four books—Tales of a Forth Grade Nothing, Superfudge, Fudge-A-Mania, and Double Fudge—the Fudge series focuses on Peter Hatcher's relationship with his poorly behaved younger brother, Farley Drexel Hatcher, who is also known as "Fudge." The books also detail Peter's life at school, his friendship with a boy named Jimmy who lives in his building, and his long-time rival Sheila Tubman. Sheila is featured in her own book, Otherwise Known as Sheila the Great, but this book doesn't follow the continuity of rest of the series.
Tales of a Fourth Grade Nothing and Superfudge were adapted into a TV series called Fudge which ran from 1995 through 1997. All the books in the series are still in print today, though some changes have been made to account for changes in technology.
Wifey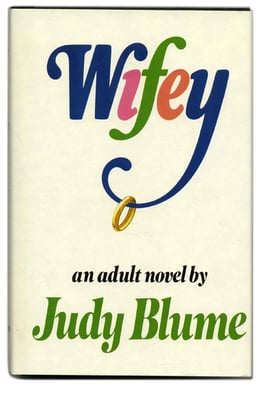 Wifey, published in 1978, explores the changing societal expectations of marriage between the 1950s and the 1970s. The main character, Sandy, is a housewife who has become bored with her life and with her marriage. She has several affairs with men in open marriages and with her old high school boyfriend, for whom she wants to leave her husband. When she learns her husband has also been having an affair, Sandy finally begins to address her own unhappiness with her marriage. This comedy takes a frank look at sexuality, open relationships, and infidelity. While Wifey is Blume's first adult novel, it made the best seller lists and continues to sell today.
Judy Blume continues to write. In fact, she just published In the Unlikely Event, another adult novel, in 2015 . She received the Margaret A. Edwards Award for Lifetime Achievement from the American Library Association in 1996, a Library of Congress Living Legend Award, and a National Book Foundation's Medal for Distinguished Contribution to American Letters. Her books have been translated into over 30 languages and nearly 100 million copies have been sold. Whether you read them, collect them, or both, they are sure to have a lasting impact.