World War II proved to be a reliable source of material for American novelists. Kurt Vonnegut's Slaughterhouse-Five (1969), Joseph Heller's Catch-22 (1961), Norman Mailer's The Naked and the Dead (1948) and many other esteemed entries into the 20th century canon have delved by turns into the gritty reality and the existential absurdity of that pivotal moment in American (and World) History. With Vietnam the case is slightly different. While there are acclaimed American novels on the subject (like Karl Marlantes' Matterhorn (2009) and, more recently, David Means' Hystopia (2016)), it never produced a tremendously high number of literary blockbusters. Luckily, we have Tim O'Brien.
Now in his 70s, Tim O'Brien has essentially served as the poet laureate of the American experience in Vietnam for more than 40 years, with deft literary treatments of largely autobiographical material. What follows is a brief guide to reading Tim O'Brien. We think after you pick up any number of his works, you'll see how important O'Brien is to the American literary landscape.
Going After Cacciato (1978)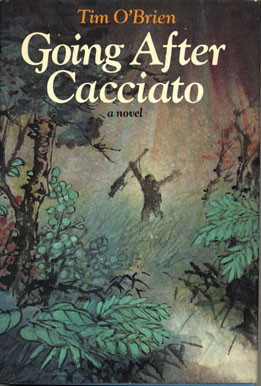 O'Brien had earned praise before Going After Cacciato and he would earn praise after it, but in many ways his 1978 novel constituted a serious breaking-out point. The novel, which relies heavily on O'Brien's own experience in the 46th Infantry, follows the search for an American soldier who has gone AWOL and is attempting to walk across Asia to France—but in the tradition of great war writers, O'Brien's aims are much loftier than a straightforward depiction of events (which O'Brien would no doubt aver to be impossible under the circumstances).
What he ultimately creates is a winding, hallucinatory meditation on humanity, bolstered by elements of metafiction and magical realism. To wit, Richard Freedman at The New York Times asserted that "[t]o call Going After Cacciato a novel about war is like calling Moby Dick a novel about whales". Indeed, O'Brien, for his part, has said that it's not a war novel, but a "peace novel". Going After Cacciato went on to win the 1979 National Book Award, and would make an ideal point of entry into O'Brien's oeuvre.
The Things They Carried (1990)
Kurt Vonnegut's famous answer to why we should write books if presidents and senators don't read them is "you catch people before they become generals and presidents and so forth and you poison their minds with … humanity." Seemingly inadvertently, this has been the effect of The Things They Carried. Released a few years later, O'Brien's beloved story collection is almost certainly more famous and more widely read than Going After Cacciato. It is a staple of high school and college syllabi, and its title story is one of the most anthologized of all time.
The book also proves O'Brien's complete mastery of the short story as a form. Though the material covered is again largely autobiographical, the stories remain distinct from the material covered in Cacciato, blending arch metafiction with real pathos to provide readers not only with heart rending moments but with sustained glimpses at an entire fictional ethos. The result is a testament to the ways that fiction can evolve in pursuit of a bridged gap between objective and subjective truth.
If I Die in a Combat Zone, Box Me Up and Ship Me Home (1973)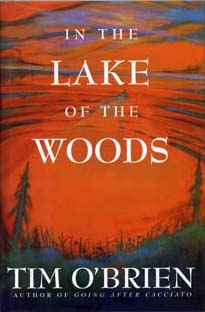 From here, there are a number of directions a reader of Tim O'Brien's writing can take. Many of his later novels, like 1994's In the Lake of the Woods (which again mines the realities of the Vietnam War, but in a longer view, depicting the longstanding trauma which afflicts a failed Senatorial candidate) are excellent, and show evidence of the same brilliance on display in The Things They Carried and Going After Cacciato. Other novels, like The Nuclear Age (1985), received more mixed receptions, but certainly have their fans.
One route towards a more complete understanding of O'Brien's themes is to look at his first published book, If I Die in a Combat Zone, Box Me Up and Ship Me Home. Published in 1973, O'Brien's first book is explicitly non-fictional (as opposed to just incorporating non-fictional elements), and describes his tour of duty in Vietnam. Already, upon its publication, O'Brien was being hailed as the greatest writer on the Vietnam War, and already his penchant for lyrical, non-linear storytelling was on display. In some ways, it forms the foundation of his entire body of work.