February 3 is James A. Michener's birthday. The legendary American author wrote nearly 50 books in his lifetime, and though he passed away in 1997 at the age of 90 years, he has a strong following to this day. We are big fans of Michener at Books Tell You Why, and it seems many of you are, as well. One of our most read and debated posts to date lists some of our picks of the top Michener works. We followed that post up to include a couple more favorites. In honor of Michener's birthday, we're linking to these posts today. Take a read and let us know if you agree or disagree with our selections. And in honor of Michener's life, pick up a copy of one of his lengthy tomes and get started reading it this month.
James A. Michener is well known for his historical fiction, in-depth research, and lengthy volumes. His books are strong narratives that take an intimate look at the human experience through the lens of historical events and times now past. They will also make long layovers, lazy beach weekends, and stretches of time disappear in a sea of historical fascination. These are ten of his biggest and best books of all time.

1.
Tales of the South Pacific
Michener is well known for this tome, and it won him his Pulitzer Prize. It was adapted for the stage as the Rodgers and Hammerstein musical South Pacific. The book is not only based on true facts of World War II, but also on his own experiences while stationed in the New Hebrides Islands. What makes this one such an enjoyable read is the engaging multiple characters and the riveting tales of human interaction across cultures.
2.

Return to Paradise
If you loved Tales of the South Pacific, you'll be glad to know that there is a sequel. Return to Paradise picks up where Tales of the South Pacific leaves off and is yet another collection of short stories that depict life in the South Pacific in the late 1940s: a great read and a welcome return to an evocative and exciting narrative.
3.

The Bridges at Toko-Ri
Another of Michener's novels to be made into a movie, this book details the Korean war and focuses on Navy pilots. Michener, himself, served as a United States Navy officer and writes a great deal of this novel from his professional experience. The film adaptation of the same name starred the iconic Grace Kelly and William Holden. This book has been hailed by actual veterans of the war as the most accurate portrayal of their personal experiences.
4. Hawaii
Published the same year that Hawaii became part of the United States, this novel shines a light on the series of inhabitants, cultures, and realities ingrained in the history of the islands called Hawaii. It starts before man, with the creation of the islands, and touches on immigrants, missionaries, natives, and finally "Golden Men" who represent the amalgamation of the different groups. This book pays homage to the territory we know, the islands as they were formed, and the many hands that helped to build and grow what Hawaii has become.
5. Texas
The longest of Michener's books, this 1,076 page novel commanded a first printing of 750,000 copies. The numbers are all in line with a novel written about Texas, where everything is bigger. As his signature style commands, the book spans hundreds of years, and explores the history of the state in intimate ways while staying faithful to history. This massive tribute to Texas was not well received by critics, but it was made into a T.V. movie in 1994. The book is gigantic, detailed, and creates a new perspective on the Lone Star State, one deeply based on state archives and support from the government of Texas. Read more >>
One of the most popular blog posts we've published to date is our article titled Top Ten James A. Michener Books. First posted over two years ago, it continues to be widely read, and the comment section has allowed readers, collectors, and general fans of Michener to agree or disagree with our list. Be sure to click over and read that post if you missed it before.
Obviously, Michener has endeared himself to many, and everyone has his or her favorites when it comes to the legendary author and historian's work. We wanted to create a continuation of our previous post. So here are some more of what we—and many others—consider the top James A. Michener books.
Centennial

(1974)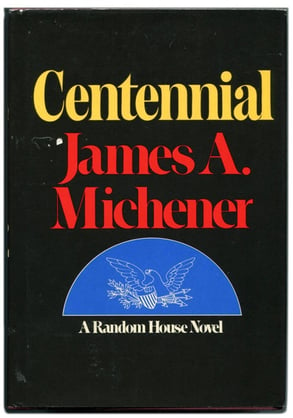 Centennial was cited by many of our readers as being their favorite Michener work. Set in Colorado, Michener devoted much time to researching the area, the people who inhabited it, and their customs. Michener's attention to detail—a trademark in all his writing—is on particular display in Centennial, and Michener details Colorado's history in such a way that readers can see the sights and believe themselves to be friends and acquaintances with the characters.
Centennial was one of Michener's numerous worksto be adapted to TV and film. A miniseries based on the novel aired in 12 parts from 1978-1979. It was broadcast on NBC, and many credit the nationwide attention given to Colorado for the increase in population the state saw in the following decade.* Read more >>