Sherlock Holmes is without a doubt literature's most famous and well-loved detective. His deductive reasoning skills and unique personality have garnered a following that has kept the novels and short stories in continuous print since their publication. The original four novels and fifty-six short stories have spawned numerous adaptations including television shows, movies, radio programs, video games, and cartoons. In fact, Guinness World Records lists Sherlock Holmes as the most portrayed character in history. Since Sir Arthur Conan Doyle's detective entered into the public domain, even more derivative works featuring Holmes and other characters from his world have seen publication. It's safe to assume that nearly everyone has at least a cursory familiarity with Sherlock Holmes, who continues to captivate and entertain over one hundred years after his first appearance. But how was Holmes received by 19th century readers?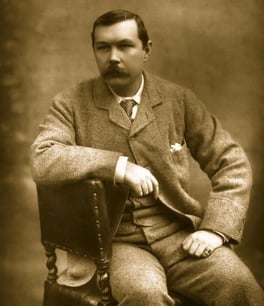 Though Doyle had been publishing sporadically, by 1887 he was still struggling to sell his work and was relatively unknown. But in that year, he sold his first novel starring Holmes and Watson, A Study in Scarlet, to Ward Lock & Co to feature in Beeton's Christmas Annual. The novel was well received and another novel, The Sign of the Four, was commissioned. Sherlock Holmes was a success for Doyle. Readers clamored for new stories and more and more sequels were commissioned. Doyle became a household name.
While this success allowed him to publish stories outside of the Holmes series as well, Doyle became disillusioned. He left Ward Lock & Co and subsequently published further stories in The Strand. After a time, he got sick of all the attention received by his Holmes and Watson stories. In an attempt to get out of being asked to write more, he requested a price for new stories that he thought was quite unreasonable. Publishers didn't balk, and Doyle found himself the most well-paid author among his contemporaries. The money did not solve all of his woes, though, and after a time Doyle did stop writing stories about Holmes and in fact killed him off. Instead he focused on other characters like Professor Challenger, the star of his science fiction efforts, the most famous being The Lost World.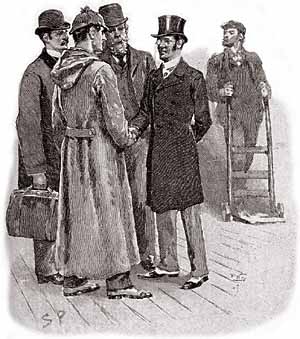 For ten years, Doyle took his 'Great Hiatus' and wrote no new Sherlock Holmes stories, having killed him off in the story The Final Problem. Eventually he gave in to public demand and published the novel The Hound of the Baskervilles in 1901. It seemed that the detective was not fully back, however, since the novel was set clearly before Holmes and Moriarty's infamous fall. But then in 1903, Holmes fans rejoiced at the publication of a new story, "The Adventure of the Empty House" which saw Holmes resurrected and his death explained as a farce to keep enemies believing he had died with Professor Moriarty. He continued to write new cases for the character until his death in 1930.
While Holmes may not have been Doyle's favorite creation, the character has captured the imagination of readers since he first stepped out of his rooms on 221B Baker Street. As one of the most important characters of English literature, Holmes has become a hulking pop culture icon with streets named for him, statues in his honor, and scores of new adaptations and derivative works being written and enjoyed by new readers. Doyle earned his fame in 1887 and continues to earn it every day as new readers are drawn into the world of the great detective and old readers find new content and adaptions to stoke the fires. Sherlock Holmes is here to stay.