Winnie the Pooh and his friends Piglet, Eeyore, and Tigger have been enchanting children for decades. While these imaginative characters are certainly the most popular creations to come from author A.A. Milne, they are not his only or first work. In fact, Winnie the Pooh came pretty late in the game, quickly overshadowing the collection of writing Milne had already produced. Along with children's literature, this versatile writer also penned adult novels and works of nonfictions, magazine articles, poetry, and scripts for stage and screen.
On January 18, 1882 Milne was born to Vince and Sarah Marie Milne in Hampstead, London. His father ran the Henley House School, where Milne attended and H.G. Wells taught. Milne was a star student who excelled in several subjects. While he immediately took to language arts and writing, it was his skill in mathematics that earned him a scholarship for his continued studies at Westminster School and Trinity College at the University of Cambridge.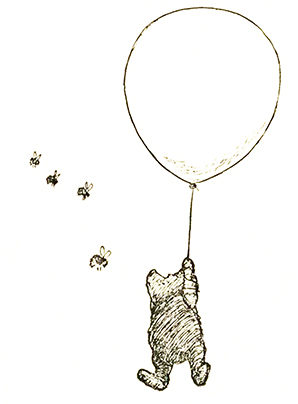 Milne's talent for writing was first discovered by Punch Magazine while he was writing for a student-run magazine at Cambridge. He began writing humorous pieces for the publication and was later hired as an assistant editor. While this job paid the bills, he never stopped writing. During this time he wrote a murder mystery titled The Red House Mystery, along with two additional novels and eighteen plays.
In 1913, Milne married Dorothy de Sélincourt, and they had one child together who received a name that would one day become very familiar to Milne's fans⁠—Christopher Robin. The birth of his son was what inspired Milne to try his hand at writing children's stories. First he wrote a collection of children's poems, followed by short stories that were the beginnings of his Winnie the Pooh stories. These beloved characters were based on the real-life Christopher Robin and his collection of stuffed animals. Meanwhile, as the film industry began to blossom, Milne began transitioning from playwriting to script writing. Minerva Films bought four of his works.
Like many of his generation, Milne became disillusioned and embittered during World War I. After serving as both a soldier and an intelligence officer, he collected his thoughts in a book titled Peace with Honour. He later retracted some of these opinions in a follow-up work, War with Honour. When the Second World War began, Milne once again served his country⁠—this time as a captain. Milne was known for his humility in this position, insisting that he be simply referred to as Mr. Milne, rather than claiming his new title.
When Milne reflected on his writing career, he noted that his agent and publisher tried to discourage him from each new direction he wanted to take, always wanting him to stick to what had already worked well for him. He concluded, "The only excuse which I have yet discovered for writing anything is that I want to write it."
After a stroke and subsequent brain surgery, Milne retired to a quiet life in the country. He passed away at age 74 in January of 1956. The variety of his works and the popularity of Winnie the Pooh have made Milne perennially popular among collectors.
Interested in learning more about A.A. Milne and Winnie the Pooh? Read on!
When thinking of A. A. Milne, the usual first association is Winnie the Pooh. As a children's book, there are many lessons to be learned and shenanigans to be entertained by. Like many children's stories, there are parts that are relatable to adults. One example of this is the characters. Each animal possess a uniqueness that makes them singularly situated to be compared to humans of the reader's acquaintance. Most will, at some point, have known the lovable, ditzy friend, the overenthusiastic ball of energy, the gloomy Gus, the very particular organizer, and the font of stories and advice. Which Winnie the Pooh character do you relate most to?
1. Winnie-the-Pooh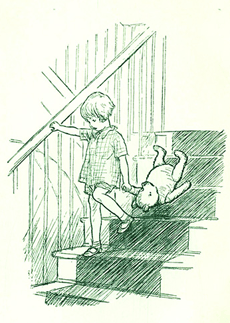 Based off Christopher Robin Milne's toy bear, Pooh is lovable and slow-witted with a large heart, yet he still has a type of wisdom and is very creative, often making up little rhymes and songs. He is always willing to help his friends and go on an adventure, usually to find honey. In fact, Pooh is willing to go to great lengths to find just a small smackerel, including rolling in mud and using a balloon to fly up a tree to fool the bees and get the honey. Above all, Pooh values the feelings and happiness of his friends.
2. Tigger
Tigger often bounces around the 100 Acre Woods full of energy and love of life. He almost never considers his surroundings before accidentally starting to cause mayhem, but this impulsiveness is part of what makes him so charming. Despite being cheerful and outgoing, many of the other characters are wary of him because of his tendency to be unintentionally destructive and overly enthusiastic. He is best friends with Roo and they frequently find mischief together, but learn an important lesson along the way.
3. Eeyore
One of the most loved characters, Eeyore is an endearingly gloomy donkey. He is one of the most intelligent animals in the Woods, but he usually keeps this to himself, allowing others like Rabbit and Owl to provide the brains. Despite always being willing to help his friends, Eeyore is surprised when they are willing to help him in return, usually when he loses his tail or his house falls down. Christopher Robin is most often the one to reattach the tail while Pooh and Piglet help with building and rebuilding the house. Read more >>