When thinking of A. A. Milne, the usual first association is Winnie the Pooh. As a children's book, there are many lessons to be learned and shenanigans to be entertained by. Like many children's stories, there are parts that are relatable to adults. One example of this is the characters. Each animal possess a uniqueness that makes them singularly situated to be compared to humans of the reader's acquaintance. Most will, at some point, have known the lovable, ditzy friend, the overenthusiastic ball of energy, the gloomy Gus, the very particular organizer, and the font of stories and advice. Which Winnie the Pooh character do you relate most to?
1. Winnie-the-Pooh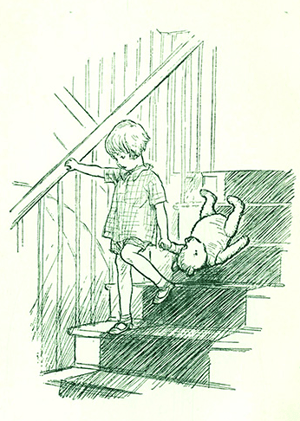 Based off Christopher Robin Milne's toy bear, Pooh is lovable and slow-witted with a large heart, yet he still has a type of wisdom and is very creative, often making up little rhymes and songs. He is always willing to help his friends and go on an adventure, usually to find honey. In fact, Pooh is willing to go to great lengths to find just a small smackerel, including rolling in mud and using a balloon to fly up a tree to fool the bees and get the honey. Above all, Pooh values the feelings and happiness of his friends.
2. Tigger
Tigger often bounces around the 100 Acre Woods full of energy and love of life. He almost never considers his surroundings before accidentally starting to cause mayhem, but this impulsiveness is part of what makes him so charming. Despite being cheerful and outgoing, many of the other characters are wary of him because of his tendency to be unintentionally destructive and overly enthusiastic. He is best friends with Roo and they frequently find mischief together, but learn an important lesson along the way.
3. Eeyore
One of the most loved characters, Eeyore is an endearingly gloomy donkey. He is one of the most intelligent animals in the Woods, but he usually keeps this to himself, allowing others like Rabbit and Owl to provide the brains. Despite always being willing to help his friends, Eeyore is surprised when they are willing to help him in return, usually when he loses his tail or his house falls down. Christopher Robin is most often the one to reattach the tail while Pooh and Piglet help with building and rebuilding the house.
4. Rabbit
Rabbit considers himself to be one of the most important and smartest residents in the 100 Acre Wood because of his and Owl's connection to real animals rather than stuffed animals. Usually presented as responsible, Rabbit is practical, organized, and enjoys taking charge. He is especially particular about his garden, rarely allowing any of the others in when he is working. Despite being so fussy, when making plans he usually manages to miss some fine detail, allowing the entire plan to somehow go wrong.
5. Owl
Thought by the others to be the wisest in the 100 Acre Woods, Owl is often visited by Pooh when he needs more intellectual help. He is always willing to share his advice, introspection, and stories, even if they are unwanted. One of Owl's most important skills outside of his vast knowledge is his ability to teach. He easily explains concepts, no matter how difficult, to an audience like Pooh who is not the smartest bear.
Can't get enough Winnie-the-Pooh? Read on!
Although renowned as a novelist and playwright during his own lifetime, his children's stories—inspired by his son, Christopher Robin—have become Milne's enduring legacy. Illustrated by Ernest H. Shepard, his story collections Winnie-the-Pooh (1926) and The House at Pooh Corner (1928)—not to mention his poetry collections When We Were Very Young (1924) and Now We Are Six (1927)—have become indispensable children's classics.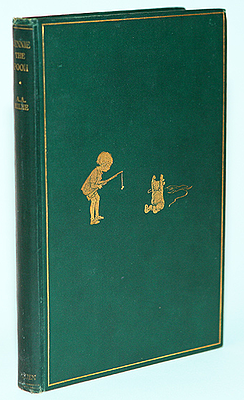 The character Winnie-the-Pooh first diverged into the "classic" version (illustrated by Shepard) and the "Disney" version (illustrated by Stephen Slesinger) when Milne sold the rights to Slesinger in 1930. However, it wasn't until 1961 that Milne's widow sold the rights to Disney. It was in the 1960s that the Disney marketing machine cranked into gear, creating toys, films, television, and books that were inspired by Milne's work but often quite different.
For example, the most widely shared Winnie-the-Pooh quote ("If you live to be a hundred, I want to live to be a hundred minus one day, so I never have to live without you.") was not written by Milne. The same is true for many other oft-cited Winnie-the-Pooh quotes, including, "Promise me you'll always remember: you're braver than you believe, and stronger than you seem, and smarter than you think."
Take a moment to celebrate the true Winnie-the-Pooh with the following quotes written by A. A. Milne:
"Christopher Robin came down from the Forest to the bridge, feeling all sunny and careless, and just as if twice nineteen didn't matter a bit, as it didn't on such a happy afternoon, and he thought that if he stood on the bottom rail of the bridge, and leant over, and watched the river slipping slowly away beneath him, then he would suddenly know everything that there was to be known, and he would be able to tell Pooh, who wasn't quite sure about some of it."
"'This Writing business. Pencils and what-not. Over-rated, if you ask me. Silly stuff. Nothing in it.'" (Eeyore)
"Pooh began to feel a little more comfortable, because when you are a Bear of Very Little Brain, and you Think of Things, you find sometimes that a Thing which seemed very Thingish inside you is quite different when it gets out into the open and has other people looking at it."
"'I think,' said Christopher Robin, 'that we ought to eat all our Provisions now, so that we shan't have so much to carry.'"
"It is always useful to know where a friend-and-relation is, whether you want him or whether you don't." (Rabbit) Read more >>