This week we celebrate the birthday of Amy Tan, author of the acclaimed novel, The Joy Luck Club. Tan was born on February 19, 1952 to Chinese immigrants in Oakland, California. America was a place of refuge for her family; her mother fled to America to escape her abusive first husband and Tan's father immigrated to avoid the Chinese Civil War.
As a girl, Tan rejected her Chinese heritage. She disliked her Asian appearance and even slept with a clothespin on her nose to narrow its shape. "I felt ashamed of being different and ashamed of feeling that way," she later commented. Instead, she embraced everything American.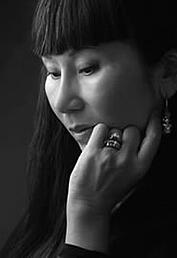 She decided that she would look more American if she ate more American food. "There is this myth," she said, "that America is a melting pot, but what happens in assimilation is that we end up deliberately choosing the American things — hot dogs and apple pie — and ignoring the Chinese off
While Tan was in high school, her father and oldest brother both died from brain tumors. After their deaths, Tan's mother relocated the family to Switzerland, believing there was a curse on their family. Already a rebellious child, Tan became increasingly defiant after the move. She began dating an older man involved in the organized crime scene. "I did a bunch of crazy things," said Tan. "I just kind of went to pieces."erings."
Tan went to college back in the United States. Her mother had selected a college for her as well as a major: pre-med. Tan rejected both choices, following her boyfriend to San Jose City College and switching her studies to English and linguistics. Following this decision, Tan and her mother did not speak for six months. Tan earned a bachelors and masters degree; she married her boyfriend in 1974.
After graduation, Tan began writing professionally. She started a business specializing in speech-writing for corporate executives. Consumed by her work, Tan turned to fiction as a way to recharge. Her first story, "Endgame," was published in a literary magazine and earned her admission into novelist Oakley Hall's writing workshop. Her second story, "Waiting Between the Trees" caught the attention of literary agent, Sandra Dijkstra who signed her as a client.
Tan and her mother traveled to China in 1987. The trip was transformative for Tan, inspiring her to write The Joy Luck Club. Before the book was even completed, Dijkstra found a publisher. Tan quit her freelance work and completed the novel in four months. The Joy Luck Club was published in 1989, receiving excellent reviews. A New York Times bestseller, the book has been translated into seventeen languages.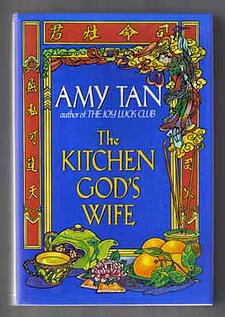 Tan went on to write The Kitchen God's Wife, based on her mother's life story. According to Tan, her mother was always complaining that she had to tell her friends "no, she was not the mother or any of the mothers in [The Joy Luck Club]… so she came to me one day and she said, 'Next book, tell my true story.'" So Tan did, detailing her mother's abusive first marriage and describing how she lost custody of her children and was forced to leave them behind in order to flee the Communist takeover in 1949.
Tan went on to write several children's stories and many novels. After contracting Lyme disease, however, Tan was unable to write for many years. With the illness finally subdued, Tan shared her struggles in her 2003 autobiography, The Opposite of Fate: A Book of Musings. She has since published three novels including Saving Fish from Drowning (2005) and The Valley of Amazement (2013).