Joy Hoerner Rich is the niece and heir of Caldecott Award winners, Berta and Elmer Hader. Joy founded a nonprofit organization dedicated to preserving the Haders' legacy and recently co-authored the award-winning book Berta and Elmer Hader: A Lifetime of Art. In the following interview, Joy shares the charming story of the Haders--from their early careers and marriage, to winning the Caldecott Award for The Big Snow, creating the dust jacket for The Grapes of Wrath, and helping Laura Ingalls Wilder publish The Little House on the Prairie. Joy also describes Berta and Elmer Hader: A Lifetime of Art, from the challenges of publication to its awards and accolades.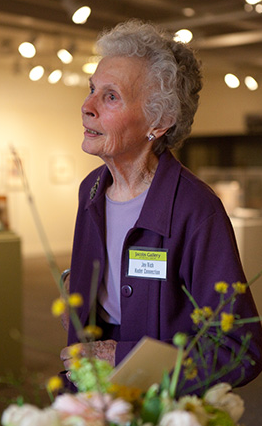 Books Tell You Why: Can you tell us a little bit about Joyful Productions? What is your connection with Berta and Elmer Hader?
Joy: I was lucky enough to have Berta and Elmer for an aunt and uncle. Berta was my father's sister. As a child I got to share with my playmates the wonderful books they sent to me and my family. I couldn't resist pointing out to everybody the ones that were dedicated to me. Berta and Elmer even wrote one of their stories about my dog, Rags. I maintained a special relationship with the Haders until the end of their lives. I was even able to spend six weeks with them at their Little Stone House in the early 1940s. So, knowing so much about them, and having inherited their copyrights, it seemed only natural that I would spearhead the effort to tell the Hader story. I tapped three talented friends on the shoulder (Karen Tolley, Judy Waller and John Waller) and formed Joyful Productions, a young publishing company visiting wonders from days gone by. Our first book is Berta and Elmer Hader: A Lifetime of Art.
Books Tell You Why: Who were the Haders? What makes their art so special?
Joy: Berta and Elmer Hader were loving, gentle, talented people. Their aptitudes in art were evident even in elementary school. In young adulthood, they both sought training to help improve their techniques. Berta worked at Western Engraving in Seattle. She also had private instruction in painting miniature portraits and she attended California School of Design (in San Francisco) and Chase Art School (Carmel, California). Elmer also attended California School of Design, plus he studied in Paris at the Academie Julian. The Haders' career in juvenile art began in 1919 when first Berta, and then Elmer (when he returned from WWI and they were married), created paper dolls and action toys for children, which appeared in many magazines. Their book illustrating career began in 1927. They were applauded for their realistic yet endearing portrayal of wildlife, for their colorful capturing of scenes, and their gentle teaching about kindness.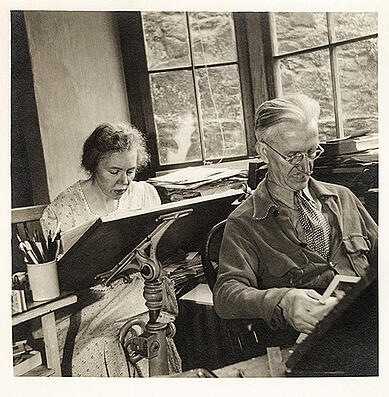 Books Tell You Why: Did the Haders always work as a team? What were some of their most memorable projects?
Joy: Berta and Elmer did indeed work as a team. When I was with them for those six weeks during WWII, I observed them working in their studio. Their easels were positioned so that the fine north light came over their left shoulders. Elmer's back was to Berta but he was constantly turning around to pass off a piece of art and would say, "Could you Berta this up?" Or she would say, "This needs a little something, Dearie." They worked together on their thought sketches for story lines too. They were known to build a story together as they ate, took walks, drove, or worked on their land. They had many memorable projects. Together with friends, they built their charming little stone house and they wrote a book about it called The Little Stone House. Their Caldecott Award winning book, The Big Snow, and their two Caldecott Honor books, The Mighty Hunter and Cock-a-Doodle-Doo were indeed memorable projects. Another memorable project was how they put a curve in the Tappan Zee Bridge which spans the Hudson River in New York. Reading our book, or the history of the bridge, will explain that one.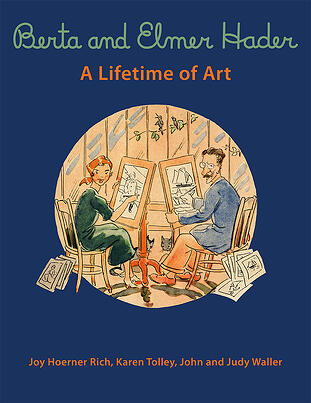 Books Tell You Why: You produced a new book this year: Berta and Elmer Hader: A Lifetime of Art. Could you tell us about the book and how the project got started?
Joy: My brother Richard lived and worked in New York and was lucky enough to be able to spend a goodly amount of time with Berta and Elmer over the years. When they passed away, Richard inherited a great deal of their original art. He and I jointly inherited their copyrights. When Richard passed away in 2002, his widow passed that art along to me. I took my new stewardship very seriously knowing I had to honor their talent and contributions. In 2008, I established an educational non-profit organization (Hader Connection) dedicated to setting up exhibits of the Hader art, doing presentations and conducting children's art classes in elementary schools. New Hader fans often asked if there was a retrospective book which showed their art. There was no such book so it only seemed natural and fitting that some trusted Hader supporters and I were the ones to create a retrospective tribute. In Autumn of 2012, the Wallers, Karen Tolley and I began the project.
Books Tell You Why: Could you tell us more about the design of the book? Why did it win the IBPA Benjamin Franklin Silver Awards for Cover Design and Interior Design?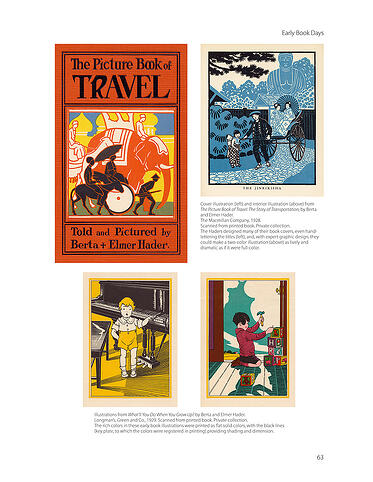 Joy: The book was a labor of love, intended to showcase the wide range of Hader art in the best possible way. When the Haders published their books, color printing was in its infancy and nowhere near the quality standards of today. The original art boards are dynamically beautiful. We sought to capture that beauty. Karen Tolley, the Wallers, and I looked at hundreds upon hundreds of Hader illustrations and paintings but we entrusted Judy Waller with the task of making the final selections and designing the book. Judy had always been inspired by the Haders' own design choices, especially from the era of their magazine art and early books, and she allowed their style to guide her own design choices.
In addition to their stunning work in color, the Haders also produced exquisite drawings in pen and ink. In her design, Judy used examples of the black and white art to distinguish the front and back matter from the main text. The book was designed to be a scholarly reference as well, including Foreword, Introduction, Notes and References, a Hader Bibliography, Glossary of Terms, and Index. The initial capital letter for each chapter was taken from an alphabet Judy designed based on Berta's own handwriting; and the Joyful Productions logo was based on an illustration from The Big Snow. One of the IPBA judges said, "This, to my mind, is the epitome of what a well-designed book should be. It is difficult not to wax overprofusely about the sumptuousness of the interior design. Beautifully colored illustrations of the Haders' work surge through the entire book, making it a voyage of splendid aesthetic discovery."
The Publishing Professionals Network honored us this year with a Recognition of Merit for the interior design of our book. We were also pleased to be declared a finalist in the Art Book category by USA Best Book Awards. Those awards plus the IPBA Benjamin Franklin award are honors we feel we share with Berta and Elmer Hader. Their legacy lives on.
Books Tell You Why: The book also earned the Benjamin Franklin Silver Award for Biography. Could you tell us a little about the content of the book? What is the story it tells? What is its intended audience?
Joy: One of the judges said, "I think this is a lovely book. Very much respectful of the artists' voice and the generation they worked in." In our book we tell the story of the Haders' early days which includes Elmer helping after the San Francisco earthquake of 1906 and Berta's forging friendships with Rose Wilder Lane and Imogen Cunningham. We follow their careers, established in the days of publishing houses first developing children's departments. In Berta and Elmer's lifetime they authored and illustrated 54 books and illustrated an additional 37 books for other writers. Elmer did some independent dust jacket work including four for John Steinbeck books—The Grapes of Wrath being the most famous of those. Our book tells of Berta helping Laura Ingalls Wilder find a publisher for her Little House on the Prairie series. The book talks of the Haders' can-do attitude, their dedication to children and to their friends, as well as their dedication to nature conservation. Berta and Elmer built a life based on love. We attempted to honor that in Berta and Elmer Hader: A Lifetime of Art and are finding that lovers of children's books and paper dolls, artists and illustrators, and art students are applauding our efforts.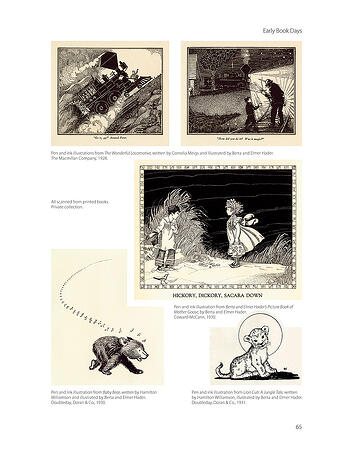 Books Tell You Why: How long was the book in production? What were the biggest challenges to publication?
Joy: We began the actual project of outlining and planning this abbreviated retrospective in October of 2012. We dug through files, corresponded with and visited archives, pored over more than a thousand illustrations as well as other paintings, handmade cards, miniature portraits, sketches, book dummies, correspondence (usually illustrated), scrapbooks, magazines, etc. The rough draft of the biography was completed first. Graphics were then selected to fit with the story line. Rewrites were happening at the same time illustrations were being selected, scanned, and "groomed."
John Waller assessed each piece of art, ensured that the high resolution scans were made, electronically removed any old tape marks or dirt smudges (though we'd decided to not attempt to alter any normal signs of aging). He then checked the scan with the original to ensure that coloration was correct and consistent. We made arrangements with an Oregon printer as we wanted to be able to do final color corrections during press checks. We chose quality papers for the cover and interior and decided on French fold flaps. The biggest challenge of all was selecting the art. There are 285 images in the book and that represents about 5% of what we had to choose from. Narrowing it down was difficult. Living within our budget was hard, too. We held ourselves to high standards and wanted top quality to beautifully showcase the Haders' artwork and exemplary lives.
Books Tell You Why: Could you tell us more about the premiere edition of book? What are its outstanding features?
Joy: The largest collection of archived Hader materials is housed at the University of Oregon. Ed Kemp was the acquisitions librarian for the University of Oregon during the 1950s, 1960s, and 1970s. Ed and his librarian wife, Elaine, became friends of the Haders. Ed said that when he first met them it was "love at first sight and it was mutual." The Kemps wrote the Foreword for Berta and Elmer Hader: A Lifetime of Art. In the Premiere Edition the two of them have signed the book. Also, it is inscribed using favorite Berta words, "Oceans of love to you." It is signed by all four authors. Each of the numbered 100 Premiere edition copies has its own custom made, specially constructed slipcase.
Books Tell You Why: What other projects does Joyful Productions have planned?
Joy: We have whittled a long wish list down to four projects, all Hader related: reprinting and expanding The Little Stone House; creating a book of their colorful handmade annual Christmas cards; using the 2000+ illustrated personal letters to which we have access to present a cartooned Hader biography; and producing a documentary of their lives. We plan to select the project soon, work on it in 2015, and release it in very early 2016.