Sheree Nielsen is an award-winning writer and author of Folly Beach Dances: a collection of photography, poems, and prose. The book is more than just gorgeous photography and lyrical poems, it's an escape to the beach, and how every living being or thing dances with the rhythm of the sea and the changing tides. In the following interview, Sheree shares with us her inspirations for Folly Beach Dances, including her own fight with lymphoma.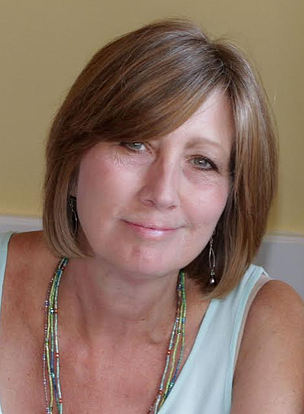 Books Tell You Why: As an established writer, poet, and photographer, what was your inspiration for Folly Beach Dances?
Sheree: My inspiration for Folly Beach Dances was dancing, and of course, my life-long love affair with the beach. Growing up dancing played a significant role in our home. I enrolled in tap and ballet classes as a child, and loved watching Gene Kelly repeatedly in the movie "Singin' in the Rain." As an adult, I loved the swing, the waltz and jitterbug. My Dad even garnered the name "Twinkle Toes" since he was so light on his feet.

Our family, from as long as I can remember, would take several vacations a year. One of those always included a trip to the beach. Florida, the Carolinas, Georgia. It didn't matter as long as we visited the beach. Totally enamored by Folly Beach, three of my first published essays "The Perfect Day," "Return to Folly Beach," and "Beach Dances," spoke of the beach, nature, and how life takes on movement in many forms. The photos, poetry and prose are meant to portray a perfect day at the beach, no matter your worries, wherever you are. If you could spend a day at the beach, what dance name would it be?

Books Tell You Why: Tell us about Folly Beach, South Carolina. What significance does it hold for you?

Sheree: Folly Beach has been a longtime love affair for me. Over the past 5 years, my husband and I have visited numerous times. During each visit, I notice something new and fresh to stimulate my senses. Nature, people, animals, and yes, even beach structures seem to dance in infinite rhythm and universal beauty and harmony when I'm spending time on Folly. Folly exudes a character and wisdom unlike any other. I cherish the Carolinas and their beaches.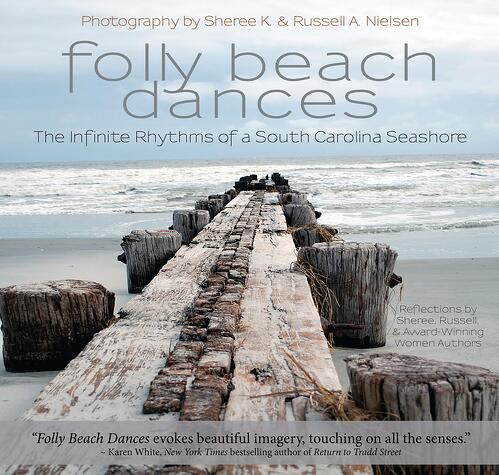 Books Tell You Why: You and your husband, Russell Nielsen, co-authored Folly Beach Dances. Was it always intended as a joint project?

Sheree: Yes. Russell is an incredible self-taught photographer. His specialty is night photography and the underwater world. I knew that Folly Beach Dances wouldn't be complete without his interpretations. Russell doesn't claim to be a writer, but penned a poem for "Angel Dance". All the photos were captured during three visits during the months of May, July and September. The different seasons captured the deliciousness and vulnerability of the sky.

Books Tell You Why: What are you hoping to convey to your readers through the words and photography of Folly Beach Dances?

Sheree: The lead-in photo depicts a twilight scene (out of focus). Underneath is an excerpt from my essay "Beach Dances" which sums up the feeling of the book. "At the beach, we become like pieces of smooth multi-colored glass, washing away our sharpness, and softening us around the edges." I hope the readers see positive, uplifting messages, and they keep this thought in mind – remember to dance.

Books Tell You Why: You collaborated with five other authors. What was that process like? How did they become involved?

Sheree: The process was quite easy. Mary Horner, Pat Wahler, and Patt Hollinger Pickett were in my personal critique group. We met every two weeks. Marcia Gaye was a member of my writer's group – Saturday Writers. Tina Solomon is a longtime friend. I paired each photo with a dance name (whether real or made-up), and the women selected the photos that piqued their interest. I already decided which photos I wanted to pen. They kept in mind that the end result would be short poetry or prose, which conveyed the feeling behind the photo and dance name. All the women, and my husband, did an exceptional job of embracing the movement and the mood of the scenes through their thoughts.

Books Tell You Why: What role did your battle with lymphoma play in the creation of this book?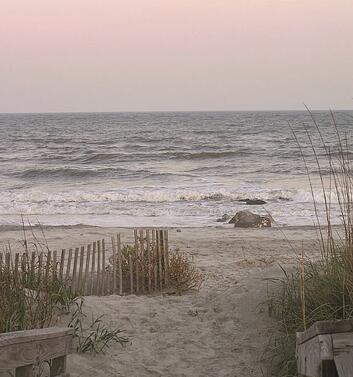 Sheree: We were well into the book, when I was diagnosed with lymphoma. Initially, Folly Beach Dances was simply a pretty coffee table book of lyrical photography and poetry. The book took on a whole new mission and direction after my diagnosis. It became clear that the book's purpose was one of healing, positivity, and self-care. That's when I asked Debbie Kersting, Gateway Chapter Director of the Leukemia and Lymphoma Society (LLS) to get involved. She wrote the foreword for the book. Ten percent of all book sales go directly to LLS.

Books Tell You Why: What other projects are you currently working on?

Sheree: I'm a freelance writer for AAA Midwest Traveler and AAA Southern Traveler, as well a couple other magazines. I'm currently working on two feature stories due out next May. I'm also a contributor to several anthologies not published yet. My photograph of a scenic in Eleuthera will grace both front and back covers of a women's anthology due out this winter. Another, Proud to Be: Volume 3, a veteran's anthology, will showcase my First Place Photography Award from the Missouri Humanities Council of a veteran name "Jimmie", and my personal interview with him. Missouri Life Magazine recently published a full feature story on Claverach Farm in Missouri, titled "Over the River, and through the Wood" – a field-to-table Sunday supper experience. I also have a restaurant review coming up for them. I blog at Sheree's Warm Fuzzies – all things inspirational. And finally, I'm working on the finishing touches of an essay collection that will celebrate travel, nature, family and friends.

Books Tell You Why: Will there be a follow up volume to Folly Beach Dances?

Sheree: Definitely. The second book is about a favorite beach in North Carolina. Don't want to give away the name of the beach at this time! Photography is about 50% complete. I hope the same women contributors that collaborated on Folly Beach Dances will be interested in working with me. I also have a Low Country author in mind, I'd like to ask to be in the book. She resides in this 'special' North Carolina beach town. So of course, I'll be making a trip there this spring. The dogs love it!