Today is one of the most anticipated days of the year for children's book enthusiasts. This morning, the the Association for Library Service to Children, a division of the American Library Association, announced the winners of the 2019 Caldecott Medal and Newbery Medal, among other children's literature awards. These coveted prizes go a long way in cementing their authors and illustrators as fixtures in the children's literary landscape. Their books will be found on our shelves and in libraries the world over for years to come. Without further ado, the winners of the 2019 Caldecott and Newbery medals are...
2019 Caldecott Medal - Hello Lighthouse, written and illustrated by Sophie Blackall
The 2019 Caldecott Medal was awarded to Hello Lighthouse, illustrated and written by Sophie Blackall and published by Little, Brown and Company.
Blackall is not unfamiliar with the prestigious Caldecott Medal. She is also the illustrator of the 2016 Caldecott Award winning book, Finding Winnie: The True Story of the World's Most Famous Bear by Lindsay Mattick.
In the award presentation, Blackall's illustrations in Hello Lighthouse were described as "masterful". She uses ink and watercolor illustrations throughout, and they provide young readers with "stunning images" in Hello Lighthouse. In short, "Blackall's skill with composition, line and close attention to detail" shine in this book.
Hello Lighthouse follows a long line of exceptional children's books to have won the Caldecott Award. Last year, Wolf in the Snow, written and illustrated by Matthew Cordell won the award. In his title, Cordell weaves a warm-hearted tale of a girl and a wolf pup who are both lost in a snow storm. We love this story, especially Cordell's depiction of the wolves, our personal favorites.
The committee selected four Caldecott Honor Books this year, as well. These are Alma and How She Got Her Name illustrated and written by Juana Martinez-Neal; A Big Mooncake for Little Star, illustrated and written by Grace Lin; The Rough Patch, illustrated and written by Brian Lies; and Thank you, Omu! illustrated and written by Oge Mora.
2019 Newbery Medal - Merci Suárez Changes Gears by Meg Medina
The 2019 Newbery Medal was awarded to Merci Suárez Changes Gears by Meg Medina and published by Candlewick Press. Merci Suárez Changes Gears explores themes of identity and multiculturalism as well as the role of family and changing family dynamics.
Merci, the title character in Merci Suárez Changes Gears was described during the award ceremony as a "charming and plucky protagonist". The book itself was praised for being a "richly nuanced novel".
Two Newbery Honor books were also named. They are The Night Diary by Veera Hiranandani; and The Book of Boy by Catherine Gilbert Murdock and illustrated by Ian Schoenherr.
In 2018, the Newbery Medal went to Hello, Universe by Erin Entrada Kelly. In Kelly's award-winning book, she tells a captivating story of friendship, adventure, misfits, and bravery (and so much more!). Written from the perspectives of two boys and two girls, Hello, Universe is relatable and funny, and Kelly's voice champions self-acceptance and authenticity.
Last year, we said that there's something for everyone to love in Hello, Universe, and we'd argue the same rings true for Merci Suárez Changes Gears.
This year and last year's winners are widely recognized thanks to their recent Caldecott and Newbery awards. But what about some of the titles that may have slipped through the cracks of our memory? Here, we've collected a list of Caldecott winners you don't know about (or remember)...but should.
Caldecott Winners You Don't Know About...But Should
The list of Caldecott Award Winners—those books that have been recognized by the Association of Library Service to Children for being the most distinguished American picture book for children—is long and varied. The Little House, Madeline, Where the Wild Things Are, Frog Went A-Courtin', and many more famous books might come to mind when thinking of the Caldecott honor. However, there are more than a few unusual treasures that you've probably never heard of. Now we bring them off the shelves, clear some dust, and introduce you to these winners of one of the highest honors in children's book publishing.
1.
The Egg Tree, Katherine Milhous, winner 1951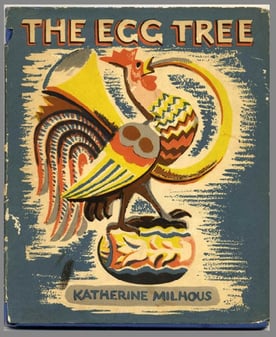 This story starts with a traditional egg hunt and a young girl frantic to find even one egg, and it ends with a family having a tree decorated with blown, hand-painted eggs. The odd thing about this Easter story is that it doesn't seem like one. It embraces this subplot of creativity with a family blowing eggs and decorating a tree, and when it becomes an attraction and visitors begin arriving, the Easter Bunny is gently remembered in the final scene, bringing the holiday back into the narrative.
2.
The Biggest Bear, Lynd Ward, winner 1953

We all remember being about ten and worried about the lack of massive bear skins on the sides of our barn, right? Well, Johnny Orchard has the same issue, and disgusted with his father and grandfather's lack of desire to kill and skin a bear for their barn so they could be more like the other neighbors, Johnny takes to the woods, armed and ready, to do the deed himself. Instead, he brings back a mischievous bear cub and hilarity ensues. The book then takes a strange, bittersweet turn, and the realities of farm life are revealed, but not examined, in these incredible illustrations done by Lynd Ward.
3.
Sam, Bangs & Moonshine, Evaline Ness, winner 1967

In this book, a young girl lives in a fantasy world until she can't anymore. Little Samantha tells everyone her mother is a mermaid because she doesn't want to be a girl with a dead mother. This is one of the sad truths that haunt this little tome. It tells of imagination and how it can be a harmful thing. Sam, Bangs & Moonshine is part simple picture book, part heart-breaking coming of age story, all with accompanying distinguished illustrations. Read more >>