Are you visiting Dublin or the Irish countryside anytime soon? Do you want to learn more about the history of modern Irish literature? Are you traveling to Belfast in the near future? If you answered with an emphatic 'yes!' to any of our questions, or if you're interested in literary travel from the comfort of your sofa through a well-written novel, then we have some reading recommendations for you.
W.B. Yeats, The Collected Poems of William Butler Yeats (1903)
The first book of Yeats's collected poems appeared in 1903 with a limited edition printed in 1933. Of course, one of these editions can be difficult to find. You might settle, instead, for a reading copy printed in the 1980s, 1990s, or 2000s. At any rate, we're more interested in your access to the poetry inside the collection. While Yeats began writing in the late nineteenth century, many of his most famous poems appeared in the first decades of the twentieth century. In distinct ways, his poetry addresses the ways in which Ireland was colonized by England and efforts to resist political oppression.
We recommend beginning with Yeats's poem "The Lake Isle of Innisfree" (1890), which heavily indicts acts of colonization and alludes to the great losses of language and culture that ensue. While you can't go wrong with most of Yeats's poems, our other favorites include: "Easter 1916" (1916), "An Irish Airman Foresees His Death" (1919), and "The Second Coming" (1920). Yeats won the Nobel Prize in Literature in 1923.
James Joyce, Ulysses (1922)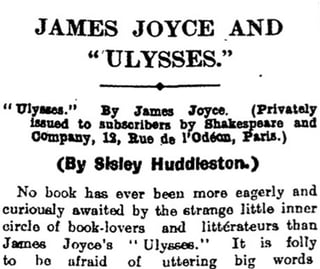 While this novel was published in whole for the first time in 1922, it was published in serialized form beginning in 1918. It's almost impossible to choose just one James Joyce novel when trying to select some of the best books on Ireland. We've picked Ulysses for three primary reasons. For us, its episodic form is perhaps most representative of Joyce's work as a Modernist fiction writer. Second, it is among the best-known modern novels of the early twentieth century. And third, readers can literally trace the episodes in the novel (which all take place on the single day of June 16, 1904) through Dublin, thereby taking a literary tour of the city.
If you've never read Ulysses, we don't want to spoil it for you. Pick up a copy today and start your epic journey.
Samuel Beckett's Endgame (1957) and Krapp's Last Tape (1958)
Yes, we're giving you two of Beckett's plays. Why? Onstage at the Royal Court Theatre in London, the two were often paired, with Krapp's Last Tape setting the stage for Endgame. Beckett was an avant-garde, experimental Irish dramatist. He was born in Dublin but lived much of his adult life in Paris, France. While Beckett's plays might not initially conjure questions of Irishness or Irish politics, scholars contend that, through performance, his works contend with the "Anglo-Irish political subtext" that runs through much Irish literature. Beckett won the Nobel Prize in Literature in 1969.
Seamus Heaney's North (1975)
Through this collection of poems, Heaney (pronounced HEE-nee) imagines Irish history, from Greek myth and early Viking raids in the eighth century up through the Troubles in the twentieth century. While many of Heaney's other collections have received wider readership, we think this collection deals most fascinatingly with the history of Ireland and the ability for a writer of imaginative literature to shape (and reshape) it. Heaney won the Nobel Prize in Literature in 1995.
Bernard MacLaverty's Cal (1983)
Are you interested in learning more about the Troubles in Ireland? In the second half of the twentieth century, what most of the world came to know as the Northern Ireland conflict resulted in ethnic violence between Northern Ireland and the Republic of Ireland. You've probably heard of some of the participants, such as the Provisional Irish Republican Army (IRA). MacLaverty's novel attends to one young man's experience of violence, even murder, during the Troubles.
Eimear McBride's A Girl is a Half-Formed Thing (2013)
There are a lot of male writers on our list, and many from the twentieth century. Eimear McBride's debut novel, A Girl is a Half-Formed Thing, helps to remedy those omissions. We love this novel, written in a fragmentary, stream-of-consciousness narrative mode. In terms of plot, the book deals intimately with domestic space and human trauma. An example of McBride's prose from the beginning of the novel:
"For you. You'll soon. You'll give her name. In the stitches of her skin she'll wear your say. Mammy me? Yes you. Bounce the bed, I'd say. I'd say that's what you did. Then lay you down. They cut you round. Wait and hour and day."
Ireland has a long literary history, so we've had to do some careful curating for you. We've tried to give you a mix of genres, as well as a relatively varied list across the twentieth and twenty-first centuries. Enjoy!