October 4th marks the birthday of prolific American author Anne Rice. It seems fitting that this queen of gothic fiction should be born in the same month as Halloween, but Rice has written much more than merely horror. Her oeuvres range from Christian literature to erotica. She often addresses the metaphysical, weaving stories that both challenge and entertain.
Early Years and Young Adulthood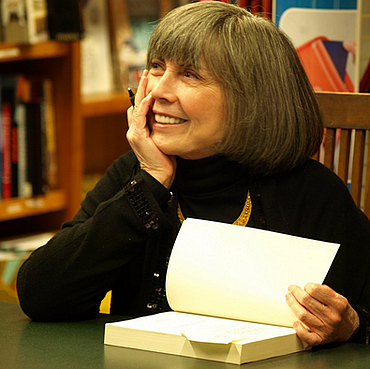 Rice was originally named Howard Allen O'Brien, after her father. According to Rice, her mother "had the idea that naming a woman Howard was going to give that woman an unusual advantage in the world." Rice changed her name to Anne in first grade, when she entered Catholic grammar school. It was legally changed in 1947. When Anne was 15, her mother died of complications from alcoholism. Her father put her and her sisters at St. Joseph's Academy, a dreary and depressing place. She finished her school years, however, at Richardson High School, where she met her future husband, Stan Rice. Rice went on to Texas Woman's University, then to North Texas State College, before heading to San Francisco. She returned to Denton, Texas to marry Stan. The couple made their way back to the Bay area, where they lived from 1962 to 1988. Rice earned her BA from San Francisco University in 1964 and her MA in 1972.
A Career Launched by Spooky Stories
In 1973, Rice adapted a short story into what would go on to become the bestselling Interview with the Vampire. She encountered her future agent, Phyllis Seidel, at a writers' conference the following year. Seidel sold the rights to Interview with the Vampire for $12,000--six times the usual advance paid to unknown authors. The novel was published in May 1976. Rice would later return to the tale of Lestat with The Vampire Lestat and The Queen of the Damned. These books remain favorites, not just as Halloween books, but as brilliantly gripping tales. After Interview with the Vampire, Rice turned her attention to historical fiction with The Feast of All Saints and Cry to Heaven. She also wrote four erotic novels under pseudonyms. After her family relocated to New Orleans in 1988. It was here that she wrote The Witching Hour, Lasher, Taltos, and the Lives of the Mayfair Witches trilogy. Rice also continued the Vampire Chronicles(which would eventually come to include ten novels).
A Religious Awakening
Rice had been raised in an environment of strict Catholicism, and she left the church as a young adult. Though Rice didn't agree with the Church on many social issues, she returned in 1998. She's remained vocal on those issues and has also written several Christian works, such as Christ the Lord: Out of Egypt (2005). This novel became the first in what will be a three-part series; Christ the Lord: The Road to Cana (2008) will be followed by Christ the Lord: Kingdom Heaven. Rice's religious journey also figured prominently in her memoir, Called out of Darkness: A Spiritual Confession. Rice has since strived to simplify her life, selling some of her property and auctioning many of her personal belongings. She also renounced Christianity in 2010, citing her deeply rooted philosophical differences with the Church. Rice's decision sparked a media frenzy.
A Rich and Varied Career
While Interview with the Vampire initially received poor reviews, Rice's subsequent novels drew positive attention from critics and readers alike. In sum, her books have sold nearly 100 million copies. Multiple novels also have movie adaptations--to varying degrees of success, with Interview with the Vampire being the most beloved. Elton John even produced a musical called Lestat, inspired by the Vampire Chronicles. Rice remains an active public figure. Her high profile and the wide appeal of his novels mean that Rice's works remain popular among rare book collectors with incredibly diverse interests. For the gothic or horror enthusiast, a first edition of an Anne Rice novel--particularly one of the handsome BE Trice limited editions--is an ideal Halloween gift. Meanwhile, lovers of philosophy and religion will find plenty of interesting works by Rice.