When my girls had library day at school or took home a book order form in their oversized backpacks, they were always excited to make their book choice. When you consider it, children actually have a fairly small number of things in their life on which they get to make the final decision. In their quest, I'm certain they carefully circled the library shelves at school as well as the pictures and descriptors in the fliers—usually with brightly colored hi-lighters if memory serves. I'm not sure when or how this happened, but nothing tipped the scales more or caused greater excitement than when a book had a medal on its cover. I can now point to this as an early sign of a lifetime of good decision-making. The Randolph Caldecott Medal is awarded yearly for the most distinguished American picture book for children. Among its recipients are titles with which many of us are familiar. However, since its inception in 1938, I'm certain there are a number of books that flew under or eventually fell off of our literary radar. Here are a few medalists worth rediscovering.

Mei Li by Thomas Handforth - 1939 Caldecott winner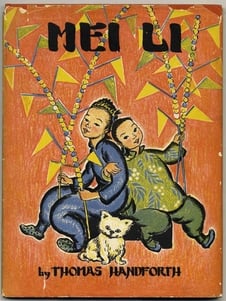 This book, delightfully illustrated with black and white drawings, follows the story of a Chinese girl and her brother as they sneak into the walled city just before New Year's Day. If one keeps in mind that the setting of the story is China nearly a century ago, one can see that, despite its dated references to gender roles, it actually develops the more modern theme of "girl-power". The main character is spirited and embraces bold adventure as well as dress-up and make-believe. Although written by a westerner, Handforth lends credibility to his work by the fact that he lived in China for several years and based the book on a real Chinese girl.
They Were Strong and Good by Robert Lawson - 1941 Caldecott winner
Once again, the publishing date on this book is central to understanding some of the language in it. A couple of sections were even revised since publication to omit objectionable references to slaves and Native Americans. As a whole, it is a nonfictional account of the Lawson family as they make their rather ordinary way through history. In the preface to the book the author says of his ancestors, "none of them were great or famous, but they were strong and good." The detailed black and white drawings lend an historical significance to the story and bring it to life.
The Egg Tree by Katherine Milhous - 1951 Caldecott winner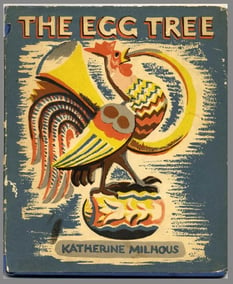 This is the heartwarming story of children spending Easter on their grandmother's farm for the first time. An Easter egg hunt brings about the discovery of beautifully painted eggs in the farmhouse attic. The grandmother shares the story of how she made the eggs and then hangs them on a branch, creating an egg tree. The colorful illustrations are done in a style reminiscent of Pennsylvania Dutch folk art, and the story is about traditions old and new. The author even includes instructions for making one's own egg tree so the story can become an integral part of one's own Easter celebration.
Always Room for One More by Sorche Nic Leodhas, illustrated by Nonnie Hogragian - 1966 Caldecott winner
A Scottish folk song is the basis for this lovely story of hospitality. The main character, Lachie MacLachlan lives in a small house with his wife and ten children, yet he finds room to give shelter from a storm to every stranger who passes by. The house eventually fills to the point of bursting—as will your heart as the strangers work together to build Lachie an even bigger house where there will always be "room for one more." The illustrations of MacLachlan and his guests are uniquely drawn with a pen and ink style that is at once simple and detailed. As an added bonus, at the end of the book is the music to the traditional Scottish song.
The Funny Little Woman by Arlene Mosel, illustrated by Blair Lent - 1973 Caldecott winner
In this tale, a funny Japanese woman, skilled in the art of making dumplings, finds herself trapped in an underground world inhabited by the three-eyed Oni. She cooks for them, but eventually manages to escape with their magic spoon to find success in her own village. The illustrations beautifully depict the two different worlds in the story and portray, with vivid detail, the creatures who hold her captive. It is a suspenseful tale, but one in which the main character never loses her ability to laugh.
These are just a few examples of early Caldecott winners that would make beautiful additions to a collection and wonderful memories when shared with a child. If you decide to take a book like this off the shelf and bring it to life with your own voice, make sure you turn it to show the pictures. Only then will you be sharing everything that makes it a medalist.