For American illustrators, one of the highest honors is The Caldecott Medal. The medal is awarded yearly to a book that exemplifies the very best in children's book illustrations. To even be named a Caldecott Honor book is to be deemed one of the best artists in the business. Children's books are one of the rare types of literature that appeal to everyone at one point in their life or another (and, in many cases, for one's entire life!). Whether a person comes to a children's book as a child or as an adult reading to a child, the stories and illustrations touch the hearts of many. Often, Caldecott-winning illustrators and books go on to be remembered far longer than an unhonored book might. We continue our Caldecott Winning Illustrators series by examining one such illustrator—Katherine Milhous—who earned the award for her illustrations in the 1951 Caldecott winner, The Egg Tree.
Who is Katherine Milhous?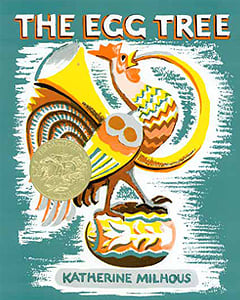 Katherine Milhous was born to Quaker parents in 1884 in Pennsylvania. Her parents worked in the printing business, which exposed her to art and books at an early age. Though the family moved to New Jersey, Milhous later returned to her home state to attend the Pennsylvania Academy of the Fine Arts and the Pennsylvania Museum School of Industrial Art. Milhous put herself through school by contributing as a staff artist to The Philadelphia Record. She lived and worked from a studio there for the rest of her life, minus some time spent travelling.
Mihous was able to support herself with her art, providing illustrations for both magazines and children's books, as well as writing books of her own. From 1935 to 1940 she served as a supervisor for the Philadelphia Federal Art Project, which was part of President Roosevelt's Works Progress Administration. Her creative, innovative designs which incorporated her Pennsylvania Dutch background attracted the attention of the head of the Children's Book Division at Scribner & Sons, where she was eventually employed as a staff designer. Milhous passed away in 1977.
Examining Milhous' Artistic Style
Much of Milhous' art, whether it be for children's book illustrations or for her poster designs for the Philadelphia Federal Art Project, focused on a warm color palate. Often, her works utilize three or four warm colors with green or a subdued blue as an accent color.
For Milhous, inspiration came from folk art, her Quaker religion, and the Pennsylvania Dutch community. Her Caldecott winning book, The Egg Tree, also takes inspiration from her religion, offering up a tale inspired by the way her own family celebrates the Easter holiday.
Why else have you heard of Katherine Milhous?
Milhous worked for several years as a supervisor for the Philadelphia Federal Art Project, which meant that her art was often used for state and city projects. Her art can be seen on posters and advertising from that time period. Besides being known for her work on her own books, she also illustrated The Silver Pencil by Alice Dalgliesh, the head of the Children's Book Division at Scribner's & Sons who had discovered Milhous through her Pennsylvania posters and hired her as a staff designer. The Silver Pencil was a Newbery Honor recipient in 1945.
Collecting Katherine Milhous

The Egg Tree
The Egg Tree earned Milhous the Caldecott Medal in 1951. Depicting a fictionalized version of how Easter is celebrated by her own family, Milhous' charming book features two children who have come to spend their first holiday with their family who lives far away. The little girl has never hunted for Easter eggs before and when she can't find any outside, she looks inside and finds four beautifully decorated glass eggs in the attic. Her grandmother had forgotten all about them and is so delighted that she hangs them like ornaments from a tree. The next year, her family—inspired by the egg tree from the year before—all decorate beautiful eggs to represent what Easter means to them to make an even more beautiful tree than they had the previous year.
The Egg Tree utilizes Mihous' trademark style and features a lovely four-color palate. Her focus on a rural Pennsylvania holiday makes the book just as worthy of collection as the charming illustrations.
The Silver Pencil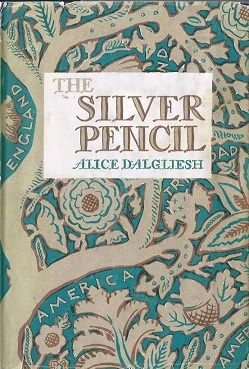 Written by one-time Scribner & Sons Children's Book Division head Alice Dalgliesh, Newbery Honor recipient, The Silver Pencil tells the story of Dalgliesh's own childhood. The story of how she became interested in reading and writing should appeal to any collector of children's books, not just because of the subject matter, but because of Dalgliesh's own place in the history of children's book publishing.
Appalonia's Valentine
Published by Scribner's & Sons, Appalonia's Valentine was successful at the time of release, but like the majority of Milhous' works, it is now out of print. At the time, critics described it as a lovely edition sure to delight children in any library or school.
The book tells the story of a girl making valentines for her class, and it includes instructions for the reader to make a valentine of their own. The focus on a holiday rather underrepresented in children's books as well as the Pennsylvania Dutch-inspired artwork make this book a natural choice for those interested in collecting more of Milhous' works.