The Caldecott Medal is the most prestigious award for children's book illustration in America. Books awarded the medal are widely sought by libraries, children, and collectors alike. Though these books make for an excellent read any time of the year, we've picked out a few winners that are perfect to read during the fall. In some particular way, each of these books conjure up the feeling of autumn. Whether it be in their depiction of cool weather and changing leaves or by the way they evoke the feelings of the Thanksgiving season, these titles are perfect for this time of year. So curl up under a blanket with some hot apple cider, and check out our Caldecott recommendations for fall.
The Little Island by Golden MacDonald
The Little Island by Golden MacDonald (a pseudonym for Margaret Wise Brown, author of the legendary Good Night, Moon) and illustrated by Leonard Weisgard won the Caldecott Medal in 1947. The book focuses on the island and a kitten who comes to visit it while on a picnic with his family. Though the kitten finds the island isolated and boring, the island shows the kitten how nature and the seasons change and how the island is an important part of the world, just like the kitten. Weisgard's watercolor illustrations beautifully depict the changing seasons and make it a perfect read as the leaves change color and eventually fall.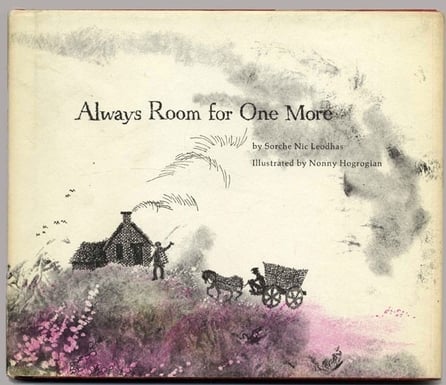 Always Room for One More
by Sorche Nic Leodhas
Always Room for One More by Sorche Nic Leodhas and illustrated by Nonny Hogrogian is a retelling of Scottish folk song. The 1966 winner tells the story of a poor farmer who opens his home to numerous travelers on a stormy night even though he has little space and not much to share. The farmer's generosity make it in excellent Thanksgiving season read and the stormy and cozy atmospheres depicted in the crosshatched illustrations and blurs of color in the background are what make this Caldecott winner perfect for fall.
One Fine Day by Nonny Hogrogian
Nonny Hogrogian makes her second appearance on this list with One Fine Day which she wrote and illustrated. The book was awarded the Caldecott medal in 1972. This book tells the story of a thirsty fox who drinks an unsuspecting old woman's milk while her back is turned. She is so angry that she chops off his tail. She promises to sew it back on if he replaces her milk, so the fox begins trading various items in order to bring back milk to the old woman. The art in this book is very different from Hogrogian's first Caldecott-winning book. The colors are warm and autumnal and the image of the bright orange fox evokes a perfect fall feeling.
Ox-Cart Man by Donald Hall
Ox-Cart Man by Donald Hall and illustrated by Barbara Cooney (who also earned a medal for her illustrations for Chanticleer and the Fox) was awarded the Caldecott Medal in 1980. Based on one of Hall's poems, Ox-Cart Man describes how a man prepares for fall by selling his wool and potatoes, as well as, eventually, his ox and cart. Set in October and November, this book offers a look at how people in the past prepared all year to sell their wares in the fall in order to survive the winter. Besides being an excellent fall read, this book was featured in season two of the famous children's PBS series Reading Rainbow.
Grandfather's Journey by Allen Say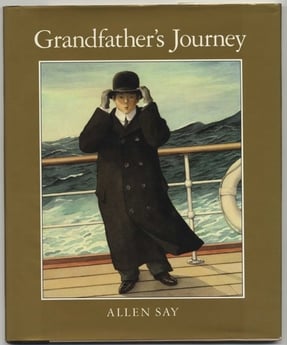 Grandfather's Journey, written and illustrated by Allen Say, won the Caldecott Medal in 1994. The book is based on his grandfather's own experiences living in both Japan and California. The themes of finding home in many places, as well as a desire to connect to the life and experiences of family members make this book perfect to read in the Thanksgiving season when thoughts of family and home are on everyone's mind.
So You Want to Be President? by Judith St. George
Written by Judith St. George and illustrated by David Small, So You Want to Be President? is an ideal book to read around election day. The 2001 Caldecott-winner only goes through President Bill Clinton, but offers up a variety of fun facts and humorous illustrations which will interest children during a time when they might be seeing and hearing election details. Besides earning the Caldecott Medal in 2001, Small's illustrations for The Gardener and One Cool Friend were named Caldecott Honor books.
A Sick Day for Amos McGee by Philip E. Stead
A collaboration between married couple Philip E. Stead, a writer, and Erin C. Stead, an illustrator, resulted in A Sick Day for Amos McGee, the Caldecott Medal winner of 2011. Interestingly enough, this was Erin C. Stead's first time illustrating a children's book. A Sick Day for Amos McGee is about a zoo keeper who is so diligent and kind that when he has to stay home sick from work, his animal friends take the bus from the zoo to his home so that they can care for him the way he does for them. While this book is charming in any season, the warm illustrations depicting the friendship between Amos and the animals make this perfect for a crisp fall day when a child is home sick from school.