Every year a book that represents the best that children's book illustrations have to offer is awarded the Caldecott Medal. The Caldecott Medal is considered one of the most prestigious awards that an American children's book can receive and illustrators awarded this honor are widely acknowledged to be the best in the business. Often times, the medal is an indicator of an already impressive career or a sign of great things to come from the illustrator. The Caldecott Medal often ensures continuous print for an awarded book, and good things for the illustrator's future work. Even so, sometimes the illustrator—despite the impressive nature of their work—does not necessarily achieve household name status. The 1952 winner of the Caldecott Medal, Nicholas Mordvinoff, is one such illustrator. Though he had great success within his field, providing beautiful art for dozens of books during his career, the majority of the books to which he contributed are no longer in print. Let's continue our Caldecott Medal Winning Illustrators Series by taking a closer look Mordvinoff, who has in recent years become one of the more obscure winners.
Who is Nicolas Mordvinoff?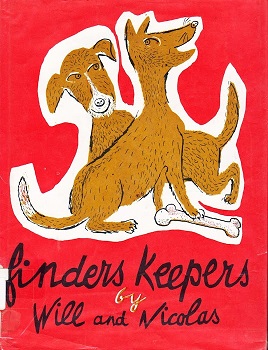 Nicolas Mordvinoff was born in St. Petersburg, Russia in 1911 during the Russian Revolution. His father was a count and during the conflict, his once-wealthy family was reduced to poverty. His mother fled to Finland, where he eventually joined her. He was raised in Paris where he studied under artist Fernand Leger, who was well known for his cubist works that helped inspire the pop art movement.
Modrvinoff lived alone for a time in Mangareva and Tahiti before he moved to the U.S. toward the end of World War II to pursue the life of an artist. A chance meeting with children's book writer William Lipkind set him on the path of book illustration. They collaborated on numerous books together in the 1950s and 1960s before Mordvinoff grew tired of the pressure from publishers to create new works. He left the world of children's books for good and turned his focus toward producing paintings and etchings. Tragically, he committed suicide in 1973 at the age of 61.
Examining Mordvinoff's Artistic Style
In his work with William Lipkind, Mordvinoff's style tends toward focusing on a limited color palate of only three or four colors, alternating background colors to play with the overall color scheme. In the Caldecott winning Finders Keepers, Mordvinoff utilizes red, yellow, and teal, switching seamlessly between the colors with charming effect. His lines are thick and the shapes playful, evoking movement throughout each page of his illustrations. Mordvinoff's fine art sketches employ similar lines: his subjects rendered in thick strokes of ink.
Why else have you heard of Mordvinoff?
Mordvinoff is best known for the work he published in cooperation with William Lipkind as one half of the writer-artist duo Will and Nicolas. Throughout the fifties and sixties, the pair published numerous books for children, including the Caldecott runner up The Two Reds and the Caldecott winning Finders Keepers. After retiring from the world of children's literature, he resumed his earlier dedication to painting and etchings, which he displayed in galleries across the U.S. In the 1960s he created numerous erotic etchings that were considered controversial at the time due to his depiction of both homosexual and heterosexual pairings. The etchings have since been collected into a curated portfolio titled Images of Love which sells for upwards of $7,000.
Collecting Mordvinoff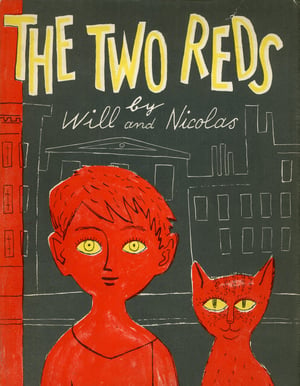 The Two Reds
This book tells the story of a little red haired boy and a little red cat. This Caldecott runner-up is the first book Lipkind and Mordvinoff collaborated on and is an excellent precursor to their award winning future works.
Finders Keepers
This Caldecott Winner tells the story of two dogs who find a bone and can't decide which of them deserves to keep it. They travel around the farm and ask various animals and people they meet and get tricked into all sorts of strange tasks and stranger haircuts before deciding they would share. The art style is unusual and charming and a great addition to any collection of vintage children's books as well as collectors of award winning books.