Each year the Caldecott Medal is awarded to the children's book most representative of the highest level of quality and skill in the industry. While sometimes the author and illustrator are one in the same, as with Barbara Cooney's 1958 win for Chanticleer and the Fox, just as often the illustrator in question did not write the book, which is the case for Cooney's 1980 win for her collaboration on Donald Hall's Ox-Cart Man. Cooney is a perfect example of what a recipient should be. Her work is prized not only for the exceptional addition it makes to children's books, but as folk art. After her death, her work began to appear more and more in museums. Cooney is famously noted to have said that she did not believe that children were too young to read about larger issues, that they should not be limited to only what they understand. Her work exemplified this push for a greater understanding and, most importantly for children's books, she never talked down to children. Join us as we take a closer look at the career of this remarkable illustrator in our continuing Caldecott Winning Illustrators Series.
Who is Barbara Cooney?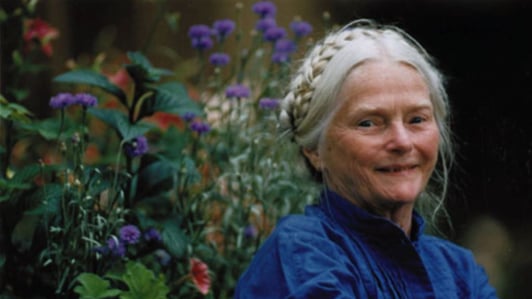 Barbara Cooney was born in 1917 in New York. Her mother was an artist and much of her early education was at home. Cooney credited much of her early art education to her mother, but not in the traditional way. Rather than instructing her daughter in her own preferences and methods, she allowed Cooney free reign with her materials, encouraged her own style, and never kept her from trying something new.
Cooney went on to study history at at Smith College, though she almost immediately began seeing her illustrations published professionally. She continued her career as an illustrator even through World War II during which she served in the Women's Army Corps.
Throughout her prolific career, Cooney served as illustrator for more than 100 books, many of which she also wrote. She was a two time Caldecott Medal Winning (1958's Chanticleer and the Fox and 1979's Ox-Cart Man). Her book Miss Rumphius earned her the National Book Award in 1983. In 1994, she was nominated for the Hans Christian Anderson Award, the highest international honor for children's book writers, for her incredible contributions to the field.
Examining Cooney's Artistic Style
While Cooney's mother was an artist, most of her artistic education came from self-study and experimentation. Throughout her life, she never considered herself to be much of an artist. Cooney's work is done in a variety of media with a variety of color palettes. She worked mostly in ink, watercolor, and pastels, illustrating books in both black and white and color. One of her personal favorite works, Miss Rumphius, is notable for its watery blues and purples and lush illustrations of lupines. Cooney's work is often considered folk art and is displayed as such in museum collections.
Why else have you heard of Cooney?
While Cooney is a highly awarded author and illustrator, earning the incredible achievement of two Caldecott Medals, her best known book is most likely Miss Rumphius, published in 1983. The book topped (and continues to be included on) teacher's lists of best children's books and is used as an example of the positive impact one person can have on their environment and on nature. Miss Rumphius was adapted into a short film in 2014 and was narrated by Claire Danes. The book as never been out of print.
Collecting Cooney
Chanticleer and the Fox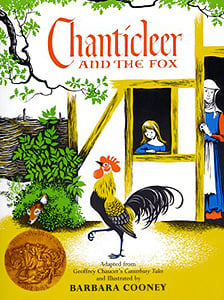 One must-have book when collecting Barbara Cooney is her 1959 Caldecott winner Chanticleer and the Fox (1958). A retelling of the story first told in Geoffrey Chaucer's "The Nun's Priest's Tale" from Canterbury Tales. The charming illustrations are done only in five colors as, at the time, each additional color was included at extra cost to the publisher, though even five was an extravagance not granted to many illustrators at the time. This book is a perfect example of Cooney's folk art style.
Ox-Cart Man
Written by Donald Hall, Ox-Cart Man (1979) earned Barbara Cooney her second Caldecott Medal in 1980. Originally, Hall published "Ox-Cart Man" as a poem in the New Yorker and later adapted it into a children's book which tells the story of a farmer in the 1800s taking his cart to market to trade and buy everything he needs to get through the harsh New Hampshire winter. Completely different in tone and style than Chanticleer and the Fox, this book offers a different side of Cooney's work.
Miss Rumphius
Widely considered one of the best children's books of all time, Miss Rumphius is a must-have for any collector of children's books. While this book was not awarded a Caldecott Honor, it did win the National Book award in the children's book category. The illustrations are beautiful and in combination with the message, this book is perfect for any collection.