The Caldecott Medal for outstanding children's book illustration is awarded every year to the illustrator who has proven themselves to be at the forefront of what is possible in the world of children's literature. 1965's winner is notable not only because his art style was vivid and unusual, but also because he was inspired almost entirely by his work in another field. Beni Montresor's illustrations, often done in a variety of mediums, were heavily influenced by his work as a set designer for ballet and opera. This lead to illustrations both dynamic and compelling, a clear testament to his love of the dramatic that led to such success in his primary career as a set designer. Today we continue our Caldecott Winning Illustrators series by taking a closer look at Beni Montresor's artwork for the book, May I Bring a Friend?
Who is Beni Montresor?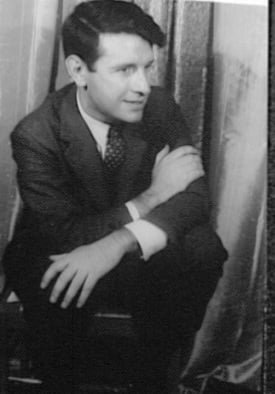 Beni Montresor was born in Italy in 1926. He managed to avoid seeing combat in World War II due to his enrollment in art school in Verona throughout the course of the war. He found work as a set designer for opera, working with many of the notable greats of the time, including Roberto Rossellini, as well as designing sets for other productions across Europe. He moved to the United States in the 1960s to work for the Metropolitan Opera in New York. He continued to gain commissions for set and costume design for operas and ballets.
He was awarded the 1965 Caldecott Medal for his illustrations in May I Bring a Friend? by Beatrice Schenk de Regniers. He published his first children's book as both writer and illustrator in 1966. Titled The Magic Flute, the book was based on the opera of the same name which he also designed the same year at the City Center Opera. He continued to design operas and ballets throughout the rest of his life, including The Witches of Venice, a ballet based on his own original story, which he also adapted into a children's book. Montresor died in Italy in 2001 at the age of seventy-five.
Examining Montresor's Artistic Style
Montresor's illustration style is heavily influenced by his work as a set designer. His illustrations mimic the blocking used in theater productions and often featured vibrant colors, like reds, purples, pinks, and oranges, similar to the shocking use of red in his design for Ricardo Freda's horror film, I Vampiri. He utilized a variety of mediums including paint, scratchboard, pastels, and paper cutouts.
Where else have you heard of Montresor?
Montresor is primarily known for his work as a set and costume designer for opera, ballet, and film. He worked for some time as the set designer for the New York Metropolitan Opera as well as designing Italy's first production of Wagner's Die Feen. He also directed two films, the American production, Pilgrimage, and the French, La Messe Doree.
Collecting Montresor
May I Bring a Friend?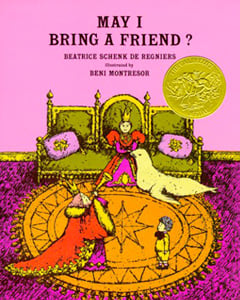 Beatrice Schenk de Regniers's book May I Bring a Friend? (1964) tells the story of a boy who is so polite that he is invited to visit with the king and the queen. He is invite to come again and requests that he be allowed to bring a friend. On each subsequent visit, he brings a different animal, all of which are remarkably well behaved. Montretor's jewel-toned illustrations for this earned him the Caldecott Medal, making it a charming addition to any collection.
The Witches of Venice
Based on his ballet of the same name, The Witches of Venice tells the story of a king and queen desperate for a child. When their wish is granted in the form of a boy who grows from a flower pot, the king has him imprisoned in the tower, not believing he is their promised son. The fantastical illustrations drawn in pastels on scratchboard make this book a must-have for Montresor collectors as well as those interested in the possibilities of children's book illustration. The Witches of Venice (1966) is the first book with both an original story and illustrations by Montresor.
Hansel and Gretel
Montresor tried his hand and the iconic Hansel and Gretel tale later in life. His version was published in 2001 by Atheneum, a division of Simon & Schuster. Montresor's illustrations come in the form of minimalist paper cutouts reminiscent of shadow puppets against colorful backgrounds. The colorful art design provides an interesting contrast to the frightening nature of many of the images. Montresor's last book, Hansel and Gretel is not to be missed.