Why is it that the books we read as children have such an impact on our lives? Is it because they offer some of the first reflections of the thoughts and experiences that we encounter early on? Is it because they grant us the opportunity to take in stories in a way that educates and entertains in a format perfectly geared toward that point in our development? Or maybe it's the way children's literature can transcend time and space. After all, even as we grow, it offers us an opportunity to connect with our histories as well as with the children who come in to our lives after we've "grown up."
Whatever the reason, children's books deserve to be celebrated. One of the most acclaimed awards for American children's literature is the Caldecott Medal, awarded each year by the Association for Library Services to Children, a division of the American Library Association. Continuing our ongoing Caldecott Medal Winning Illustrators Series, let's take a closer look what makes 1949's winning book, The Big Snow by Berta and Elmer Hader worthy of attention from both children and collectors.
Who Are Berta and Elmer Hader?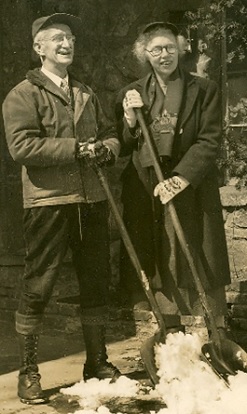 Berta Hader, born Berta Hoerner, grew up in the American Southwest as well as the Pacific Northwest. She was greatly influenced by her mother's stories of the art and people of Mexico, the place where Berta was born. Berta had no memory of Mexico or living in the southwest United States aside from her mother's stories, since the family moved north when she was very young, shortly after her father's death.
Berta became interested in art but went on to study journalism at the University of Washington. She expressed her love of art by apprenticing at a print and engraving shop.
Eventually Berta left journalism school to study art at the California School of Design. She became friends with Rose Wilder Lane (whose mother, Laura Ingalls Wilder would go on to publish the classic Little House on the Prairie series) and the two rented an art studio there. Many other local artists would visit the studio, which is how she met Elmer Hader. He was drafted, however, and Berta moved to New York to work as a fashion illustrator for McCall's.
Elmer Hader spent much of his life in San Francisco, where he enlisted in the National Guard. He was one of the many people who helped navigate the massive disaster that was the 1906 San Francisco Earthquake. He also worked as a firefighter and a successful vaudeville performer. However, though he considered giving it up, he managed to save up enough to pay for one term at the California School of Design.
His work was deemed promising enough that he received scholarships for the rest of his time at the university. It was during this time that be met and became friends with Berta, his future wife. He was drafted, and when his time in the service was over, rather than returning to San Francisco, he moved to New York where Berta was working. They married five months later.
The Haders began working together on children's segments in a variety of magazines like McCall's, Good Housekeeping, Century, and The Christian Science Monitor. The only reason they set their sights on children's picture books is because the U.S. Postal Service changed rules regarding the mailing of magazines, and so they decided to shift their focus. In their time writing and creating together, Berta and Elmer Hader illustrated and wrote over seventy picture books, including the 1949 Caldecott winner, The Big Snow.
Examining the Haders' Artistic Style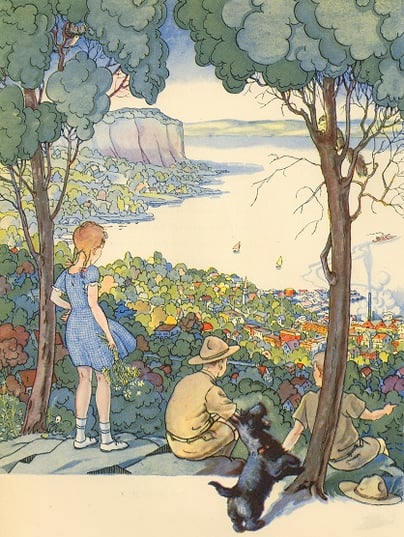 The Haders both had a unique artistic style, with Berta having come up in the world of fashion illustration and Elmer's past as a vaudeville performer. His show actually involved doing a full painting in a single minute! The pair first collaborated in paper crafts for children, like shadow boxes and paper dolls, which incorporate Berta's fashion illustration interests, as well as Elmer's innovation. Though the USPS changed their rules on shipping magazines with loose cut-out pieces, ending this venture, the Haders were able to fuse their love of art and animals into a style that was ideal for children's picture books.
Why else have you heard of Berta and Elmer Hader?
The Haders fostered art communities wherever they went. From Elmer's vaudeville past, to Berta's studio, and to the The Stone House they built as their family home (which became a hub for all their artistic friends), the Haders made their life all about creativity and art.
Scholars of Laura Ingalls Wilder may be familiar with their names, as the pair was instrumental in helping find a publisher for her books using their impressive network of connections.
Their book Billy Butter delighted John Steinbeck in such a way that he commissioned Elmer to do the cover illustrations for The Grapes of Wrath, East of Eden, and The Winter of Our Discontent. They are also the subjects of a very loving biography written by their niece and her co-writers and titled, Berta and Elmer Hader: A Lifetime of Art by Joy Hoerner Rich, Karen Tolley, John Waller, and Judy Waller.
Collecting Berta and Elmer Hader

The Big Snow
The 1949 Caldecott winner, The Big Snow, is an obvious choice for collectors searching to add a book by the Haders to their collection. The book features forest animals realizing that a storm is coming and making their preparations so they can survive and enjoy the upcoming snowy weather. Loving depictions of the forest in winter and the animals that make the forest their home make this beautiful book a sure favorite for children.
Cock-a-doodle-doo
Cock-a-doodle-doo was named a Caldecott Honor book in 1940. The book tells the story of what happens when a chicken egg rolls down a hill into a nest of duck eggs and a young chicken is raised like a duck. The chicken struggles to learn how do to duck things, like swimming, and eventually makes his way out in the world to find where he truly belongs. The art style alternates between black and white illustrations and color, and the detail makes it a beautiful addition to any bookshelf.
A Visit From St. Nicholas
This classic Christmas poem by Clement C. Moore is beautifully illustrated by Berta and Elmer Hader and includes their depictions of other classic stories. The Haders often wrote and illustrated their own stories, but on the occasion they would illustrate stories by others. Their take on classic Christmas stories is charming and belongs on the shelf of people looking to collect Hader books as well as those interested in collecting Christmas stories in general or The Night Before Christmas in particular.