Sometimes the Caldecott Medal is awarded to illustrators doing the latest thing, and other times it's given to an artist who takes an older, more traditional style and puts a unique spin on it. That's the case for the 2009 recipient, Beth Krommes. Krommes' work is inspired by the timeless art of wood engraving. Her folk art-inspired scratchboard illustrations showcase this traditional style, while her mixed media approach of adding watercolors to beautiful effect lends an air of surprise and depth. Let's take a closer look at Beth Krommes, the 2009 Caldecott medal recipient in this edition of our Caldecott Winning Illustrators Series:
Who is Beth Krommes?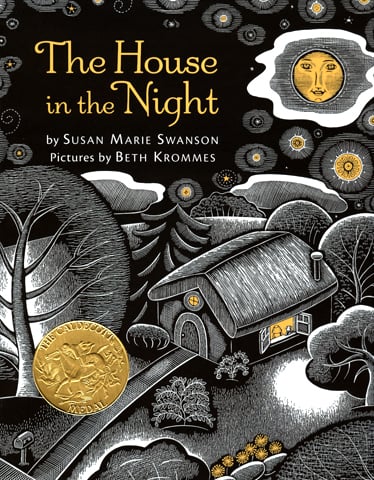 Children's book illustrator, wood engraver, and pattern maker Beth Krommes studied painting at Syracuse University, art education at University of Massachusetts Amherst, and textile design at the Fashion Institute of Technology. After working as an art teacher and then as the art director for a computer magazine, she eventually moved on to illustration. Her first book, Grandmother Winter by Phyllis Root, was released in 1999. Since then, she has illustrated ten children's books. In 2009, she received the Caldecott Medal for her work on The House in the Night by Susan Marie Swanson. Her most recent work can be seen in We are Branches by Joyce Sidman, published in 2023.
Where else have you heard of Krommes?
Beth Krommes has illustrated numerous books for children's writer Joyce Siddons. Fans of Siddons likely recognize Krommes' unique style. Besides working as an illustrator, Krommes creates personal art rather prolifically. She has a series of woodcuts (a medium she mimics in her illustrations done on scratchboard), often centering on themes of family and motherhood. She also frequently creates watercolor paintings, often on a natural theme that art fans might be familiar with. A newer endeavor, pattern making, might have drawn the attention of those interested in textiles.
Examining Krommes' Artistic Style
Krommes uses multiple steps to achieve the woodcut look of all her illustrations. She uses scratchboard, a piece of cardboard coated in white clay, and a topped layer of India ink, which she scratches with a sharp tool. The scratching uncovers the white beneath. The scratching creates a white illustration on a black background with various degrees of brightness depending on the number of scratches. When Krommes' work requires color, she makes a copy of her scratchboard illustration and adds color by painting over the print with watercolor. She does this for all her children's book illustrations. It is particularly striking in her Caldecott-winning book The House in the Night, for which she uses the black color of the scratchboard as a stand-in for the dark of night and yellow watercolor to represent the lights that are on in the house.
Collecting Kromme
Grandmother Winter by Phyllis Root
Krommes' first book was Grandmother Winter by Phyllis Root. This 1999 picture book is based on a German folk character, Mother Holle. In the story, Grandmother Winter spends most of the year gathering white goose feathers from her flock of geese, then stuffs her quilt with the feathers to ensure it's soft and warm. When she finishes, she shakes out the quilt and the first snow falls, blanketing all the landscape and creatures. Krommes' illustrations add a folk-art feel to the story, embodying the tale's overall feeling.
The House in the Night by Susan Marie Swanson
Krommes earned the 2009 Caldecott Medal for her work in The House in the Night by Susan Marie Swanson. This lovely, poetic story begins in the house, ventures out into the sky at night above the town, then returns to the house, talking about the interconnectedness of light and darkness. It is an ideal bedtime story, especially for children who might be slightly afraid of the dark and perhaps want to switch it up from another evergreen nighttime story, Goodnight Moon.
Butterfly Eyes and Other Secrets of the Meadow by Joyce Sidman
In one of many collaborations with writer Joyce Sidman, Krommes illustrated her 2006 collection of riddles, facts, and poems about the landscape of meadows, Butterfly Eyes and Other Secrets of the Meadow. The book opens with sunrise and ends with the sunset, encompassing a full day in the meadow for the animals and plants that live there. This book is a charming read for any child interested in poetry, or riddles, or with a budding interest in nature and ecology.