Established in 1938 by the American Library Association, the Cadecott Medal is given annually to "the most distinguished American picture book for children," a book that represents the best and most innovative work in the field. Looking through the list of winners throughout the years reveals classic after classic, books that are still in circulation in libraries or sold in bookstores today. In 1973, this honor was given to Blair Lent for his illustrations in The Funny Little Woman by Arlene Mosel. Join as as we take a closer look at his career as part of our Caldecott Winning Illustrators series:
Who is Blair Lent?
Blair Lent was born in Boston, where he attended the Boston Museum School, earning a degree in art. He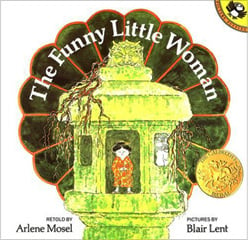 went on to receive a grant that enabled him to study art in Italy and Switzerland. When he returned to the US, he got a job designing labels for canned goods, the bank advertisements. After receiving a favorable response to art he submitted to a Atlantic Monthly Press, he turned his attention to illustrating children's books. He released his first book in 1964: Pistachio, the story of a green cow. He became best known for illustrating books by authors, in particular retellings of stories from around the world. He is best known for his collaborations Arlene Mosel. In 1997, his illustration's for Mosel's Tikki Tikki Tembo earned the book a place on the New York Times' list of the best illustrated books of the last fifty years. He illustrated Mosel's The Funny Little Woman, for which he received the 1973 Caldecott Medal. His final book, Ruby and Fred, was released in 2000. Lent passed away in 2009 from pneumonia.
Examining Lent's Artistic Style
Lent used a variety of techniques in his art, often time mirroring the traditional art style of the folktales he illustrated, as seen in Baba Yaga and Tikki Tikki Tembo. He worked often with acrylic paint, cardboard cutouts, ink, and colored pencil. His art is currently housed at the Mazza Museum at the Univerisity of Findlay in Ohio and in the Kerlan collection at the University of Minnesota.
Where else have you heard of Lent?
Besides illustrating numerous books for others under his own name, Lent also wrote his own children's books under the name Ernest Small, while still crediting the illustrations to the Lent name. His books written under the Small name include Baba Yaga and John Tabor's Ride. He also illustrated a version of Hans Christian Anderson's The Little Match Girl.
Collecting Lent
The Funny Little Woman
Lent's illustrations for Arlene Mosel's The Funny Little Woman won the Caldecott Medal in 1973. The book tells the story of a woman who lives alone in ancient Japan and makes rice balls. One day a rice ball falls into a crack in her floor. She chases it and ends up in underground tunnels where she gets captured by an evil oni and is forced to cook magical rice balls for him. This retelling of classic Japanese folktale is sure to intrigue children. Adult collectors will love it for the beautiful illustrations.
Baba Yaga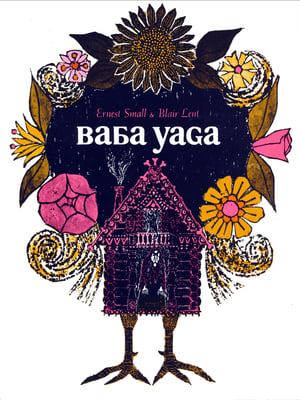 Published in 1966, Lent released Baba Yaga under the pen name Ernest Small. This version of the famous Russian folktale "Vasilisa the Beautiful" follows Marusia as she makes a bargain with a hedgehog who is also captured by the infamous witch Baba Yaga to help them both escape. The classic woodcut-style illstrations are a perfect fit for this story.
Tikki Tikki Tembo
Lent's other collaboration with Arlene Mosel is Tikki Tikki Tembo. This book tells the story of a boy with an extremely long name falling into a well. Lent is best known for this book, in spite of it not being his Caldecott medal-winning work. The beautiful illustrations make it a worthy addition to any collection, though it has faced criticism in modern times due to the character's silly name not actually aligning with Chinese language and culture.