The Caldecott Medal is awarded annually to the panel-determined, best-illustrated children's book of the year. Whether that book honors traditions in a meaningful way or pushes the artistic boundaries of what is common for children's books differs from year to year, but one can be assured that each year the winner and finalist have accomplished something special. The 2001 Caldecott Medal recipient, David Small, was awarded the medal for his fusion of political cartoons and caricatures into a delightful and educational book for children. Let's take a closer look at Small's career in this edition of our Caldecott Medal Winning Illustrators Series:
Who is David Small?
David Small was born in Detroit, Michigan in 1945. While he was originally drawn to playwriting, pursuing it through his youth and early adulthood, he formally switched to fine art while studying at Wayne State University. He went on to get a Master of Fine Arts degree from the prestigious Yale University. He worked in the art field for many years before pursuing a career as a children's book illustrator, working as a film editor, an art teacher, and as a cartoonist for the local paper. He released his first book which he both wrote and illustrated in 1981: Eulalie and the Hopping Head. Throughout his career, he has written and contributed art to numerous children's books as well as two graphic novels for adults. He continues to create political cartoons which have appeared in The New Yorker. He frequently collaborated with his wife, Sarah Stewart, and in 2020 Western Michigan University acquired their archives for display and study. Throughout his career, Small has earned the Caldecott Medal, two Caldecott Honors, The Christopher Medal, was a finalist for the Neustadt Prize for Children's Literature, and was named a National Book Award finalist.
Additional facts about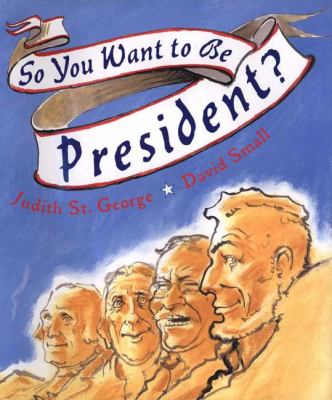 Small has contributed numerous political cartoons for The New Yorker. His 2001 graphic novel memoir, Stitches was a finalist for the National Book Award. Several of his books were featured on the classic PBS children's program, Reading Rainbow. His archives are on display at Western Michigan University and those of his wife, writer and frequent collaborator, Sarah Stewart.
Examining Small's Artistic Style
Small creates most of his illustrations using watercolor, pen, and ink. His children's illustrations often feature bright colors, detailed natural landscapes, and beautiful detailing for people and animals. Having worked for many years as a political cartoonist, that trademark satirical style can often be seen in his work, particularly in his Caldecott Winning book, So You Want to Be President, written by Judith St. George.
Collecting Small
So You Want to Be President by Judith St. George
This 2000 Caldecott-winning book details every US president up to that time, giving information about their families, educations, career history and road to the White House, as well as their vice presidents. Utilizing his skills as a political cartoonist, each president is illustrated as a caricature and is depicted in comical situations.
Imogene's Antlers
Imogene's Antlers is a charming book about a girl who wakes one day to find she's grown antlers. While her teachers and family are distraught, others in her life help her figure out other ways the antlers might be fun and useful and help her deal with the change. However, when she wakes up the next morning, the antlers are gone, and a new animal feature has taken their place.
Stitches—A Memoir
Ideal for adult collectors, Small's stunning memoir details his experience with throat cancer when he was fourteen, a diagnosis which was kept from him and which he developed as a direct result of his radiologist father administering numerous radiation treatments to his throat in hopes of treating a breathing problem. This National Book Award finalist was described by famed Marvel comics creator Stan Lee as having "revolutionized the graphic novel."