Each year the Caldecott Medal is awarded to the panel-declared best illustrated children's book of that year. While often awarded to artists that work in mediums like paint or pen, 1998's medal went to a writer/illustrator who's medium was more related to his background in clowning and puppetry. David Wisniewski's intricate paper cutouts and collages for his work on Golem are beautiful and detailed works of art that are sure to add to anyone looking to collect Caldecott wining books. Let's take a closer look at the work of David Wisniewski in this edition of our Caldecott Winning Illustrators Series:
Who is David Wisniewski?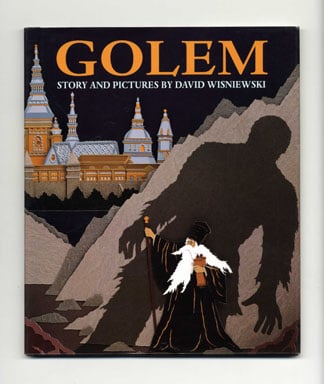 Wisniewski was born in 1953 in England, where his father was stationed as a master sergeant in the United States Air Force. His family moved around Europe for much of his childhood before returning to the US, where they continued to move often to wherever his father was stationed at the time. He learned to love art at an early age when his mother taught him how to draw as a first grader. It was around this time that he also gained his love of reading. While Wisniewski enrolled at the University of Maryland College Park, financial issues led him to drop out after just one semester. Having always loved theater, Wisniewski turned toward that as a career, enrolling in the more affordable Ringling Brothers and Barnum & Bailey Clown College. It was during this time that he became interested in puppetry. In 1975, he left Ringling Brothers to work for the Prince George's Country Puppet Theater. Through this job, he met Donna Harris, who was in charge of hiring him as a puppeteer. Within six months, they were married. The two founded the Clarion Shadow Theater nee Clarion Puppet Theater, for which he further developed his puppet skills, learning how to create shadow puppets and scenes, the skills that would later inform his children's book illustrations. Wisniewski published his first book, The Warrior and the Wise Man in 1989. He wrote and illustrated ten books for children during his career, two of which were released after his death, in addition to creating illustrations for other authors. Wisniewski passed away in 2002 at 49 following a brief illness.
Where else have you heard of Wisniewski?
Besides children's books, Wisniewski is best known for his work with his Clarion Puppet Theater. They often performed at the Smithsonian as well, putting on performances for schools. Their most prestigious booking was a performance of Peter and the Wolf at the Kennedy Center. In addition to touring for his puppeteering company, Wisniewski also toured schools discussing his books and the art of puppetry.
Examining Wisniewski's Artistic Style
Inspired by the shadow puppets he used to create in his former career as a puppeteer, Wisniewski's illustrations were composed of paper cutouts and collages. Utilizing paper, X-Acto knives, double-stick foam tape, and No. 11 blades, Wisniewski's process involved painstakingly cutting out figures and scenery for his illustrations. In his estimation, it could take 800 to 1000 cuts to create the sixteen illustrations that typically appeared in his books. White initially, stuck very closely to the style of shadow puppets, but he later added greater detail, depth, and color to expand his illustration style. His process began with black and white sketches, progressed to color versions, then to carbon copy templates which he used for his cuttings. He was often inspired by the myth and folklore from different cultures around the world.
Collecting Wisniewski
Golem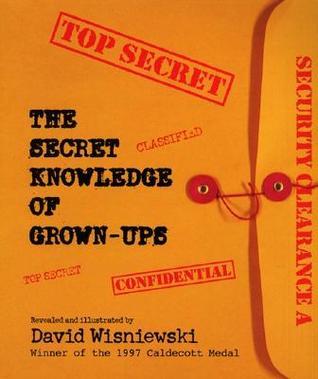 Wisniewski's Caldecott-winning Golem is a must-have for collectors. This beautiful book, illustrated with intricate paper collage, tells the story of a rabbi in 1500 hundred Prague who created the mythical golem to protect his people. According to Jewish folklore, the golem is a being constructed of clay and given life by inscribing the name of God on his forehead. The rabbi uses the golem to stop the persecution of the Jews in the city, then removes the name from the golem's forehead rendering it once more only clay. The book ends with the message that the golem may be brought to life again if there is a need.
The Secret Knowledge of Grown-ups
Wisniewski's 1998 book, The Secret Knowledge of Grown-ups, is one of his rare self-written books not centered around folklore. This humorous picture book features a grownup blowing the whistle on all the parent-kept secrets surrounding the rules that dictate children's behavior, such as the secret that children must eat broccoli, lest the world be overrun by the vegetable, which unbeknownst to children, is actually a vicious, carnivorous threat.