The Caldecott Medal is awarded every year to a book whose illustrations represent the highest quality in the field. 1968's winner has dedicated his life not only to producing beautiful illustrations for children's books, but also to creating books that teach children how to create their own art. His dedication to art has inspired countless children, including his own, both of whom have followed his and his author wife's path to become illustrators and writers themselves. Join us as we continue our Caldecott Medal Winning Illustrators series by taking a look at the long career of the 1968 winner, Ed Emberley.
Who is Ed Emberley?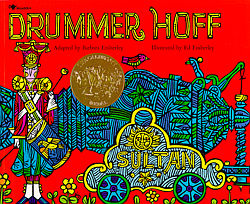 Ed Emberley was born in 1931. Having become interested in art at an early age, he attended college at the Massachusetts School of Art in Boston. It was there that he met his wife, Barbara, with whom he has had a literary partnership for many years. He went on to continue studying art at the Rhode Island School of Design. He worked for a time at an advertising agency as a paste-up artist before publishing his first book, The Wing on a Flea: A Book About Shapes, in 1961. The book was a success, earning a spot in the New York Times list of best illustrated books of the year, as well as being named a ALA Notable Book. In 1966 he contributed illustrations for his wife's book One Wide River to Cross and 1967, it was named a Caldecott Honor book. The following year, he and Barbara collaborated again, this time winning the Caldecott Medal for their book Drummer Hoff. Drummer Hoff also made the list for the Lewis Caroll Shelf Award that same year. Emberley has gone on to illustrate over fifty books, including numerous art instruction books due to his belief that anyone can learn to be an artist. Most recently contributing art for books written by his daughter, Rebecca Emberley. His son, Michael Emberley, also works as an illustrator, further proving that children's books truly are a family business for the Emberleys.
Examining Emberley's Artistic Style
Throughout his career. Emberly has illustrated books in a variety of styles. Sometimes he works with colorful, folk art-inspired designs and woodcuts, while other works might drawings done in ink. His how to draw books mostly focus on creating cute or funny drawings from simple shapes, then focus on urging children to experiment and find their own ways of applying is lessons to their own art.
Where else have you heard of Emberley?
Besides his award-winning books, Emberley is best known for his extensive collection of how to draw books. His Ed Emberly Drawing Books series is expansive, including books on how to draw faces, animals, mythological creatures, vehicles, and more. He has books that focus on things of a certain color, like his Big Green Drawing Book, books on how to transform thumb and finger prints into drawings, books on collage and paper cutting, and even a book on how to draw starting with a gum drop shape. Many of his books work on something he calls the alphabet system in which numerous drawings are made based on letters of the alphabet which most children who pick up his books are learning or already know.
Collecting Emberley
Drummer Hoff
The 1968 Caldecott winning Drummer Hoff tells the story of a group of soldiers who build a cannon that makes the sounds "KABAHBLOOM" and explodes with colors when fired. Utilizing folk art as inspiration as well as the psychedelic colors popular in the 1960's and adapted from the Mother Goose poem "John Ball Shot Them All," the book is the result of an interesting combination of inspirations. Children will love it for the riotous colors whereas adult collectors may be interested in various interpretations of the book as a folk poem or antiwar message due to the ending which shows the cannon surrounded by an overgrowth of nature. Whatever there intent, to this day, the Emberleys have not confirmed the validity of any interpretation.
Ed Emberley by Todd Oldham and Caleb Neelon
While not written by Emberley himself, collectors might be interested in seeking out this retrospective of Emberley's work and career. The book includes details and art from his over five decade-long career and is lovingly presented by two artists who consider him a major figure in their own artistic lives.