Today's Caldecott winning author has the unique distinction of being given the Caldecott medal and a Caldecott Honor for two books with vastly different styles. The Caldecott medal is given annually to children's book artists who represent some of the best art being created for children that year. Books with a wide variety of styles created in a wide variety of mediums have been honored throughout the years, but to find this dichotomy existing within the body of work of one illustrator is particularly exciting. Join us today as we take a closer look at 2003 Caldecott winner Eric Rohmann, master of both highly detailed, realistic oil painting, and silly cartoon-style prints:
Who is Eric Rohmann?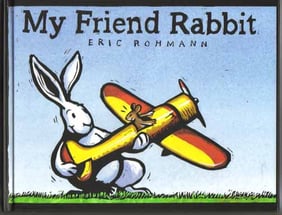 Caldecott winning illustrator Eric Rohmann didn't start out loving books. At first, he was much more interested in playing sports and learning about animals. Eventually, this curiosity about the world around him evolved into drawing, a means with which he endeavored to understand the world around him. As he discovered comic books, fantasy novels, and a particular favorite, Tarzan, Rohmann began to realize that he could utilize his skills with drawing to create stories. While he originally produced stories in the form of illustrated notes and newsletters to friends, he discovered his ideal audience, children, while teaching printmaking and drawing during a summer arts program. He published his first book, Time Flies, in 1994, earning him a Caldecott Honor. Since then, he has illustrated numerous books written by himself, other writers, and frequently collaborated with his wife, author Candace Flemming. He earned the Caldecott Medal in 2003 for his book, My Friend Rabbit.
Where else have you heard of Rohmann?
While Rohmann most often illustrates children's picture books, he has also illustrated covers for one of the most popular fantasy series in the world: the His Dark Materials trilogy by Philip Pullman. Rohmann's cover illustrations for The Golden Compass, The Subtle Knife, and The Amber Spyglass showcase Rohmann's exceptional skill at creating realistic illustrations of animals as seen by the polar bear on The Golden Compass and the daemon illustrations on The Subtle Knife. Also on display are his facility with color and ability to render human expression. While there have been numerous editions of these books with different covers, for a whole generation of readers, his art was the first glimpse into the world of Pullman's epic fantasy series.
Examining Rohmann's Artistic Style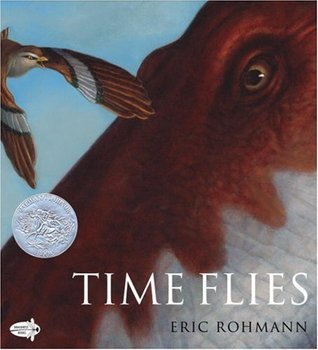 Rohmann's creative process for illustration actually begins with the formation of an idea, whether that idea be an image (a rabbit holding a paper airplane for My Friend Rabbit) or a concept (nervous kitten in A Kitten Tale). He builds his stories in snippets, referring to photos, his own sketches, and bits of writing until he finally puts it all together into a cohesive book. When observing Rohmann's work, it becomes clear that he creates art in two distinct styles. With books like My Friend Rabbit, Bulldozer's Big Day, and A Kitten's Tale, he uses a looser, more cartoon-like style with hand-drawn relief prints, whereas with other stories, such as Time Flies, King Crow, and The Cinder-Eyed Cats, he takes a more realistic style, working with oil paints to focus on details like fur, scales, and anatomy.
Collecting Rohmann
My Friend Rabbit
Rohmann's Caldecott winning book, My Friend Rabbit, was a big departure for him at the time. His previous two books featured large oil paintings. However, wanting to push himself creatively, Rohmann returned to an earlier medium he'd loved in his youth: printmaking. The result is a silly, charmingly illustrated story of a mouse who lets his rabbit friend play with his toy airplane to disastrous results.
Time Flies
Time Flies is Rohmann's first book, which was named a Caldecott Honor book. This wordless book uses double page oil paintings to tell the story of a bird who flies through a natural history museum and back through time, journeying through the age of the dinosaurs to explore the theory that birds evolved from the great reptiles of the past.
Oh No! by Candace Fleming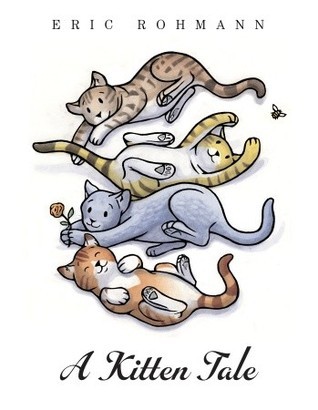 Written by wife Candace Fleming, Oh No! uses the same printmaking style seen in My Friend Rabbit. This jungle-set book features adorable, silly animals and is sure to delight younger readers who will enjoy repeating the often used "Oh no!" throughout the story.
A Kitten Tale
Rohmann's simple story of a kitten overcoming his reluctance and nervousness to fulling embrace his innate curiosity is an adorable, simple book for young children.