The Caldecott Medal is awarded annually to one of the best illustrated children's books published that year. Additionally, a handful of other worthy books are given the Caldecott Honor as runners-up.The winner of the 1966 medal has the unique of being named a Caldecott Honor recipient not for three years in a row before she finally was given the medal for Sam, Bangs and Moonshine. Join us today in our Caldecott Winning Illustrators Series as we take a look at the art and career of Evaline Ness:
Who is Evaline Ness?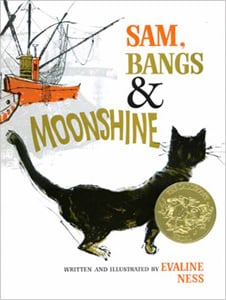 Evaline Ness was born in 1911 in Ohio and grew up making drawings and collages to illustrate her sister's stories. She went to school to become a librarian and worked for a time as a a fashion model, she sought to combine her interests in art and fashion and returned to school to become a fashion illustrator. She married her second husband, Elliot Ness, known for heading The Untouchables who took down Al Capone, in 1939. Their marriage ended six years later though she continued to use his name professionally for the rest of her life. She moved to New York City after the divorce to work in fashion illustration, then moved to Europe where she traveled and went to art school in Rome until she ran out of money and had to move back to the United States. She continued her art education back in America. In 1954, she illustrated her first children's book, The Story of Ophelia by Mary J. Gibbons. She went on to illustrate numerous other books for children and young adults. Three of her books awarded Caldecott Honors in 1963, 1964, and 1965. Ness finally won the Caldecott Medal for Sam, Bangs and Moonshine, a book she both wrote and illustrated, in 1966. She continued illustrating until her death in 1986, illustrating over thirty books. Her papers and illustrations are archived at the University of Minnesota and the University of Southern Mississippi.
Examining Ness' Artistic Style
Ness is known for incorporating numerous different styles into her artwork, which was often characterized by swatches of color. She famously focused on how to create a textured look that could be conveyed on a printed illustration. She worked with watercolor, woodcuts, sketches, collage, and more. Toward the end of her life, she experimented with creating cut out coloring books.
Where else have you heard of Ness?
Before turning her attention to children's books, Ness was a successful fashion model and commercial artists. She contributed illustrations to numerous magazines and even worked as a window designer for Higbee's department store. Besides her Caldecott Medal for her book Sam, Bangs and Moonshine, she is known for illustrating all of Lloyd Alexander's Chronicles of Prydain, including two art books. Besides being known for her own impressive body of work, she is often touched on in biographies of her second husband, Eliot Ness.


Collecting Ness
Sam, Banks and Moonshine
After being a Caldecott runner up for three years in a row, Ness finally won the Caldecott Medal for her 1966 book Sam, Bangs and Moonshine. The book tells the story of a girl who learns her habit of not telling the truth can lead to unintended consequences for the people around her. Full of beautiful illustrations of the harbor town and Sam's cat Bangs, this book is a must-have for those looking to collect Ness.
The Chronicles of Prydain by Lloyd Alexander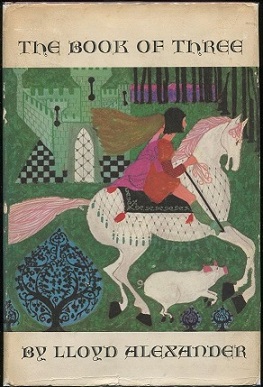 Lloyd Alexander's classic Chronicles of Prydain were based on Welsh folktales and earned both a Newbery Honor and a Newbery Medal. Ness illustrated the covers of each book, the inside maps of the world of Prydain, as well as two books of Prydain illustrations. Though subsequent issues of the book use illustrations by different artists and the Disney film adaptation, The Black Cauldron, bears no resemblance to her work, fans of children's literature and of Ness should definitely seek out first editions of these books. Subsequent editions do retain her world maps.
Island of the Blue Dolphins by Scott O'Dell
In 1960, Scott O'Dell published his seminal children's novel, Island of the Blue Dolphins. This Newbery Winner has long been a beloved book by middle grade and teen readers. Though subsequent editions of the book have seen different covers, the first edition features a portrait of the main character, Karana, on a white background with smudges of blue, tan, and gray. This book is ideal not only for those searching to collect works by Ness, but also those interested in Newbery winners and in works of classic children's literature.
All in the Morning Early by Sorche Nic Leodhas
Followers of this series should be familiar with the children's book author Sorche Nic Leodhas. Her book Always Room for One More earned illustrator Nonny Hogrogian the Caldecott Medal in 1965. Ness. Ness illustrated her 1960 book, All in the Morning Early. Check it out to see which of the two Caldecott winners you believe best depicts her stories.