While hundreds of children's books are published every year in the United States, only a select few are ever granted the highly esteemed Caldecott Medal, which is awarded annually for the best example of quality in children's book illustration. While the addition of Caldecott Honor book seals allows more than one exceptional book to be recognized, per year only one book is given the prestigious Caldecott Medal. These books often become classics, beloved for their amazing illustrations and captivating stories, in addition to becoming highly sought after items for collectors interested in children's literature. Today we continue our Caldecott Winning Illustrators Series by taking a closer look at the winner of the 1956 winner, Feodor Rojankovsky.
Who is Feodor Rojankovsky?
Feodor Rojankovsky was born in what is now Latvia in in 1924 where he developed an interest in art at a young age. He eventually went to study at the Moscow School of Painting, Sculpture, and Architecture. His studies were cut short, however, when he enlisted in the Imperial Russian Army. He began his work as a professional artist by illustrating war scenes in magazines while recovering from an injury he received in battle. He moved to Ukraine with his family where he continued to pursue a career in the arts, illustrating books for use in school.
Eventually, World War II broke out, and he was taken as a prisoner of war. Afterwards, he could not return home because he lacked the necessary paperwork to prove citizenship.
He eventually moved to Paris and worked as the art director for Lecram Press. His work drew the attention of American editors and he began working as an illustrator for various projects in the U.S. His collaboration with these editors resulted in the publication of his first book, Daniel Boone, which actually inspired the founding of Domino Books. He went on to publish dozens of his own books, as well as illustrating books by other authors, including Frog Went-A-Courtin by John Landoff, for which Rojankovsky won the Caldecott Medal in 1956.
Examining Rojankovsky's Artistic Style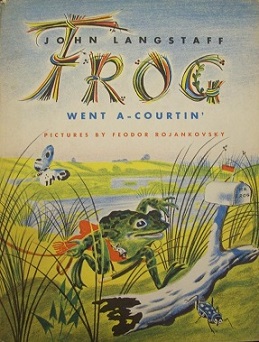 Inspired at a young age by a trip to the zoo and a timely present of crayons, Rojankovsky began drawing pictures of animals and nature. That love of nature continued to inspire him throughout his career. The majority of the books Rojankovsky wrote and illustrated himself focus on animals and nature, as do many of the books he illustrated for other authors. His artwork is often characterized by vibrant, high contrast colors and vivid, intricate detail.
Why else have you heard of Rojankovsky?
Throughout much of his career, Rojankovsky worked closely with the editors of the famous children's book series Little Golden Books. Working with them, he illustrated dozens of books for children, most often fairy tales or retellings of popular nursery rhymes. Nearly all of the books Rojankovsky illustrated for Little Golden Books played to his particular strengths as an artist, focusing on animals and other aspects of nature. Chances are good that many children grew up with a book illustrated by Rojankovsky on their shelves even if they didn't realize it.
Collecting Rojankovsky
Frog Went-A-Courtin'
Rojankovsky won the Caldecott medal in 1956 for his illustrations for Frog Went-A Courtin' by John Langstaff. The story, inspired by a classic folk song thought to have originated in Scotland, is a must-have addition to any Rojankovsky collection. Frog and Miss Mouse are charmingly illustrated in this retelling of their engagement.
Over in the Meadow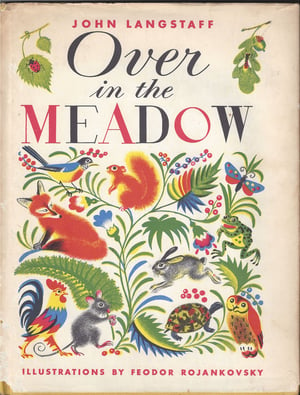 Another of the most beloved examples of Rojankovsky's illustration work is Over in the Meadow (1957), also by John Langstaff. Rojankovsky illustrates this retelling of the children's counting song with images of wildlife in the meadow from sunset to nighttime, detailing all of the animals that make their home there. The book was very well received at the time and is possibly Rojankovsky's best known work in spite of the fact that it wasn't a major award winner.
Daniel Boone
The first book Rojankovsky published that he both wrote and illustrated was Daniel Boone which told the story of the eponymous American frontier hero. Rojankovsky wrote Daniel Boone while he was still living in Europe, and it serves as an interesting foretelling of the life he would lead as a prominent illustrator of American children's books as well as a fabulous example of the colorful, detailed style he would become known for throughout his career.