Since it was first established in 1938, the Caldecott Medal has been awarded annually to one book out of a carefully curated selection. The Caldecott-winning illustrators and the illustrations they so lovingly craft are representative of the best and most innovative works produced for children's books that year. These books are desirable for both parents and collectors alike, but also serve as a benchmark of quality, pushing the industry forward to greater heights each year. Continuing our Caldecott Winning Illustrators Series, today we look closer at Gail E. Haley, who both wrote and illustrated 1971's medal winner, A Story A Story.
Who is Gail E. Haley?
Gail E. Haley was born in Charlotte, North Carolina, in 1939. She was exposed to art at an early age as her father was the art director for The Charlotte Observer. She spend a great deal of time there as a child, learning about different art forms such as stamping and linoleum carving. It gave her a great appreciation for art and the role of the artist and let to her deciding at just eight year sold that she wanted to write and illustrate children's books. She went on to study graphics and painting at University of Virginia, where she was one of the very first women to enroll. Throughout her career, she has written and illustrated numerous children's books and has been the recipient of the Caldecott Medal, the Kate Greenaway Medal, and the Kerlan Award.
Examining Haley's Artistic Style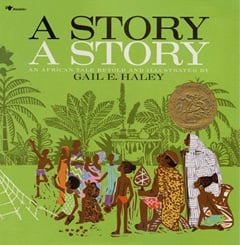 Inspired by her early experiences with stamping and linoleum cutting as well as art from around the world, Haley's illustrations have an impeccable attention to color and detail. She often experiments with white ink and with allowing paint to dry at different times before adding additional layers for texture.
Where else have you heard of Haley?
Besides her work as an illustrator, Haley also creates costumes, masks, and puppets. She has dedicated much of her life to these art forms, publishing numerous books on the subjects, as well as offering lectures and workshops on the craft. She has appeared on the PBS television program The Woodwright's Shop to discuss her creations.
Collecting Haley
A Story A Story
Haley's children's book A Story A Story won the Caldecott Medal in 1971, making it a must-have for any child's library. The book depicts the West African story of the trickster Anansi the spider and how he stole stories from the Sky God to give them to the people. The book was the result of extensive research on the African roots of Caribbean folktales. It was animated and set to music by Weston Woods Studios in 1971.
The Post Office Cat
Haley's 1976 novel The Post Office Cat tells the story of Clarence, a cat in Victorian England trying to find a home. Luckily, England is battling a huge rat issue and he is ale to get a job at the post office helping keep it mouse and rat free. Inspired by a true story, this book is a charming look at how England got it's first post office cat. The details of Clarence himself and the white line art sketching out the busy London streets make this book a beautiful addition to any collection.
The Green Man
Written and painstakingly illustrated by Haley, The Green Man offers up a retelling of the British legend of the green man. In the story, a selfish young lord is lost in the woods and must rely on nature to survive. He ends up finding a love for plants and animals that transforms him into the famous folk character. Detailed illustrations of native English flora and fauna make this beautiful book worth tracking down.