The Caldecott Medal has stood as a pinnacle of excellence and achievement in the field of book illustration for eighty-one years. Caldecott-winning books have long been sought after by teachers, parents, libraries, and collectors. Illustrators talented enough to be awarded the medal receive esteem from their contemporaries and often can rest assured that their work will be remembered. Not many awards can claim such wide recognition outside of the scope of their field, but the Caldecott Medal is truly well known and its importance is acknowledged even outside of the world of children's literature. Continuing our celebration of these incredible illustrators in our Caldecott Winning Illustrators Series, we look now at the seventh illustrator to be given the honor, writer and illustrator Louis Slobodkin who was awarded the medal in 1944 for his illustrations in James Thurber's Many Moons.
Who was Louis Slobodkin?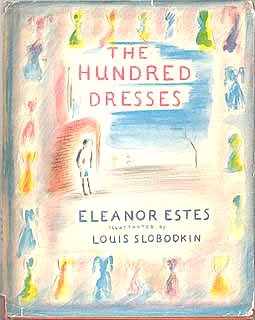 Louis Slobodkin was born in 1903 in Albany, New York and studied art at the Beaux-Arts Institute of Design. He worked as both a sculptor and children's book author, though he also was employed as an elevator operator. He once revealed that he would purposely feign elevator break-downs in order to create opportunities to read the philosophy books he brought with him to work. Slobodkin was married to children's book writer Florence Gersh, but her interest in the genre did not immediately turn his interest until many years after their marriage. Instead, he worked primarily as a sculptor.
He illustrated his first book, The Moffats, in 1941 at the request off his friend, the author Eleanor Estes. He had only been working professionally as an illustrator for three years when he received the 1944 Caldecott Medal for his illustrations for Many Moons, a book by James Thurber, a writer also known for his massively successful short story, "The Secret Life of Walter Mitty."
Slobodkin went on to illustrate nearly 90 books, 50 of which were written by him. He wrote the popular The Spaceship Under the Apple Tree series as well as several books co-authored with his wife. He also illustrated The Hundred Dresses by Eleanor Estes which won the Newbery Medal in 1944.
He wrote three nonfiction books: an autobiography called Fo'castle Waltz, and two instructional books titled The First Book of Drawing and Sculpture: Principles and Practice. He passed away in 1975 at the age of 72.
Slobodkin's Artistic Style
Slobodkin's artistic style is notable for its watery images and use of negative space. Slobodkin illustrations offer the suggestions of scenes, focusing more on shapes than on specific details of faces. He also used negative and white space to add depth to his illustrations.
Why else have you heard of Slobodkin?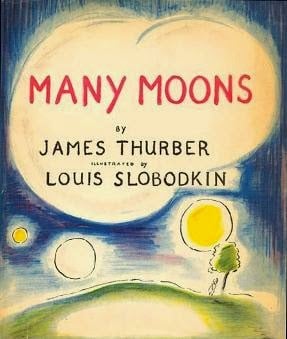 Slobodkin is extremely well known for his work as a sculptor. In addition to his studies at the Beaux-Arts Institute of Design, he also studied sculpture in Paris. When he returned to the U.S., he became the head of the New York City Art Project and worked closely on many New Deal projects, which included providing reliefs and sculptures for many government buildings in New York as well as Washington D.C.
During his career as a sculptor, he created 65 pieces, including his infamous sculpture "Abraham Lincoln, Rail Fence Mender" which debuted at the World's Fair in 1939. One fair official found the sculpture offensive and ordered it destroyed. However, with the help of other artists, Slobodkin was able to reproduce the sculpture in bronze using the original plaster mold. This bronze version is on display in Washington D.C. at the Headquarters Building for Department of the Interior and is considered his most famous work.
Collecting Slobodkin
Many Moons
This Caldecott-winning book written by James Thurber focuses on a princess who becomes ill and claims she can only be cured if given the moon. Her father, the king, searches for a way to give her this gift, and eventually she is given a moon necklace by the jester which fits her description of what she believes the moon to be. The king worries that she will realize the necklace is not the actual moon and will grow ill again, but the jester speaks to the princess, who believes that the moon regrows every night like fingernails or unicorn horns. This charming book is a perfect addition to any library of children's literature and stands the test of time extremely well in terms of both illustration and story. Later editions were illustrated by another artist so take care to seek out a copy with the original Caldecott-winning art.
The Hundred Dresses
This Newbery-winning book by author Eleanor Estes is another fine example of Slobodkin's work. This book focuses on a girl who has only one dress. She wears it to school every day, and the responses of the other children cause her to claim to own one hundred dresses. The girl later moves away but her classmates find she won a drawing contest for which she drew one hundred dresses. The children see her talent and skill and realize that they treated her horribly. They make amends by writing her a letter and the girl shares her drawings with the class, giving each student one of her dresses. This book offers an important and enduring lesson on kindness which makes it an excellent part of any collection, regardless of accolades.