Every year the Caldecott Medal is awarded to the children's book that best displays a new level of excellence and creativity in the field. These books often come to represent a gold standard for children's book illustration and become favorites of not only children but also of collectors. Sometimes, as in the case of the 1953 winner, the illustrator is not just a major figure in children's book illustration, but in other artistic fields as well. Join us as we continue our Caldecott Medal Winning Illustrators series by exploring the life and career of legendary illustrator Lynd Ward, who not only left behind an impressive legacy in the world of children's book illustration but also was a trail blazer in the field of graphic novels, a genre he is credited with bringing to the U.S. in its earliest form.
Who is Lynd Ward?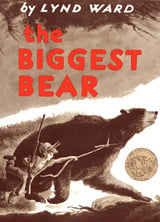 Lynd Ward was born in Chicago in 1905. He spent much of his early life in Sault Ste. Marie in Canada after his parents moved there in hopes that the climate would ease his tuberculosis symptoms, which he continued to suffer from periodically for his whole life.
Ward became interested in drawing at a young age and was first exposed to linoleum block printing through his roles in high school as editor of the school paper and the yearbook.
He attended Columbia Teachers College where he met his wife, journalist May Yonge McNeer. The couple moved to Germany where Ward studied at the National Academy of Graphic Arts and Bookmaking. It was during this time that Ward learned lithography, etching, and was exposed to wordless novels—a genre his name would become synonymous with—for the first time.
He and his wife returned to the U.S. a year later, and Ward began working with publishers to illustrate children's books and other works. He published his first wordless novel, Gods' Man, in 1929. It was the first American wordless novel and was a massive success, especially considering that it was published one week before the stock market crashed and The Great Depression began.
Ward continued to illustrate books for others, as well as to write books solo and in cooperation with his wife. In 1953, he won the Caldecott medal for The Biggest Bear. He'd been the runner-up three years before with his book America's Ethan Allan.
Ward continued to write and illustrate throughout the rest of his life, illustrating over one hundred children's books, including two Newbery winners as well as numerous runners up. He was also listed as Judge's Choice for The Will Eisner Award Hall of Fame. Ward passed away in 1985 at the age of eighty.
Examining Ward's Artistic Style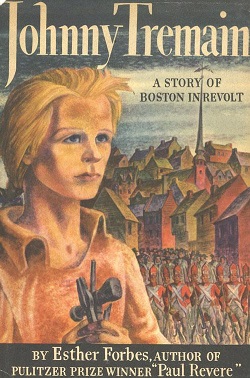 Ward worked primarily in wood engravings, publishing numerous wordless novels and children's books utilizing the medium. Often times incorporating elements of folk art and Art Deco into his illustrations, Ward developed a style that served as as influence to artists such as anarchist Clifford Harper and writer George Harper, the latter of whom is a frequent collaborator with renowned writer Neil Gaiman. Ward is known for incorporating exaggerated facial expressions and intricate detail into his carvings to create intense emotion that manages to convey story without the use of text.
Why else have you heard of Ward?
Besides children's books, Ward published numerous wordless novels for adults and is credited with bringing the genre to the U.S. after he was exposed to it while studying in Germany. His most famous wordless novels include the popular Gods' Man and Song Without Words. He also illustrated a popular edition of Oscar Wilde's poem "The Ballad of Reading Gaol."
Ward's life has been detailed in the documentary Oh Brother Man: The Art and Life of Lynd Ward, and his works are held in special collection at the libraries of Penn State where they are on frequent display.
Collecting Ward
The Biggest Bear
Collectors of Ward and of children's books can't miss his picture book, The Biggest Bear, which won the Caldecott Medal in 1953. The book focuses on a boy who wants to hit and skin the biggest bear in the forest but instead ends up making friends with a small bear who loves maple sugar. The story of friendship between the boy and his bear is depicted in Ward's detailed and expressive style and is a great addition to any collection.
Gods' Man
Ward's first wordless novel, the Faustian Gods' Man, is ideal for collectors of Ward and for anyone interested in graphic novels. It was the first wordless novel published in America and paved the way for the genre as well as for graphic novels in general. The imagery in Gods' Man directly inspired Allen Ginsberg's poetic masterpiece "Howl" and Art Spiegelman's Maus.
Johnny Tremain
Esther Forbes' historical novel Johnny Tremain is one of the best-selling novels for children in history. Continuously in print, this Newbery winner has inspired generations of children of the Revolutionary War. The novel is notable overall for its place within the history of children's and young adult literature, but is also an excellent example of Ward's non-woodcutting work. The novel features a portrait of the main character in watercolor done by Ward.