Every year the Caldecott Medal is awarded to a committee-selected children's book that showcases the best work being produced in the field of children's book illustration. One of the biggest awards in American children's literature, to even be named a Caldecott Honor book is a massive accolade. In 1955 Marcia Brown received this honor for her book Cinderella, or The Little Glass Slipper. And then she won again in 1962 for Once a Mouse. She won a third time for Shadow in 1983, making her one of only two illustrators in the history of the Caldecott Medal to be awarded three times. Brown continued to make history by being named a Caldecott Honor recipient six times as well. She is the most Caldecott-decorated illustrator of all time. Let's take a closer look at this icon of the industry as we continue with our Caldecott Winning Illustrator Series.
Who is Marcia Brown?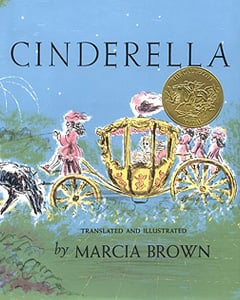 Marcia Brown was born in Rochester, New York in 1918. While she originally planned to be a doctor and even studied biology extensively, she graduated from New York State College for Teachers (now the University at Albany) and worked for some years as a high school teacher. She published her first book in 1946 and from then on, she made her career as a children's book author and illustrator.
During her long and illustrious career, Brown wrote and illustrated three Caldecott Medal winners, six Caldecott Honor books, was awarded the Laura Ingalls Wilder Medal, and was twice nominated for the Hans Christian Anderson Award.
Examining Brown's Artistic Style
Throughout her career, brown wrote and illustrated over thirty children's books, exploring and experimenting with different styles. While she often worked in woodcuts, she sometimes illustrated her books using watercolor, gouche, and simple pen and ink. Her work often depicts fairy tales and animals, though Brown was also experienced in set design and nature photography. Much of her original artwork is housed and can be viewed in the special archives at the University of Albany.
Why else have you heard of Brown?
Besides being well known for her Caldecott winning and Honor books, Brown earned quite a bit of attention for her fairy tale adaptations, which include Three Billy Goats Gruff and The Snow Queen. Her book Stone Soup also achieved notable success, and she narrated the audiobook version. She also picked up nature photography later in life.
Collecting Brown
Cinderella, or The Little Glass Slipper
This classic fairy tale adaptation was the first of Brown's books to win a Caldecott Medal, though she was named a Caldecott Honor recipient for several other books beforehand. This 1955 Caldecott winner is illustrated in a flowing and feathery manner that manages to evoke the feeling of the intricate detail that Cinderella might have encountered in a French prince's castle without actually being intricately detailed. Warm-hued illustrations against cool backdrops make Cinderella, or The Little Glass Slipper an excellent addition to any Caldecott lover's collection.
Once a Mouse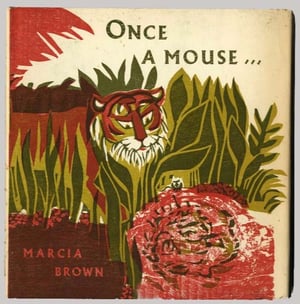 Once a Mouse took home the Caldecott Medal in 1962 for quite a different style of illustration than Brown's first award winning book. Once a Mouse offers up an Indian fairy tale about a mouse and the hermit who saves him from a cat by transforming him into a cat. The hermit helps the mouse throughout the story, transforming him into different animals until the mouse is eventually a tiger who forgets his humble beginnings and tries to turn on the hermit. The illustrations, woodcut, almost reminiscent of paper cuttings, offer up pleasant depictions of animals in warm colors reminiscent of traditional Indian artwork.
Shadow
Brown's 1983 award winning book Shadow is a translation of a poem by French poet Blaise Cendrars. The book focuses on the character of Shadow, who is a shadow, and how it transforms from person to animal, taking the shape of whatever it attaches itself too. The images are rich and evocative, though the setting, a primitive version of pre-colonial Africa, caused something of a controversy at the time of publication. Many argued that the book wasn't Brown's to tell and there was potential harm in portraying the character Shadow as an African person.