The Caldecott Medal is given to one book each year that exemplifies the best work being done in children's literature. The Caldecott Medal is the highest honor for American children's books. Today we continue our Caldecott Medal Winning Illustrator Series by taking a closer look at the 1974 winner, who not only proved herself by winning this major award, but by receiving nominations for numerous other honors, such as the National Book Award, and the Hans Christian Anderson Award, for which she was nominated twice. Without further ado, the life and work of Margot Zemach:
Who is Margot Zemach?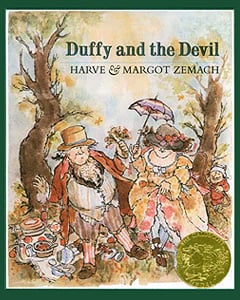 Margot Zemach was born in Los Angeles during the Great Depression. She became interested in art at a young age, in particular as a means to make others laugh. However, due to paper scarcity, she wasn't able to indulge in this interest as much as she liked. She went on to study art at the Los Angeles County Art Institute. After being granted a prestigious Fulbright Scholarship, she was able to study internationally at the Academy of Fine Arts in Vienna. Zemach met another Fulbright scholar, Harvey Fischtrom while in Vienna and the two married in 1957. A fan of her work, he encouraged her to pursue children's book illustration. The couple worked together under the pen name Harve and Margot Zemach to publish their first book, Small Boy is Listening in 1959. The couple collaborated until his death in 1974, writing and illustrating thirteen books together. Zemach continued to work as an illustrator after her husband's death, contributing art to books for other authors as well as for books she wrote. She collaborated several times with her daughter, Kaethe Zemach, who is also a writer and illustrator. Zemach passed away in 1989 due to complications from Lou Gehrig's disease.
Examining Zemach's Artistic Style
Zemach illustrated most of her books using the pen and wash technique, a means of utilizing lines of ink in various widths to delineate shapes over watercolor. Her work was often colorful, vibrant and full of movement. In her obituary in the New York Times, famed illustrator Maurice Sendak had this to say about her work: Margot not only revivified the American picture book, but was one of the very few who helped elevate it to an art form. She was one of the most accomplished picture-book artists on the international scene - a superlative draftsman, a shrewd psychologist and most important, a passionate, tragicomic original.
Where else have you heard of Zemach?
Fans of Lloyd Alexander's Prydain series may recognize Zemach's work from her illustrations on the first edition of Alexander's The Foundling and Other Tales from Prydain. Zemach also collaborated with her daughter, Kaethe Zemach on several books before her death. Since, Kaethe has illustrated a few of Zemach's unfinished manuscripts.
Collecting Zemach
Small Boy is Listening by Harve and Margot Zemach
Based on their time living in Vienna while Zemach was on a Fulbright Scholarship at the Academy of Fine Arts in Vienna, Small Boy is Listening is the first collaboration between Zemach and her husband. Illustrate by Zemach and written by her husband Harvey, this book was published in 1959. The book tells the story of a young boy who loves music and sets out in Vienna with a harmonica in search of a song of his own. As the first of their years-long partnership, this book is a must-have for anyone looking to collect Zemach.
Duffy and the Devil by Harve and Margot Zemach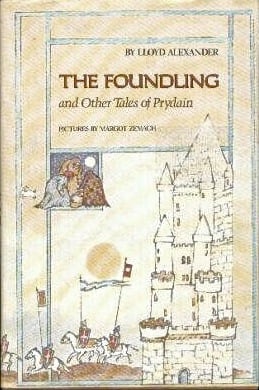 Duffy and the Devil, a retelling of a Cornish folktale, was published in 1973 to great critical acclaim. It received the Caldecott Medal for Zemach's lively illustrations and was a finalist for the National Book Award for Children's Literature. Based on a popular Cornish play performed door to door at Christmas time, Duffy and the Devil is a version of the classic Rumpelstiltskin story. A New York Times Notable Children's Book of the Year as well as Outstanding Book of the Year, this massive hit continues to delight today and is ideal for Zemach collectors as well as fans of fairy tales.
The Founding and Other Tales of Prydain by LLoyd
Originally published in 1973, The Foundling and Other Tales of Prydain by Lloyd Alexander is a collection of short stories which serve as a prequel to the Prydain series of fantasy novels. This first edition features Zemach as illustrator. Beloved characters from the series appear in their younger days in this collection, making an excellent book for lovers of fantasy and of Alexander. Zemach collectors should seek it out to enjoy Zemach's take on classic and beloved characters from this famous series.