Reading is one of the most fundamental and important skills we learn as children. The books we encounter as children teach us lessons, offer us comfort, and hopefully build a foundational love of reading and story that stay with us for the rest of our lives. For these reasons, children's books are some of the most valued and beloved books in literature. To that end, each year the Caldecott Medal is awarded to a children's book that exemplifies the best and most innovative work in the field of children's book illustration. These books are vibrant, relevant, and crucial stories whose merit goes beyond just the skill with which they were illustrated and often have long lasting appeal for the children for whom they were written, becoming favorites for years to come. Today we continue our Caldecott Winning Illustrators Series by taking a closer look at the 1960 winner, Marie Hall Ets.
Who is Marie Hall Ets?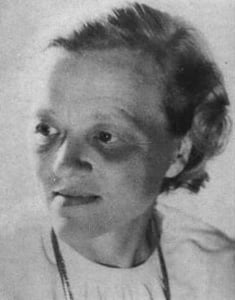 Marie Hall Ets was born in Wisconsin in 1895. She attended Lawrence University in Appleton, WI. She later moved to Chicago to build a career as a social worker, which she found rewarding, but after recovering from a long illness, she decided to turn her attentions to her longtime love of illustration. She attended the University of Chicago and the Art Institute of Chicago to that end.
She published her first children's book, Mister Penny, in 1935 with Viking Press. Ets was both writer and illustrator for the majority of her books, though she occasionally worked with other writers. On one occasion, Ets transcribed the story of an Italian immigrant's experience in the United States. This collaboration with Ines Cassettari resulted in the 1970 book Rosa, the Life of an Italian Immigrant.
Throughout her career, Ets wrote and illustrated numerous children's books. She won the Caldecott Medal for her work on Nine Days to Christmas with Aurora Labastida in 1960 and five of her other books have been given the Caldecott Honor. Only Maurice Sendak has received more nominations.
Examining Ets' Artistic Style
Ets' illustrations are simple and charming, ideal for the easy perusal and enjoyment of young children. She often illustrated in both black and white charcoal as well as with pastels. Often times her charcoal works were reminiscent of woodcuttings while her pastel illustrations were often more airy and light, as if done by watercolor. While the majority of Ets' Caldecott Honor books were done with charcoal, her Caldecott Medal book, Nine Days to Christmas was done with pastels, with a color palate of gray, purple, yellow, and red.
Why else have you heard of Ets?
For those unfamiliar with Ets' children's books, she also transcribed a nonfiction book, Rosa: The Life of an Italian Immigrant by Ines Cassettari, renamed Rosa Cavalleri for the book. The autobiography details Cassattari's experiences growing up in an orphanage, escaping an abusive marriage, and immigrating to the United States to work as a cleaning lady in the Chicago Commons, which is where she met Ets, who was a social worker there at the time. Cassettari's book was a massive success and is considered one of the most important depictions of the Italian American immigrant experience in American literature.
Collecting Ets
Nine Days to Christmas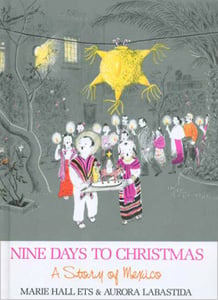 Ets' Caldecott Medal winning Nine Days to Christmas tells the story of a Christmas party in Mexico. It follows protagonist Ceci as she selects a pinata for her first posada, a Mexican Christmas celebration representative of the nativity story that lasts nine days. The book's charming illustrations and depiction of an important Latin American Christmas celebration make in an excellent addition to any collection.
Play With Me
This Caldecott Honor book Play With Me tells the story of a young girl playing in a meadow who tries to get the animals she finds to play with her but by chasing them, scares them away. After showing patience and kindness by sitting quietly by a pond, the animals come sit with her and she makes friends. This book depicts an important lesson on the way to treat animals and does so with sweet illustrations that make it a real treat for collectors.
Gilberto and the Wind
Inspired by a real child Ets met in La Jolla, California, Gilberto and the Wind was written after asking the boy's parents if she could use him as a model for her illustrations. Ets became good friends with the family, and her care and affection for the subject is clear in the charming illustrations throughout this book describing the different "moods" of the wind.