Part of what makes Caldecott-winning books so desirable for both children and collectors is that the illustrations accompanying the stories are at the highest level found in children's literature. Whether honoring traditions, putting a new spin on a method of illustration, or pushing the boundaries of what is commonly seen in books for children, Caldecott winning-illustrators represent the best of what books can be. Continuing our Caldecott-winning illustrators series, we look now at married writer and illustrator duo Maud and Miska Petersham, who are known in the industry for their skill and dedication to the craft that helped drive the direction of modern children's book illustration.
Who are Maud and Miska Petersham?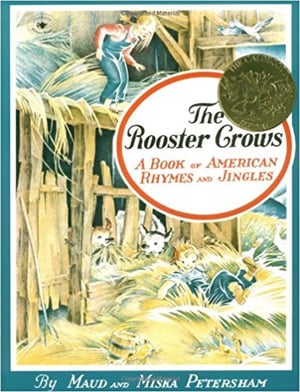 Married couple Maud and Miska Petersham came from very different backgrounds but managed to find common ground in their shared love of illustration. Maud Petersham was born Maud Fuller in New York to a family that traced its roots back to the Mayflower. She went on to study art at Vassar College and the New York School of Fine and Applied Art. Miska Petersham was born in Hungary and studied at the Royal National School for Applied Art in Budapest, Hungary. The couple met while they were both employed at the International Art Service graphics studio.
The Petershams married in 1917 and got their first work as illustrators through Miska's friend, Hungarian illustrator Willy Pogany, who was well known for illustrations in fairy tales and editions of such books as The Odyssey and Gulliver's Travels.
After acquiring steady commissions, the couple was able to buy property and build a home in Woodstock, New York, where they were integral members of the community for the rest of their lives. They published their first book as both writers and illustrators in 1929 when they released their book Miki, inspired by their son.
The Petershams published their own works prolifically and continued to illustrate for other writers for nearly five decades. They helped to set a standard for excellence in the world of illustration. They were runners up for the Caldecott medal in 1942 for their book An American ABC. They won the Caldecott Award in 1946 for The Rooster Crows.
Examining the Petersham's Artistic Style
The Petersham's honed their artistic style at the International Art Service, a graphics studio that operated in the style of modern European illustrator Arthur Weiner, who was known for his poster illustrations. The Petershams had a distinct fairy tale style, reminiscent of traditional European illustration. As a pair, they became known for their vibrant use of color and melding of folk art with modern themes.
Why else have you heard of the Petershams?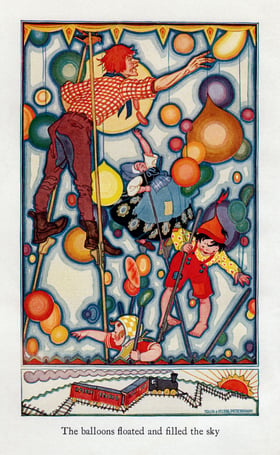 The Petershams are widely known due to their varied and prolific publishing history and because of the numerous honors their career garnered. In the 1920s and '30s, the American Institute of Graphic Arts held widely publicized and extremely competitive exhibitions. The Petershams had four books selected to be included in these exhibits: Children of the Mountain Eagle, Nursery Friends from France, Háry Janos, and Tales Told in Holland.
More recently they were honored in their adopted hometown of Woodstock, New York. In 2012, Woodstock Art published the book Under the North Light, focusing on their amazing career and the impact the couple had on the community of Woodstock. It was accompanied by an art exhibition titled Inspired by the Light .
Collecting Maud and Miska Petersham
An American ABC
This book was a Caldecott Medal finalist and is a beautiful example of the Petersham's unique brand of folk-meets-modernist art. The book, as indicated by the title, is an alphabet book with an American bent, with such illustrations describing letters like "Y for Yankee Doodle."
The Rooster Crows
This Caldecott-winning book is a must-have. A collection of American folk stories and songs, this 1946 book is a charming edition that is reminiscent of Mother Goose. Bright and imaginative illustrations accompany classic childhood rhymes like "The Bear Came Over the Mountain" and "Mary Had a Little Lamb" as well as jump rope chants and finger games.
Rootabaga Stories by Carl Sandburg
This book of American fairy tales was written by Sandburg for his daughters in order to provide fairy tales that reflect a childhood in America more so than the stories originating in Europe that are most often told to children. The Petersham's particular art style pairs well with these fairy tales as they too put an American spin on European traditions. The frontispiece from the first edition of Sandburg's Rootabaga Stories can been seen above, right.