Every year the Caldecott Medal is awarded to the illustrator of a children's book that represents the best and most innovative work being done in the field. Critically acclaimed and—more importantly—beloved by children, these books often go on to hold important places on the shelves of libraries and families for years. Even so, it is fair to say that while many of the books achieve a notable status and have great staying power, it isn't often that the illustrators themselves become household names. However, there are a few exceptions. Join us as we take a look at the winner of the 1964 Caldecott Medal: the legendary Maurice Sendak.
Who is Maurice Sendak?
Maurice Sendak was born in Brooklyn, New York in 1928. He credits two early childhood experiences with shaping who he is as a person and as an illustrator: the Holocaust, during which many of his family in Poland lost their lives; and a sickness that left him bedridden for a long time with little to do but read and draw.
After watching the Disney film, Fantasia, he decided to pursue illustration as a career. He began working as a window dresser for the FAO Schwartz toy store before finding work illustrating text books. This led to earning work as an artist for children's books, including Else Holmelund Minarik's popular Little Bear Series.
Sendak primarily illustrated for other writers throughout the 1950s before turning his attention to his own books. He broke out as both a writer and illustrator with his 1963 book, Where the Wild Things Are. He went on to both write and illustrate books up until his death in 2012. In his obituary, The New York Times referred to him as "the most important children's book artist of the 20th century."
Examining Sendak's Artistic Style
Sendak's style is perhaps what draws most children to his books. Where the Wild Things Are, his most famous and beloved work, is a good example of his style at its most extreme. The eponymous wild things are all claws and sharp teeth, a mishmash of animal parts and unusual shapes. This wildness and willingness to lean toward the strange and grotesque is found in much of his work, even when illustrating in a more realistic style. His combination of color and crosshatching is seen often in his work, as well, and it adds a layer of texture and eye catching detail.
Where else have you heard of Sendak?
Besides contributing art to his own illustrious body of work, he often worked as an illustrator for others. Before publishing his own works, he was best known for Else Holmelund Minarik's Little Bear series. He also contributed illustrations for the 1966 Newbery Honor book Zlateh the Goat by Issac Bashevis Singer. He was a member of the National Board, advising the Children's Television Workshop and assisted in the development of Sesame Street, working closely with Jim Henson to develop cartoon shorts for the program. He continued to work on TV and stage, producing a variety of television programs. He often worked as a set designer for ballet and operas, notably for the Pacific Northwest Ballet Company's award winning production of The Nutcracker.
Collecting Sendak
Where the Wild Things Are
Where the Wild Things Are won the Caldecott Medal in 1964 and for good reason. Widely considered one of the greatest children's book of all time, nearly fifty years later, the beloved book is still in print.
While initially the frightening illustrations concerned parents, children's enthusiasm for the book won out. The story of young Max running away to join the wild things has captivated young and old readers for decades.
It has been adapted into cartoon shorts and an opera, has inspired musical compositions, pop songs, and an episode of The Simpsons. It was even adapted into live action film by Spike Jonez in 2009 staring Catherine Keener, James Gandolphini, Forrest Whitaker, and Paul Dano. Any Maurice Sendak collection without this book in indisputably incomplete.
The Nutcracker
Sendak designed the set for the Pacific Northwest Ballet's production of The Nutcracker. His version of the famous story by ETA Hoffman is done in his characteristically strange style, bringing a touch of the unusual to a story that is otherwise familiar to most children. Besides making a good Christmas gift, this book is a must-have for collectors of Sendak due to the fact that it is not just a good example of his artistic style, but also a nod to his work as a set designer.
In the Night Kitchen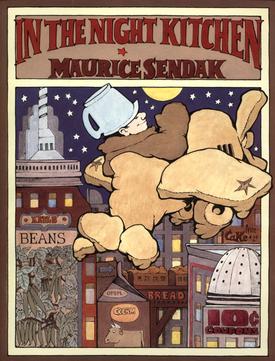 Sendak's 1970 book In the Night Kitchen was named a Caldecott Honor book in 1971. The story depicts a boy asleep in his bed who is whisked away to a magical bakery where he is almost baked into a morning cake by three mysterious bakers. While the book was lauded by critics (in addition to the Caldecott Honor, it made numerous best-of lists), it is one of the most frequently banned children's books as a result of the main character's nudity. The book departs somewhat from the style used in Where the Wild Things Are, seen mainly in the absence of crosshatching. This surreal and controversial book is a great addition to any collector of Sendak or of Caldecott Winner and Honor books.