The Caldecott Medal is awarded every year to a book that represents the finest achievement in children's book illustration that year. Often times these awards go to titans in the field of children's book illustrating, artists who go on to create art for some of the best loved books for children. One winner, however, was not primarily an illustrator for children's books, and in fact considered himself to be mostly an advertising artist, illustrating only a handful of children's books during his career. Let's take a closer look at 1961's winner Nicholas Sidjakov, who achieved the highest honor in American children's book illustration even while not pursuing the field as his primary vocation.
Who is Nicolas Sidjakov?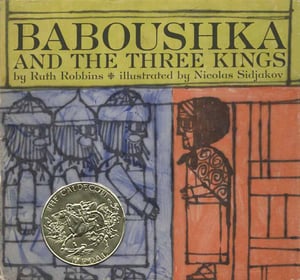 Nicolas Sidjakov was born in Latvia in 1924. His parents moved to Latvia after fleeing Russia during the revolution in order to create a better, safer life for their family. Though he never formally lived in Russia, Sidjakov's Russian heritage was an important part of his identity and that is often represented in his work.
Sidjakov went on to study art at Ecole des Beaux Arts in Paris, later working as a freelancer in the French film industry as well as in advertising.
He and his family moved to the U.S. in 1954, settling in California. While Sidjakov worked mostly as a commercial advertising illustrator throughout his career, he also began pursuing children's book illustration due to developing connections with Herman Schein and his wife, Ruth Robbins. Schein and Robbins established Parnassus Press, a small independent publishing house, and sought out Sidjakov as an illustrator. He published his first book through them in 1957: The Friendly Beasts by Laura Nelson Baker. The book, based on an English Christmas carol, did well enough that the Press continued to release children's books. In 1959, Sidjakov collaborated with Ruth Robbins on her book Baboushka and the Three Kings, a folktale about a Russian grandmother searching for Jesus Christ on the day of his birth. The book was well received, with reviewers generally agreeing that while the story may differ from what many American children knew of the nativity story, it offered a unique and important look at the story from the point of view of another culture. It received the Caldecott medal in 1960. Sidjakov continued to work with Parnassus Press, illustrating three more books with Robbins. In 1978 he co-founded a prestigious design firm for which he produced the majority of his art. He passed away in 1993.
Examining Sidjakov's Artistic Style
Sidjakov's artistic style can best be described as Russian-influenced folk art. Often drawn with crude, dark lines, his work embodies a style often seen in art from Russia. Sidjakov's children's book illustrations often utilized just a handful of bold colors, as seen in The Friendly Beasts, which was illustrated with an eye catching combination of bright pink, orange, and olive green, while in Baboushka and the Three Kings, Sidjakov utilized red, yellow, and a grayish shade of blue. His drawings often appear simplistic at first, but the thick lines and Russian-inspired patterns come together to create a unique style that was beautiful in the 1960s and still shows clear merit today.
Why else have you heard of Sidjakov?
Sidjakov worked primarily as a commercial illustrator, in spite of his recognition as one of the most gifted children's book illustrators of the day. His advertising firm Sidjakov & Berman Associates, later Sidjakov, Berman, and Gomez, was bought out by what is now Enterprise IG in San Francisco and was responsible for numerous advertising campaigns that brought considerable accolades to Sidjakov in that field.
Collecting Sidjakov
Baboushka and the Three Kings by Ruth Robbins
This 1960 Caldecott Medal winner retells a Russian folktale about a grandmother searching for the Christ child and encountering the three wise men as they journey to deliver their gifts of gold, frankincense, and myrrh. With its unique take on a the nativity story and its beautiful, folk-art inspired illustrations, this book is an excellent representation of Sidjakov's work and quality addition to any collection of children's books. It would also make a fine holiday gift for children or collectors.
The Friendly Beasts by Laura Nelson Baker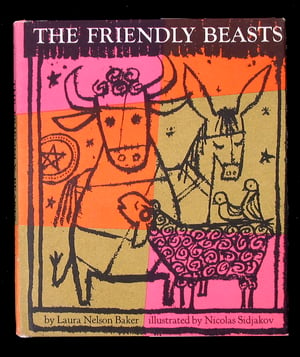 Another Christmas tale illustrated by Sidjakov, The Friendly Beasts is told from the point of view of the animals in the stable as Mary gives birth to the baby Jesus. The animals watch others present him with gifts and wonder what they can give to someone so important. The book showcases Sidjakov's unique sense of illustration and is sure to delight collectors of any age.
A Lodestone and a Toadstone by Irene Elmer
This charming book centers on a child, Vladimir, who collects every type of stone he can find, many quote rare and precious When he learns about toadstones, the rarest stones in the world, he sets off on a journey to find one for his collection. He meets unique characters along his way and learns that the toadstone is found only in he head of the toad, so to collect the stone, he must collect a toad as well. This book published by Knopf is an excellent of Sidjakov's use of line and color.